Trilogy is complete with release of 27 Year Old malt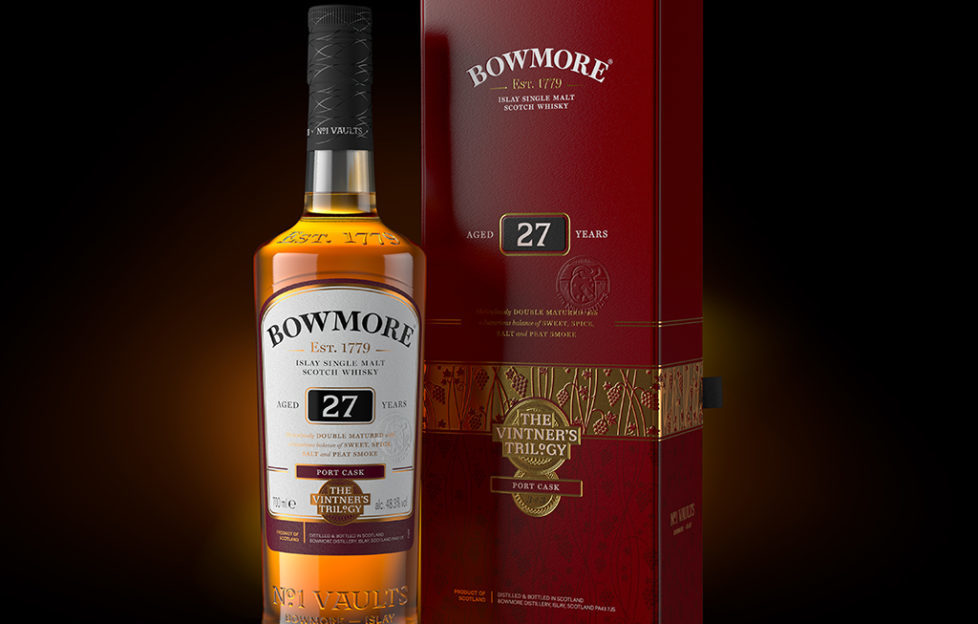 The final whisky in a special trilogy from a Scottish distillery has been revealed.
Bowmore Islay Single Malt Whisky has revealed the last whisky in the Vintner's Trilogy – a 27 Year Old malt double-matured in ex-bourbon barrels and port pipes, the crowning expression in the trilogy.
This long-awaited release spent the first 13 years in ex-bourbon barrels before being transferred for the next 14 years into port pipes – the full 27 years spent in the world's oldest Scotch maturation warehouse, the legendary No. 1 Vaults. This genesis has created a liquid of exceptional character that balances sweet, spice, salt and peat smoke in a deep mahogany liquid.
On the nose, Bowmore 27 Year Old is peaty and medicinal with a strong toffee, herbal and spicy character followed by heather fragrance with a hint of Rosemary. Old Port wine notes are complemented by raspberries coulis and red berries.
The palate is sweet and salty with a hint of smoke, mixed with sultanas, sugarplums, salted caramel and sweet leathery notes. A long and rich finish of tobacco, dried cranberries and white pepper complete this expression that will be coveted by drinkers and collector's alike as the crowning whisky of The Vintner's Trilogy.
David Turner, Bowmore distillery manager, said: '"The Vintner's Trilogy is a collection of three liquid gold whiskies which have been meticulously matured over time in our No.1 Vaults.
'This final offering completes the journey with an exceptional whisky we know people are going to love. The combination of ex-bourbon and port casks has created a unique Bowmore expression that showcases the rich flavour we're famous for in a completely new way.'
The Bowmore Vintner's Trilogy is a wine-inspired cask series exploring the marriage of Bowmore's signature house style with the finest ex-wine, port and sherry casks creating a remarkable set of limited releases.
The other whiskies in the set include Bowmore 18 Year Old Double Matured Manzanilla and Bowmore 26 Year Old Wine Matured, both of which were releases in late 2017.
The first of the Vintner's Trilogy, Bowmore 18 Year Old is matured in both ex-bourbon barrels and ex-manzanilla sherry barrels, taking on a rich antique gold colour.
On the nose, notes of treacle, salted caramel, ripe blackcurrants, soft stone fruits, vanilla fudge and spiced Seville oranges sit alongside subtle hints of menthol and chamomile. These aromas develop into bitter oranges and a burst of peat smoke on the palate to create this refined whisky.
The second in the trilogy, Bowmore 26 Year Old Wine Matured spends time in ex-bourbon barrels and wine barriques, developing a burnt amber colour. Redcurrant jam, camphor oil and cherry pie intermingle with earthy smoke on the nose, developing into spiced oak, tropical fruits such as papaya and mango and a honeyed sweetness with the addition of water.
A full-bodied whisky, on the palate the flavours develop into oak spiced smoke and rich dark chocolate with a long finish and a hint of salt typical of Bowmore.
Bowmore 27 Year Old will be available from retailers including the Whisky Exchange, Whisky Shop, Master of Malt, The Grapevine, Vintage House, Hedonism Wines, Harvey Nichols, Harrods, Soho Wine Company, Royal Mile Whiskies, Nickolls & Perks, Amathus, Selfridges and Fortnum & Mason's. It will have an RRP of £410.