Rare whiskies sold for $1.2million to private collector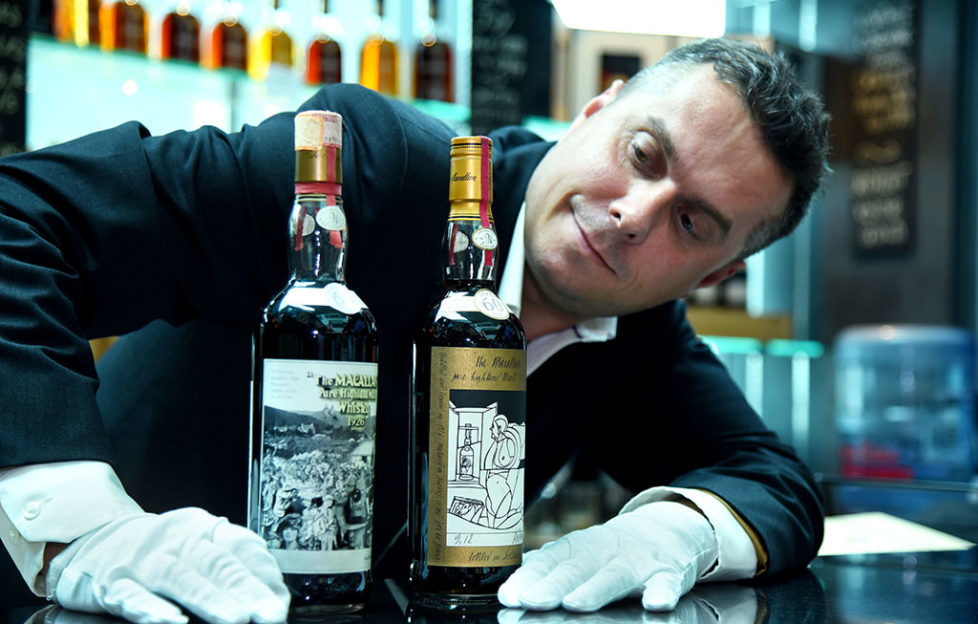 Two extremely rare bottles of The Macallan 1926 have broken the whisky world record after being sold for $1.2m (£861,120).
Dubai Airport-based luxury spirits retailer Le Clos sold the pair of The Macallan 1926, with labels commissioned by artists Sir Peter Blake and Valerio Adami, which were sold to an international businessman for his private collection. Each bottle was sold for US$600,000.
Bottles originally retailed for £20k, and the last known individual bottle sold in 2007 for US$75,000
These two bottles are two of the most unique bottles of whisky ever produced. The whisky itself is The Macallan 1926, which was distilled in 1926 then aged 60 years in sherry-seasoned oak barrels before being bottled and released in 1986.
Of the 40 bottles produced, just 12 were given to British artist Sir Peter Blake, famed for co-creating the Beatles' album cover for Sgt Pepper's Lonely Hearts Club Band, and 12 were given to the Italian artist Valerio Adami, (released in 1993) one of the most acclaimed pop artists of the 21st century.
Each artist created a bespoke label for the bottles, making them highly sought after by art-lovers and whisky collectors alike. The rare bottles are presented in cabinets, or tantaluses, and are based on the 'brass and glass' distillery spirit safe designs.
Each bottle originally retailed at £20k, and the last known individual bottle sold in 2007 at Christie's for US$75,000.
The sale at Le Clos sets a new benchmark for private sales and completes another chapter in The Macallan's history as a collector's whisky – the distillery also currently holds the record for most expensive whisky bottle sold at auction with The Macallan M Imperiale achieving US$628,000 at Sotheby's Hong Kong in 2014.
Le Clos' relationships and expertise within the luxury spirits market to source such rare and highly collectible products enabled the record-breaking sale to take place, building on several previous world-record sales in travel retail. Dubai Airport is the world's new travel crossroads, and the partnership has made Macallan accessible to collectors around the globe.
Iain Delaney, managing director Le Clos, said: 'Le Clos has built a long-standing relationship with both The Macallan and Dubai Airports and we are thrilled to be able to celebrate our 10year anniversary with another world-record sale. This success is testament to the commitment of our partners who have supported the vision of Le Clos in becoming one of the world's leading luxury retailers, not just in Dubai Airport but globally.
'The desire to deliver world-class retailing excellence is engrained in our DNA as is our reputation for exploring the world to source unique fine wines and luxury spirits that are both accessible as they are different and bring them to the one of the world's great cross roads.
'It's these attributes; the passion and ability to source some of the rarest bottles in the world, coupled with our world-class retailing credentials that have created the trust in the global market for private retail sales of this magnitude to take place.'
Geoff Kirk, director of prestige, The Macallan, added: 'These represent some of the most exclusive bottles ever produced making this an iconic sale that will be remembered worldwide for years to come.
'It is incredibly rare for The Macallan 1926 to be made available for purchase, and the sale offers whisky connoisseurs the chance to secure historic bottles emblematic of 20th century pop culture. The Macallan is renowned for its outstanding quality and this sale demonstrates the brand standing as a leading figure in the whisky industry worldwide.'
Eugene Barry, Dubai Airports' EVP Commercial, added: 'At Dubai International, we are focused on working with great partners who are committed to elevating the travel experience. One element of that experience is Le Clos' unique product range, combined with the personal knowledge and service their team members offer. We are delighted that this industry record-breaking sale has taken place at our airport.'