Help put a swing in dad's step this Father's Day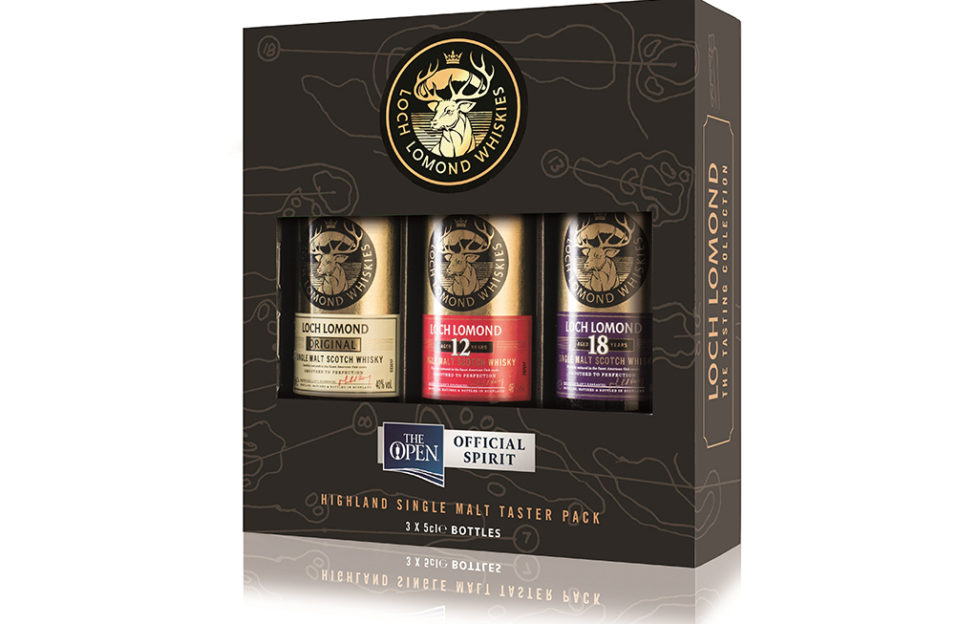 A series of golf-themed whiskies have been teed up to mark Father's Day.
Loch Lomond Whiskies, The Spirit of The Open, entered a five-year partnership with The Open, golf's original championship, in 2018.
To celebrate, it has crafted a selection of highly collectible single malt gifting options that will help Father's Day go with a swing.
The range includes a new luxury gift pack centred on its limited edition release Loch Lomond Open Special Edition 2019 – Distiller's Cut.
The expression, created in tribute to Royal Portrush, where the 148th Open is being held, also showcases the innovative approach to distilling pioneered at Loch Lomond Distillery which is renowned for its unique still formation, extra-long fermentation and careful cask management at its onsite cooperage.
A gift from Loch Lomond Whiskies' golf-inspired collection is the perfect way to show dad how much he means on Sunday 18 June.
Loch Lomond The Open Special Edition 2019 – Distiller's Cut – £37
Crafted by Loch Lomond Whiskies' master blender Michael Henry in partnership with brand ambassador Colin Montgomerie, who has won a record eight European Tour Order of Merit titles, Loch Lomond The Open Special Edition 2019 – Distiller's Cut encompasses four different spirit styles to deliver the distillery's distinct fruity character underpinned with a gentle hint of peat and smoke.
A complex single malt, it offers a vibrant palette of peach and pear, which is balanced out by orange citrus and creamy vanilla. A touch of smoke gives way to lasting fruit notes.
Presented in a distinctive green golf-inspired box bearing Monty's signature this limited edition release would be a proud addition to any whisky collection and the ideal gift for Father's Day.
Loch Lomond The Open Special Edition 2019 – Distiller's Cut Special Limited Edition Gift Pack – £44.95
Inspired by Loch Lomond Whiskies' partnership with The Open and marking the championship's return to Royal Portrush, this highly collectible gift pack is a must for both golf and whisky lovers.
Master Blender Michael Henry, who originally hails from Northern Ireland, is especially proud of the limited edition Open Special Edition – Distiller's Cut, which he has chosen to showcase Scotch whisky to the country of his birth.
Encased in premium navy packaging bearing Michael's signature and featuring beautiful photography of Loch Lomond along with tasting notes, the gift set also incorporates two limited edition whisky glasses featuring Loch Lomond Whiskies' and The Open's distinctive logos. It creates an elegant and distinguished gift for the discerning dad.
Loch Lomond The Open Course Collection Royal Portrush – £160
Commemorating the 148th Open Championship, which is returning to Northern Ireland after a near 70-year absence, this 19-year-old single malt was crafted in partnership with Loch Lomond Whiskies' ambassador Darren Clarke, who has won 21 tournaments internationally including the 2011 Open Championship at Royal St George's in England.
A beautifully balanced single malt that is rich in honey sweetness, this expression was created from specially selected casks that capture the fruit character achieved by Loch Lomond's innovative straight neck stills. Matured in American Oak casks, the liquid was finished in claret casks as an homage to the famous Open trophy, developing a stunning rose colour as a result.
The release's rich green packaging, which is signed by Clarke, depicts a map of the Royal Portrush course in the centre, creating what is set to be a highly prized collector's item coveted by dads all over the world.
Loch Lomond – The Open Tasting Collection – £25
Gift a journey through Loch Lomond's Highland Single Malts with this specially created gift pack to celebrate The Open.
Whisky and golf lovers can discover a selection of Loch Lomond Whiskies – The Spirit of The Open – with this collection of 3 x 5cl miniature bottles of Loch Lomond Original, Loch Lomond 12 Year Old and Loch Lomond 18 Year Old, presented in a unique golf themed gift box. The perfect present to start dad on his voyage of discovery through Loch Lomond.
Loch Lomond Whiskies' gift selection is available online and at selected independent retailers including The Whisky Shop. For further information visit www.lochlomondwhiskies.comhttp://www.lochlomondwhiskies.com