Celebrating the joy of Scotch whisky in Australia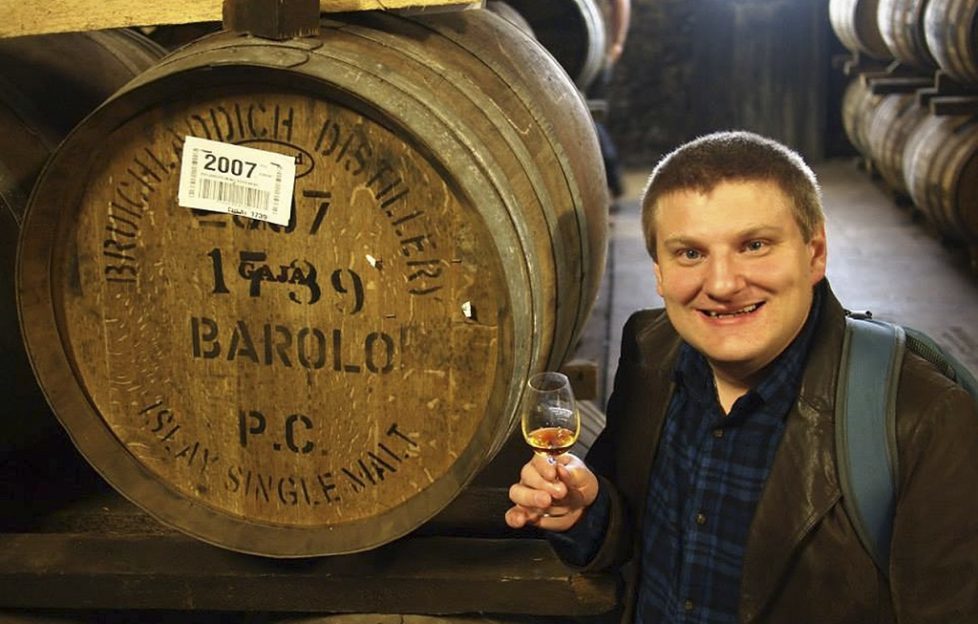 My involvement with whisky is pretty intense. I am the state manager for the Scotch Malt Whisky Society for Western Australia, and I work for an importer who brings whisky into Australia.
I run my own whisky blog called SquidgyAsh the Whisky Fiend, and along with co founding Dram Full Australia, I am also in charge of cask selection for the club.
In short I live, breath, and sleep whisky. My wife has joked that on more then one occasion she's heard me running whisky masterclasses in my sleep.
I'd been a member of an online whisky forum called Connosr where I'd write whisky reviews along with many of the other members.
Over time, I started to get a bit of a following and quite a few members of the forum suggested I start my own whisky blog. After some urging from my wife Thao, I did so. I didn't think much of it, until our first trip to Scotland where quite a few distilleries contacted us inviting us to come visit.
Dram Full would be the second major whisky thing that I've been involved in. The group Dram Full started in Singapore founded by some friends of mine. At the time there weren't really any serious whisky clubs in most of Australia.
At one point myself and they were chatting about how we could form a Dram Full Australia chapter. And thus it was born. When we started we limited it to Perth, Western Australia and I'd thought that at best we'd wind up getting 300 or 400 members if we were lucky.
A little over two years later, Dram Full Perth is still the capitol for the club in Australia, with over 1600 members.
We also have chapters in Sydney, Melbourne, Brisbane, Canberra, Adelaide, and Hobart, which I help oversee along with our admins. Within our first year we'd bottled one cask of whisky, a special Highland Park from Gordon & MacPhail, and as of this time have purchased four more casks.
Whisky has definitely grown by leaps and bounds over the last 4 years or so, with dozens of brands and bottlers now coming into Australia and a half dozen or so new whisky clubs forming in the country. It's interesting to see whiskies growth and even more interesting to see where it goes from here.
I first tasted whisky on my 21st birthday. A work mate of mine had taken me out for the big day and he bought be a Mcnaughton's Canadian whiskey and coke. It was harsh and unpleasant, but I thought that was what alcohol was all about.
It wasn't until I discovered Knob Creek Single Barrel, then Glenfiddich 18 year old, Talisker 10 year old along with a few others that my eyes were opened.
For years I thought whiskey just tasted like whiskey. It wasn't until I needed surgery to have my wisdom teeth removed that I discovered otherwise. I was working a close to minimum wage job in the USA and I had no medical or dental insurance.
The dentist informed me it was going to run close to $600 a tooth to have them removed. I couldn't afford to have my wisdom teeth taken out, but I could afford bottles of bourbon.
I self medicated heavily for about two months before the pain stopped. At this point I thought that all whisky tasted like whisky, but late one night I remember the biggest hit of vanilla off of my drink, so much so that I thought I must have been drinking vanilla Coke.
The next morning I checked the house for vanilla coke as I couldn't remember buying any, and it wasn't any vanilla coke at all, it was the Knob Creek Single Barrel coming through. That was the day my eyes opened and I started to explore the vast world whisky had to offer.
I love the flavours, the complexity that whisky brings, so unlike any other spirit. No matter what folks think, there is always a whisky out there that will be to their liking, even if most of them aren't. I love how whisky brings people together.
Most of the best moments of my life, such as my honeymoon, were enjoyed over a dram or two of whisky. Good whisky becomes brilliant whisky when friends and family are involved.
Such a difficult decision and in all honesty I couldn't never claim just one distillery or even country type as my favourite whisky, however I will say that Glenfiddich, Buffalo Trace, Talisker, Starward, Adelphi, Glenrothes, Laphroaig and Gordon & MacPhail all have soft spots in my heart, with my beautiful wife usually allowing me to purchase bottles on a regular basis.