Bid to grow barley own home soil continues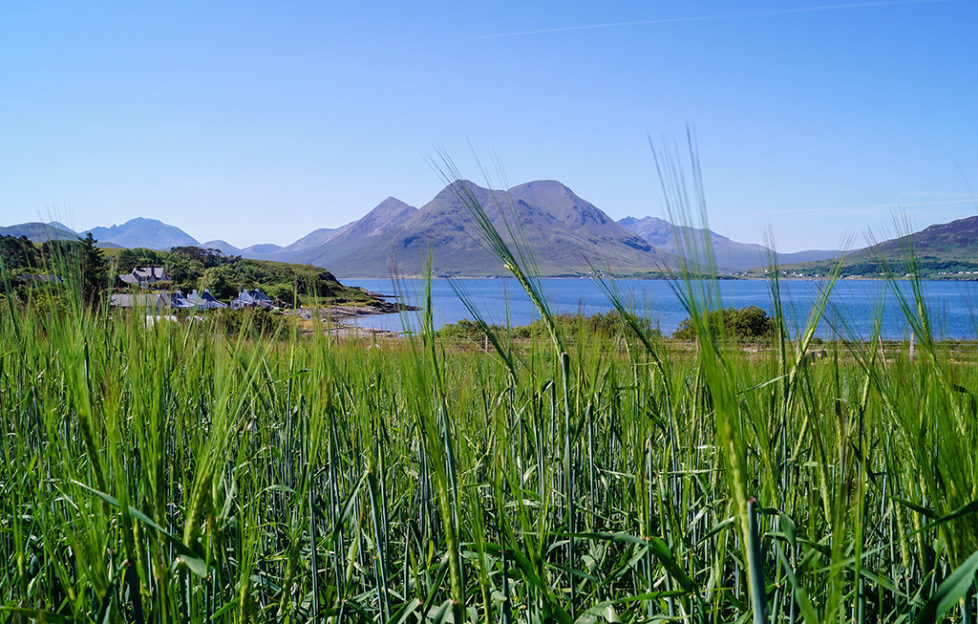 A Scots distillery is taking part in a second year of barley variety trials.
After a successful barley variety trial on the island of Raasay in 2017, Isle of Raasay Distillery will determine which varieties grow and ripen on the island.
Raasay Distillery has the ultimate long-term objective of growing enough barley on Raasay to produce at least one batch per year of single malt made with 100% Raasay barley.
On Thursday, 2 August, Raasay Distillery will welcome everyone interested in learning more about the barley trial for presentations exploring progress of the barley trial to date and plans for the future.
The first barley trial on Raasay commenced in April 2017 and was carried out in conjunction with Interface, Peter Martin, director of Agronomy Institute at University of the Highlands and Islands(UHI), and local farmer Andrew Gillies.
Five varieties of barley were trialled in Gillies Mill Park Field: Concerto (the commercial variety) Tartan, Bere, Iskria and Kannas. The latter three ripened successfully; the barley was harvested on 26 August 2017 and then transported to the James Hutton Institute in Dundee to be dried.
It was then malted by Hugh Alexander from Curio Group in June and July 2018 and a small amount of Raasay peat was used during this malting process. The distillery plans to use all three varieties of malted barley to make a special batch of Raasay Whisky and this mash will be taking place during the open day.
The 2017 trial revealed that current commercial barley varieties grow but do not ripen on Raasay. This is due to a much shorter growing season owing to the high rainfall level in March, April and September on the island.
For the 2018 trial, Raasay Distillery will work again with Martin and Gillies to cultivate four varieties in Mill Park Field: Iskria, an early two row Icelandic variety; Golden Promise, a two row U.K. malting variety first released in the 1960s; Anneli an early two row Swedish Variety which will replace Kannas as it is no longer available; and Brage, a medium-early six row Norwegian variety. Raasay Distillery hopes to identify one suitable variety to grow on Raasay in the future and to improve the yield in 2018.
At the open day, Martin will introduce the barley varieties and will discuss the challenges that have been encountered while growing commercial varieties on Raasay. Martin's expertise has been invaluable to the project; he has worked with other distillers, principally Bruichladdich and Highland Park, to produce whisky using non-commercial barley varieties.
Co-founder of Raasay Distillery, Alasdair Day, will also discuss the background and future of the project and Hugh Alexander from Curio Group will be explain the processes involved in micro-malting the Raasay Barley.
The distillery will also offer free distillery tours during the open day and there will also be lunch available to purchase in the Gathering Room.
The distillery build project has relied upon the island resources: the stone used to build the supporting wall at the rear of the distillery is from the site itself; wood from the site has be used for furnishings within the accommodation, and an impressive feature wall in the Gathering Room comprises stones, bottles and treasures, found washed up on the shoreline.
Raasay Distillery began producing whisky in September 2017. It is owned by independent Scottish whisky company R&B Distillers.