Awards success for Tamdhu comes to the four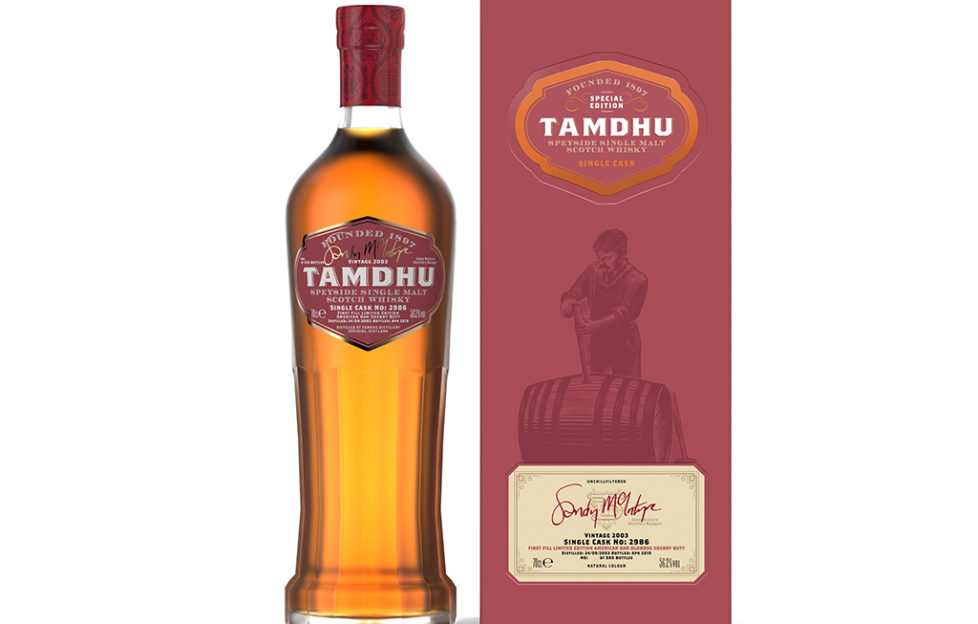 Tamdhu is celebrating after scooping four industry accolades for its exclusively sherry cask matured single malt at the prestigious World Whiskies Awards.
Each year the World Whiskies Awards grow in popularity across the globe and have become one of the biggest and most respected authorities in the whisky industry.
The Speyside distillery had two Category Winners in the Single Cask, Single Malt Scotch Category with its Edinburgh Airport European Sherry Oak Single Cask coming out on top of the '13 to 20 Years' grouping and Sandy McIntyre's Single Cask clinching the win in the 'No Age Statement' section.
Tamdhu also picked up two gold commendations in the Single Malt Scotch Speyside category, with its Batch Strength No. 004 and Dalbeallie II expressions enjoying success in the 'No Age Statement' division.
Sandy McIntyre, Tamdhu Distillery manager, said: 'We're delighted to see Tamdhu recognised for its quality by such a highly regarded judging panel in a well-respected industry competition.
'Our exclusively sherry cask matured single malts are winning awards thanks to the craft of the whole team at Tamdhu Distillery, so I would like to send my thanks and congratulations to them all.'
Owned by family firm, Ian Macleod Distillers, Tamdhu uses only the best Oloroso sherry seasoned American and European oak casks giving the award-winning single malt its natural, dark amber colour, intense richness on the palate and its deep, long finish.
Tamdhu exclusively matures in sherry seasoned casks, which are crafted in the family cooperages and bodegas of Jerez for up to six years before beginning their journey to Scotland.
Tamdhu launched its first ever airport exclusive cask in March 2019. This first fill Oloroso sherry cask from Jerez, was hand-picked by key members of the Duty Free and Edinburgh Airport teams. The oldest ever single cask released from Tamdhu, it was chosen unanimously from a shortlist of eight casks, with all parties agreeing that it stood apart from the selection of exceptional whiskies.
Sandy McIntyre's single cask saw the distillery manager select a 2003 first-fill American oak oloroso sherry butt for his single cask vintage. Bottled at 56.2% ABV without chill-filtration, the whisky has been matured for 15 years to deliver aromas of raspberries, clotted cream, citrus, banana, mint, spice and ginger nuts.
The fourth annual edition of its multi-award-winning Batch Strength series reflects Tamdhu's commitment to producing 'only the best' sherry cask matured whisky. Bottled at 57.8% ABV, Batch Strength No. 004 boasts a complex richness, deep intensity and natural colour having been matured in American and European Oak Oloroso seasoned casks from Spain's Sherry Triangle.
Tamdhu's limited edition Dalbeallie Dram 002 was launched at last year's Spirit of Speyside Whisky Festival. Individually numbered and bottled at cask strength 61.1% ABV, the Dalbeallie Dram has been matured in European and American Oak Oloroso seasoned casks from the cooperages of Jerez in Spain.