An annually released limited edition from Jura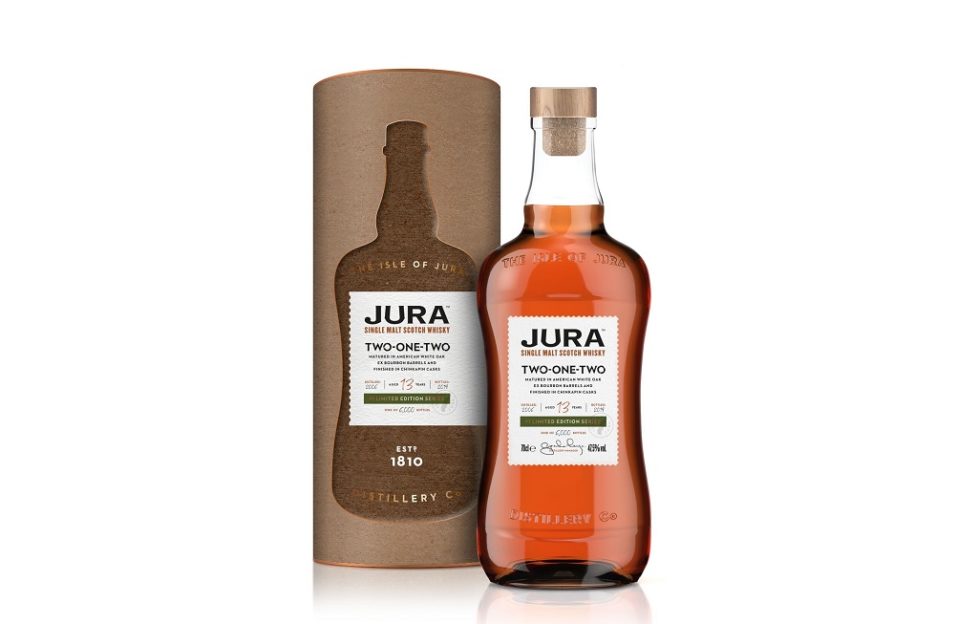 A new limited edition whisky from the Isle of Jura is being launched.
The island of Jura is blessed with breath-taking landscapes, rich natural resources and a tiny but inspiring community of 212 or so, and the new series is dedicated to them.
Jura Two-One-Two is a new annually released limited edition, which kicks off with a 13 Years Old Jura.
A single malt which adheres to the signature maturation of Jura in first and second fill American White Oak ex-bourbon, but then introduces a new cask. With a finish created by unique Chinkapin Oak casks from the Ozark Mountain Range of Missouri, the whisky offers sweet, light smoke and spice to create an exotic array of aromas and flavours.
With a warm honey hue, this small batch whisky is elegant on the nose with an aroma of lemon cake that gives way to cinnamon spice and creamy toffee. A whisper of poached pear and of sherbet then lead into a spirit that is charming on the palate. Vibrant flavours of nutmeg and ginseng are bolstered by roast pistachios wrapped up in the tang of the Chinkapin oak.
Gregg Glass, whisky maker at Whyte & Mackay Ltd, said: 'Chinkapin is a wood that is rarely seen in the industry, but the impact it imparts on Jura's light grassy spirit is worth the experiment.
'It's a fantastic partner which pushes the boundaries of what people expect of Jura's house style, while its pioneering nature is the perfect way to celebrate the exceptional community which our distillery sits at the heart of.'
Jura Two-One-Two will be limited to only 6000 bottles. Released annually over the next five years, each edition will increase in age becoming more collectable every year.
Jura Two-One- Two #1 is available now in select markets internationally including the UK, France, Germany, Africa, Russia and Greater Europe.