A visit to Scotland gave The Whisky Lady a new passion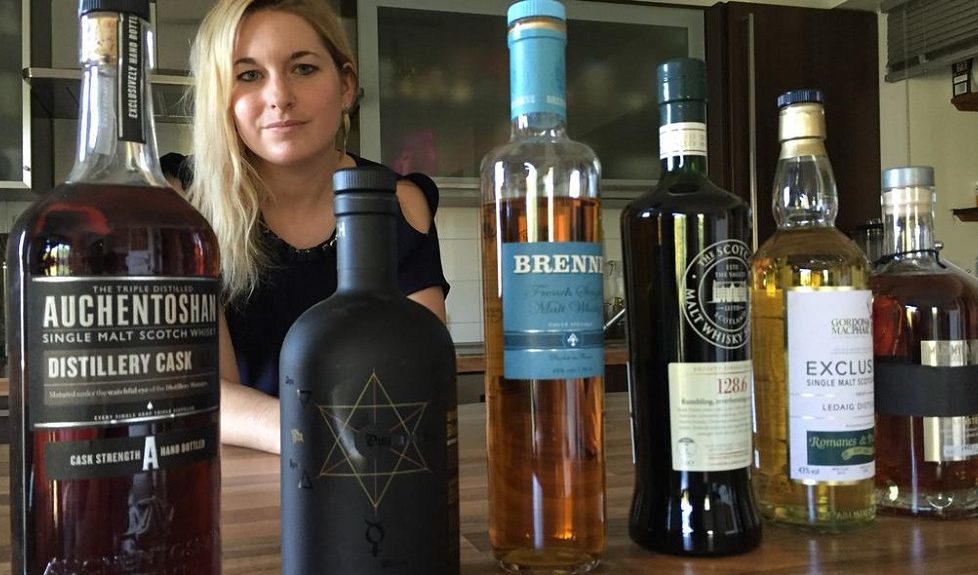 Whisky blogger Anne-Sophie Bigot owns the first whisky bar and brewery in Toulouse, France, with her partner.
Anne-Sophie – aka The Whisky Lady of www.thewhiskylady.net – will launch the first Toulouse Whisky Festival later this year.
She tells Scottish Field about her love of whisky and how it is becoming popular in France…
The whisky scene is growing and evolving at a huge pace in France nowadays. Same as in many other European markets, the craft craze and interest for mixology has allowed a brand new category of whisky enthousiast to emerge. Whisky has no gender nor social class or age.
Of course, the large majority of the market still consist of cheap blends mixed with coke in nightclubs but the market for single malts, boutique blends and basically more premium whisky is taking a more and more important part.
When I work at the bar and host tastings, I also witness the shift in consumers generation: whisky is supposedly an old man's drink, yet 99% of people coming to my tastings are under 35. Needless to say, there are plenty of girls as well! There's obviously still a huge gap between urban areas and the rest of the country, or in Paris compared to the other French major cities, but the market is really getting excited for whisky and eager to learn!
Unfortunately, I didn't grow up in a family of whisky enthusiasts, my parents barely drank a glass of wine on Saturday evening… Although apparently, some of my ancestors were famous Kirsch (cherry liqueur) producers, but that's the closest you'll get from any sort of spirits link/education within my family.
I made my way into whisky by myself, the earliest memory being probably around 16 while trying to buy cheap blends at the supermarket with my friends and a tacky fake ID, #ThugLife.
For a very long time as a teenager and young adult, I pretty much hated the taste of whisky, which may sound surprising for someone who's now as passionate as I am. Whisky has still always been around as a party drink, it is very popular in French bars and night clubs as a mixed drink, my first encounter with the spirit must have been late in the night with some loud music and a sea of coke.
And even if today my perception and consumption of whisky has changed, it still remains a social drink to me, that I will always link to enjoyment, good company and convivialité.
While visiting Glasgow for a quick city-break with my then-new boyfriend, my first time in Scotland, and as proper tourists, we couldn't miss visiting a whisky distillery.
The distillery happened to be Auchentoshan, and as our host guided us through the ins and outs of whisky production, I felt a real connection with the history, the stories and in the end, the product. We tasted a few classic Auchentoshan expressions and I was sold – I still consider this moment the first time I actually drank a whisky. Since this visit, whisky has turned into a real passion, and now, a career.
I got into whisky around seven years ago, when I was 20 and studying Chinese at university, not really knowing what I wanted to do with my life.
After that trip to Scotland, I started researching and learning a lot about whisky, attending tastings, festivals, reading plenty of books, and returning to Scotland almost every month, ending up visiting more than 30 distilleries instead of preparing my Chinese exams.
I still got my degree and then went on to pursue a Master's Degree in Hospitality and Tourism Management where I would then be able to fully engage in my whisky-related research – writing two dissertations about Scotch whisky tourism and how to enhance the visitor experience in distilleries. I took some time to move to Scotland and live there for a while.
Meanwhile, I had also started my blog, thewhiskylady.net, with the aim to share my passion and discoveries with like-minded individuals (living in the South of France where no whisky clubs or proper specialist bars existed was a real challenge and going online was the only way I found to share my passion for the amber nectar). Both my studies and my blogging activities made me take whisky very seriously and consider it as a real career as it was quickly taking a very important part in my life.
Nowadays I'm involved at different levels in many whisky-related projects and missions.
First of all, I'm still blogging and I very much enjoy it, so even when it's sometimes difficult to find time to post, I still make it a priority. Beside this, I'm working as a whisky auctioneer for online auction house Catawiki, with almost 400 bottles going for sale in at least three different auctions every week, it's a huge part of my day-to-day work.
I also created my own consultancy company a few years ago following demands from different clients, I only work with a small number of brands, and on many different aspects from content creation to brand activation – I have this chance to be able to select the brands I'm happy to work with, because I share their views and values, and that's very important to me.
Last but definitely not least, I have opened, along with my partner, the first specialist whisky bar and microbrewery in Toulouse (France) last year. Following the success of the establishment, we're now even organising the first edition of the Toulouse Whisky Festival in May with 40 distilleries over two days. The festival sold out in under a week. It's a real challenge to get Toulouse on the whisky map, but that's our mission.
I was tired to always have to travel to Paris when I wanted to attend whisky events, and felt there was a real market for whisky and a huge network of whisky lovers in the south of France. Getting distillery ambassadors from all over the world in Toulouse over one weekend wasn't an easy part, but following the response to this first edition, we're now already planning bigger for next year.
As probably everyone in the whisky world will tell you: there's a whisky for every occasion. I do enjoy a rich sherry bomb one night and find it too much the other day, while peat may be my go-to one day, the day after I'm craving something very light and sweet like a grain. I can be in the mood for rye, corn or wheat or maybe go Japanese, Swedish or French? As long as the product is well-crafted and that I drink it in good company I'll enjoy it.
Balance and complexity are the most important criteria to me when it comes to whisky. I don't particularly enjoy a peat monster if I don't get anything else beside the smoky flavours, l love multiple-layer drams. I love when the aromas come in and develop themselves in the mouth and make a perfect symphony all together, but can still be heard solo.