A visit to a New Zealand whisky distillery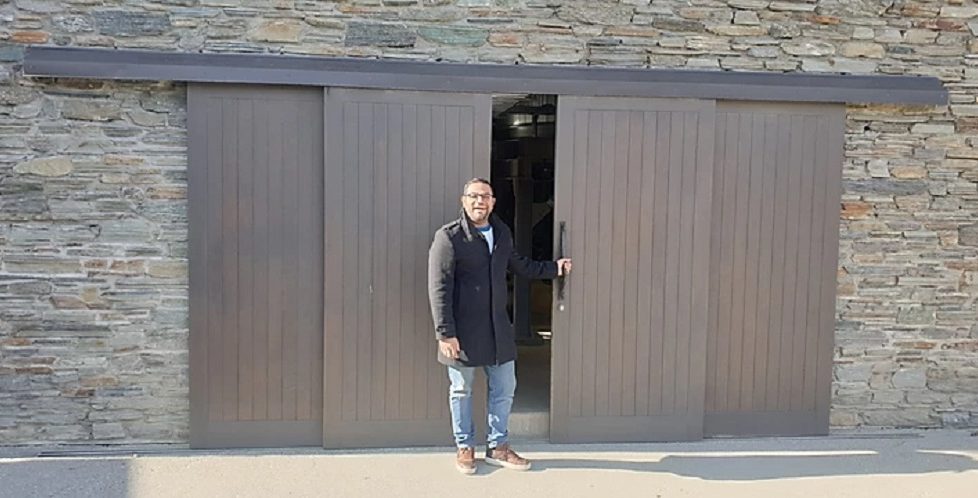 Just like the whisky ageing patiently in the barrels at Cardrona Distillery I waited patiently for my turn to visit, writes Ash Parmar, a whisky blogger from New Zealand.
Life just kept getting in the way but desire was strong to go visit the most 'desirable, excellent and high-quality distillery' in New Zealand.
Then the opportunity came, during my 2019 Nationwide Winter Whisky Tour I booked a gig in Queenstown. It was the perfect opportunity to visit and pay my homage to this much revered distillery nestled in the foothills of some of most beautiful snow-capped mountains.
It was going to be tight schedule from the go. Fly into Queenstown from Auckland on first flight, visit Cardrona Distillery, host whisky tasting in Queenstown, Fly out on first flight next morning. Luckily GM of Sales at Cardrona Distillery Tom Fastier offered to pick me up from Queenstown Airport and drop me back into Queenstown.
If you ever had the pleasure of driving from Queenstown to Cardrona you would understand how good it is to be a passenger in this part of world. An opportunity to soak in some of most beautiful scenery yes thanks, to gawk at beautiful snow-capped mountains galore. Thanks to Tom for the lift for a travel weary me, after four weeks of brutal travel up and down country hosting whisky tastings this was absolute bliss.
You are greeted at distillery entrance with a fence with hundreds of bras hanging on them. The Bra Fence started between Christmas 1998 and New Year 1999. It started from nothing into folklore with worldwide following, this has nothing to do with the Distillery itself. But Cardrona Distillery releases a special version of there The Source Pink Gin once year, with some of money going to charity and The Bra Fence.
On arrival at Cardrona Distillery one is absolutely taken in by the beautiful stone used all round to created the distillery as a whole. Compared to an operation in old country Scotland this is a very small distillery both in size and footprint. But very beautifully laid out.
I was greeted by Desiree Whitaker (co-owner) and a number of other staff. A quick look around the visitor centre and bar on site and then into the distillery and warehouse to learn about how the distillery is run and set up.
What is unique about Cardrona Distillery is the fact no expense has been spared in a pursuit to assemble some of very best whisky making equipment from all parts of world. The copper pot stills were made by Forsyths in Scotland, makers and suppliers to some of biggest and best distilleries in Scotland and distilleries all over the world. But also, high quality grain mill, mash tun and various other equipment all has been sourced from the best manufacturers around the world.
But one ingredient they don't need to import and that is alpine water sourced from Mount Cardrona. Drawn through Alvin's Well located next to the distillery. Just like the well-established Scottish distilleries, Cardrona Distillery is situated next to an abundant supply of high-quality water, a key ingredient in any distillery great whiskies.
The big revelation for me on the day was that 100% of the barley used in whisky making at Cardrona Distillery is imported from Scotland. Well, I had never asked anyone else prior but had assumed that they are using Kiwi barley. But this might change in future.
All key steps of making a brilliant spirit is followed in traditional Scottish way:
1, malting; 2, milling; 3, mashing; 4, fermenting; 5, distilling; 6, maturing.
In the lead up to Christmas 2018 Cardrona Distillery unexpectedly released one single cask each of an ex-bourbon barrel and sherry butt, followed by a solera release with some of their bourbon and sherry cask whiskies married together.
Being a proper whisky nerd, I actually visited Cardrona Distillery with my own two bottles of Cardrona Distillery single cask whisky, bringing the whisky back to where it was created and matured.
A lengthy visit through the working distillery is followed by a visit to the ageing warehouse. Cardrona Distillery has been running a brilliant private cask ownership programme, offering new make spirit in ex-bourbon barrels and sherry butts with a minimum ageing period of 10 years.
The warehouse is absolutely filled to brim with several private cask passionately hand signed by owners, but also lot of distillery own barrels.
Now for some delicious whiskies to try in there beautiful tasting room:
1. 2018 Single Cask Release Ex Bourbon Cask
2. 2018 Single Cask Release Ex Sherry Cask
3. Just Hatched Solera Relase
4. New Make Spirit from Cardrona Distillery
I got to try all three whiskies side by side which was a brilliant experience. I had not tried the solera before.
Cardrona Distillery also makes a brilliant gin The Source, Reid Vodka and range of limited edition liqueurs. Also, occasionally releases their the Source gins aged in various ex-whisky or wine barrels.
For lead up to Christmas 2019 The Cardrona has again released two single casks again, an ex-bourbon cask and an ex-New Zealand Pinot Noir Cask.
If you are in deep south of New Zealand will definitely be worth adding this distillery to your itinerary. Cardrona Distillery is about 45 minite drive from Queenstown Airport or about 15 minute drive from Wanaka.
For someone like me who has traveled to other parts of world to visit some very old, new, big and small distilleries, it was great to finally visit such a key distillery in New Zealand.
I was treated very well by everyone at Cardrona Distillery as I was on a trade visit. But from what I have heard from other whisky connoisseurs and friends/family even if you not from trade every visitor is treated and shown the distillery with amazing courtesy, which makes it a great visit even for someone who is not into whisky.
Find out more about the Cardrona Distillery HERE.
This feature originally appear on Ash Parmar's blog HERE.