£13,500 for a bottle of Highland Park 50-year-old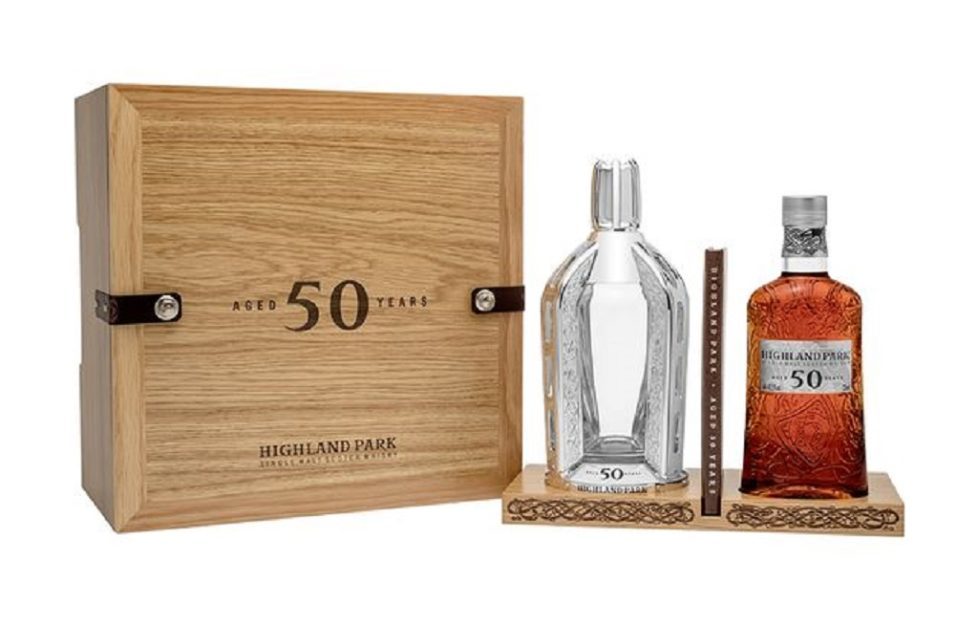 If you enjoy a dram, then you'd better check your pockets for loose change if you fancy owning the Highland Park 50 Year Old.
Only 274 bottles of Orkney-based Highland Park's new 50-year-old malt will be released, drawn from two ex-sherry hogshead casks and priced at £13,500 a bottle.
As well as a fine dram, the packaging in which it is presented has also been given plenty of TLC.
The whisky is presented in a highly embossed and decorative glass bottle, created by Scottish designer Andy Bowman.
It is included in an oak box, designed, individually handcrafted and prepared by Scottish master craftsman and designer John Galvin.
This box also holds a highly polished crystal decanter and a brown leather book that provides insight into the development of the whisky.
The distillery's whisky maker Max McFarlane said: 'We hand-bottled this Highland Park 50 Year Old from just two sherry-seasoned Spanish hogshead casks laid down in 1964, over half a century ago. We first discovered the casks in 2008, at the very back of warehouse number seven, and we were astonished by their incredible flavor.
'But bringing two hogsheads of such extremely rare liquid off the island to be "married" at our warehouse in Glasgow was not without its challenges.
'Justifiably nervous of the whisky's great rarity, we decided that the two casks simply couldn't be allowed to travel together. Rather, like members of the Royal Family, each cask made its journey alone, one in September and one in October 2009. Briefly parted after nearly 50 years spent side by side, the two hogsheads were reunited — the whisky "married" — for a further eight years.
'When we brought these two 1964 hogsheads together, we also introduced a small amount of our original 50 Year Old, first released in 2010, a 1960 vintage. It means there's a thread of continuity, a legacy within a legacy, in each of these 274 bottles.'
The whisky was bottled at 42.5% without chill-filtration or artificial colour, with each bottle numbered and signed by Max McFarlane.
Highland Park 50 Year Old is described as 'sweet at first, with notes of ripe black cherries and muscovado sugar, giving way to dried autumn fruits and warm, toasted wood'.
The Highland Park 50 Year Old is available now.