Master gin distiller enters the Hall of Fame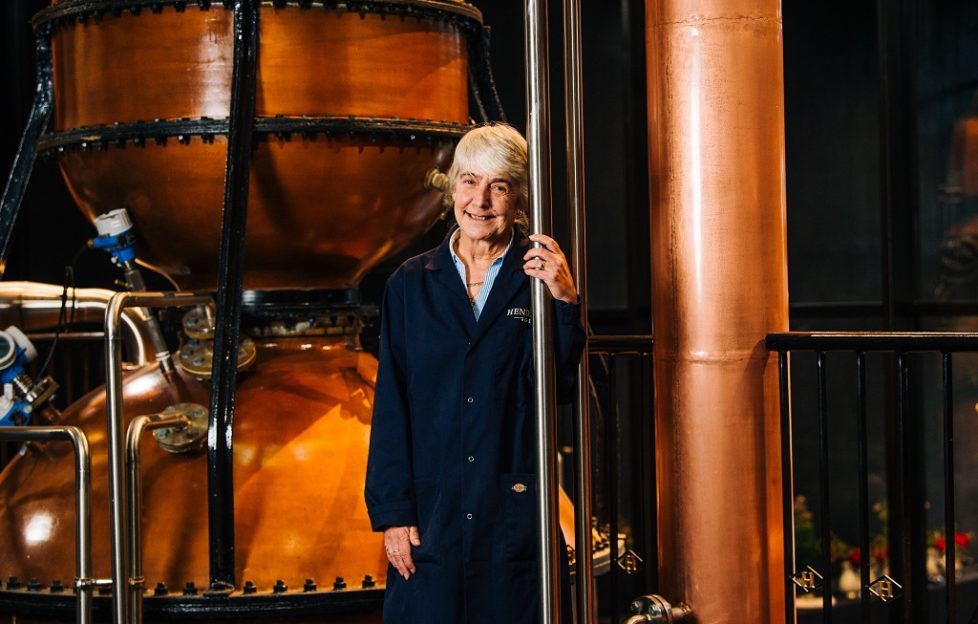 Lesley Gracie, master distiller of Hendrick's Gin, has been inducted into the Gin Magazine Hall of Fame in recognition for her 22 years of service to the world of gin.
Lesley was celebrated for her impressive contributions to the gin world, her innovative spirit, and her continuous pushing of boundaries that began with the creation of Hendrick's Gin, a rose and cucumber infused libation that sparked a 'ginnaissance.'
In what was considered a radical move at the time, Lesley was not constrained by convention and eschewed the London Dry method of production in order to allow the fresh green notes of cucumber to shine through in the spirit. Her experimental spirit has not rested since. Over the past two decades, she has been responsible for countless weird and wonderful Hendrick's releases that have garnered immeasurable acclaim and recognition amongst both the best bartenders in the world and legions of spirits fans.
Lesley said: 'It's hard to believe that it's now 22 years since Charlie Gordon first asked me to produce a new gin for him and I started playing around with the recipe that would become Hendrick's Gin. It was an amazing brief, there was total freedom to do absolutely everything differently.
'We had these two unusual stills and an idea to combine quintessentially British ingredients of rose and cucumber. It was fun piecing the puzzle together and playing with all sorts of flavours and techniques. At the time, it was impossible to even conceive that gin could be as popular and as loved as it is today, no one was really taking it seriously at that time, so it's absolutely unbelievable the difference there is these days with the abundance of new gins, distilleries, and fans of gin we see today.
'I am truly honoured and grateful to be inducted into the Gin Magazine Hall of Fame. There are amazing people within this industry, and I want to thank them all for their support over the years and for this incredible recognition.'
Bethany Whymark, Editor of Gin Magazine said: 'While at the helm at the Hendrick's Gin Palace in Girvan, Scotland, Lesley's skills have powered the quirky brand's rise to global prominence in the premium spirits market and she has helped to craft new expressions that continue to push boundaries in gin creation. With an unfaltering dedication to precision and a desire to innovate in her spirits, Lesley serves as a beacon of excellence in the distilling industry, both in the UK and abroad.'
Peter Gordon, non executive director of William Grant & Sons and great-great grandson of the company founder, the late William Grant: 'I am delighted that Lesley is to be inducted into the Gin Magazine Hall of Fame. I should also admit that I am not that surprised. One way or another Lesley has been the heart of a most unusual revolution over many, many years.
'And all this has been achieved with a winning combination of deserved good fortune, no shortage of determination, an unrelenting and inquisitive study of Botany, but, perhaps most important of all, a world beating nose with no quarter given to compromise. Certainly, a winning combination in every sense. I am sure that all lovers of Hendrick's Gin the world over would like to join me in saying: "Well done and thank you".'
Brian Kinsman, master blender at William Grant & Sons, also pays tribute to Lesley: 'Lesley was my first team leader when I joined William Grant & Sons back in the '90's and we have worked closely together ever since. She is a true "rare character" and anyone who has ever worked with Lesley always has a tale to tell! Seeing the journey of gin for us as a company from the early days of Grant's Special Dry Gin and Lichfield Gin through to success of Hendrick's has been amazing and it is a great credit to Lesley that she has been at the forefront of the quality of the product throughout.
'This is very well earned and deserved recognition of a huge contribution to the whole industry. One of the key things I learned in the early days that still applies today – Lesley is always up for a challenge and will help with anything but bribery with chocolate always helps!"
Lesley started her career in the pharmaceutical industry, using her background in chemistry and interest in intriguing flavour combinations to mask the bitterness of new drugs. Yorkshire-born, she later joined William Grant & Sons' laboratory team in 1988 before being involved in liquid development projects across varying spirits categories. After being charged with creating the recipe for Hendrick's Gin and succeeding mightily, she continues to lead its innovative efforts.