Pancakes for Christmas dinner? You'll be amazed…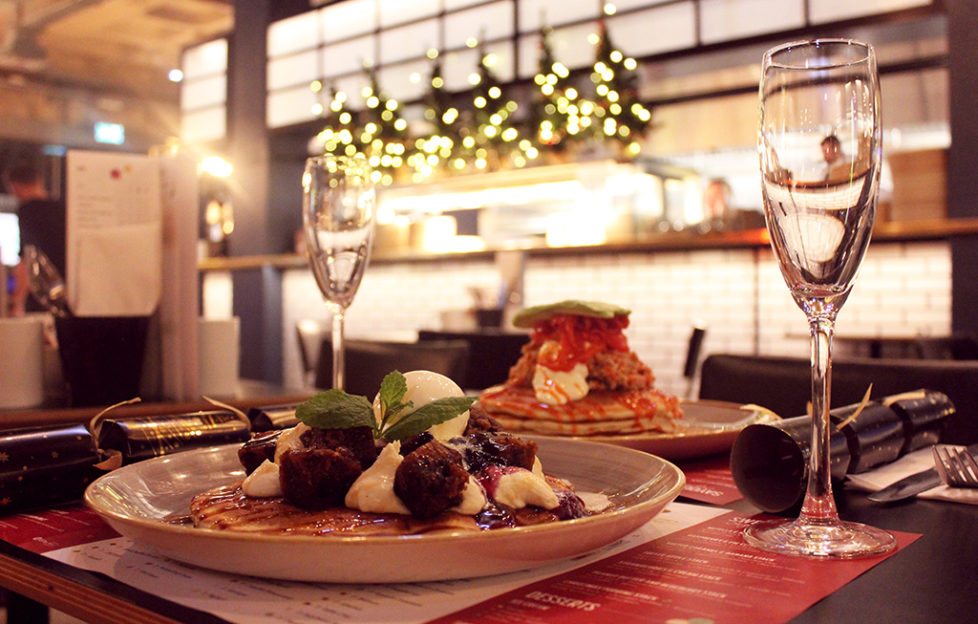 Everyone is always looking to try something a little bit different at Christmas time.
We know what we like all year round, but we tend to enjoy the familiar, come the holiday season, but with a twist.
That's exactly what's on offer with Stack & Still's alternative Christmas menu – it's the food you know and love in the festive season – but on top of a pancake or three!
Since opening in October in Glasgow, it has established itself as not only Scotland's, but the UK's biggest pancake restaurant.
And now, for its first Christmas, the team have devised a fabulous menu of fine festive fare.
The starter contains a trio of little pancakes, the pancake sliders, topped by smoked salmon and cucumber with lemon and caper creme fraiche, chorizo and pulled pork with whisky maple sauce, and roast and pickled beetroot, walnut, goats cheese and sour cream.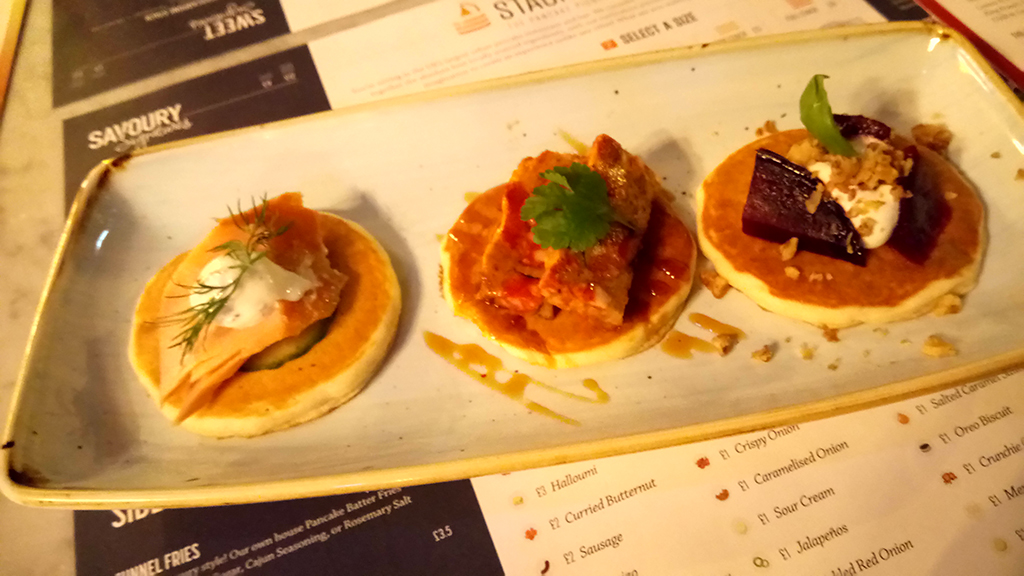 These are, quite frankly, little tastes of heaven. The pancakes perfectly complement their toppings, with the smoked salmon my favourite, the perfect accompaniment to the various sauces. The pulled pork was gone in a couple of bites, whilst the beetroot – not a thing I normally would choose – was a pleasant surprise, with a nice pickled aftertaste.
Our junior diner, with a fussy palate, demolished the lot. That says it all.
The main course menu offered a choice of four dishes, to appeal to all palates – the steak stack, the seafood stack, the turkey stack and the veggie stack.
As it's nearly Christmas, I had to go for the turkey stack. I love a good Christmas dinner, and this was everything I would have wanted.
The turkey was carved to match the shape of the pancake, presented on top, and was beautifully presented, with stuffing, delicious maple carrots, cranberry sauce, sage, and topped off by outstanding parsnip crisps.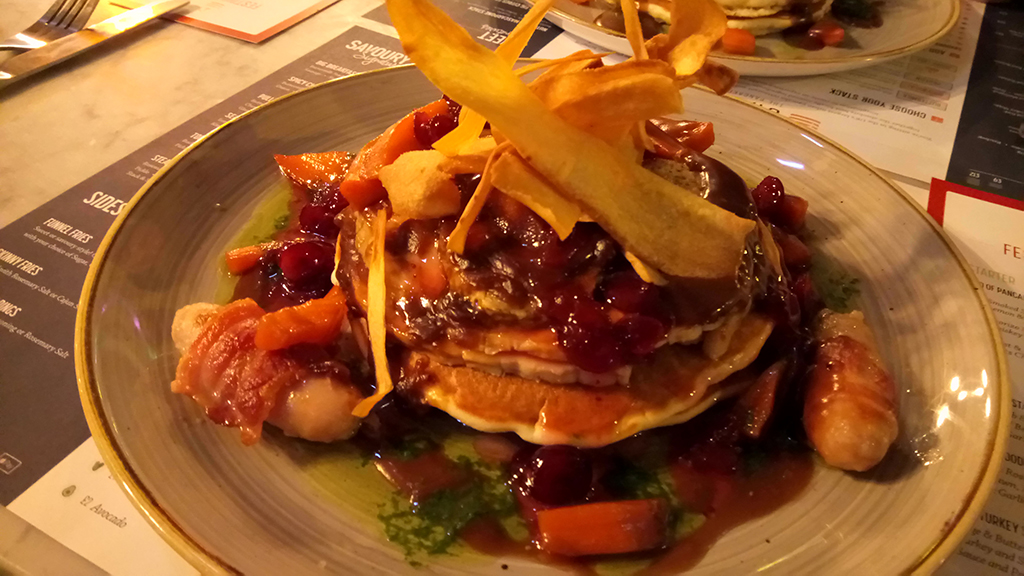 The combination with the buttermilk pancakes is something that, on paper, should never work – and here, it most certainly did. With the gravy, it highlighted the sweet taste of the turkey. And it was cooked to perfect – nice, thick slices, and and it cut perfectly. And the pigs in blankets – oh, just perfect little piggies. The bacon not too crisp, and the sausages were succulent.
My companion picked the steak stack, as she enjoys her beef. And wow – she was more than happy with her mixed herb and parmesan stack, with marinated beef brisket, the delicious maple carrots, crispy onion and galic butter, and some beer gravy. All that was missing were a couple of little roast potatoes!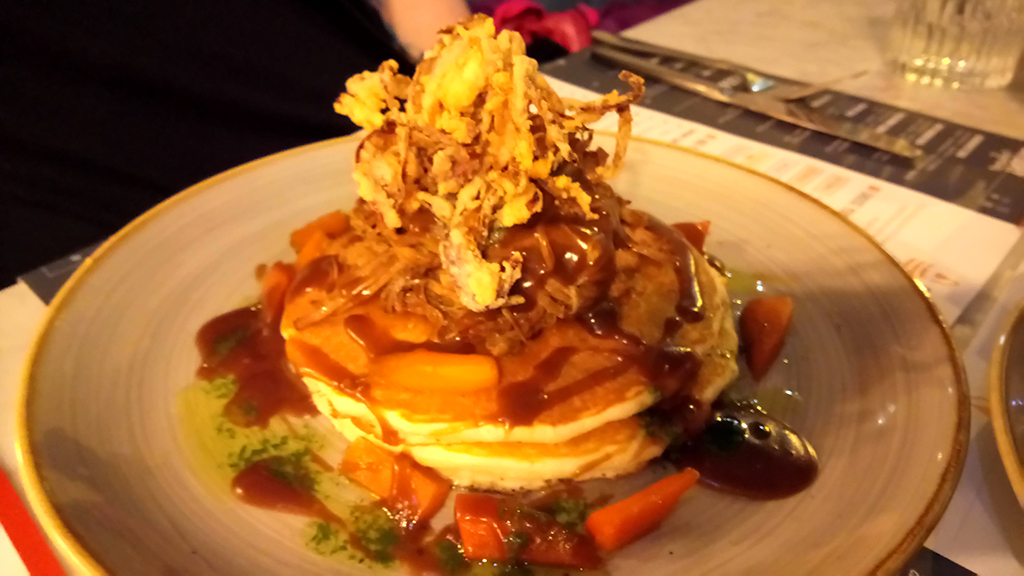 The beef was wonderful and cooked to perfection – just as you would expect from a good brisket. A little chewing required, but not enough to keep your jaws in overdrive. And the flavour, combined with the gravy, was perfect.
For those not too sure what they want, as per the junior diner, it's easy enough to build your own pancake, on a choice of buttermilk, protein, sugar free, buckwheat and gluten free (also vegan friendly). There's a huge variety of topping to choose from, both savoury and sweet – and all looked great.
However, based on the experience of our previous visit to Stack & Still, we opted to have two pancakes here, rather than the normal three – we wanted to leave some room for dessert!
What's even more pleasing to know is that the produce is all sourced locally, so Stack & Still is supporting businesses in Scotland. The customer wins without having to pay higher costs for transportation of the food (and so does the environment!), and so too do Scots food producers.
Thankfully, we made it through to the dessert menu, with just enough room to spare – and only just!
I went for the Christmas Pudding Pancake – and wow… I had chosen the protein pancake to go with this, which turned out to be the perfect choice, as it has just a hint of cinnamon to it. With the cream and ice cream, it was the perfect combination. The Christmas pudding wasn't too rich, as I am very picky when it comes to that dessert, and married nicely with the pancake.
Other festive options are the Sorbet Selection or a decadent Funnel Cake with Dulce De Leche Sauce.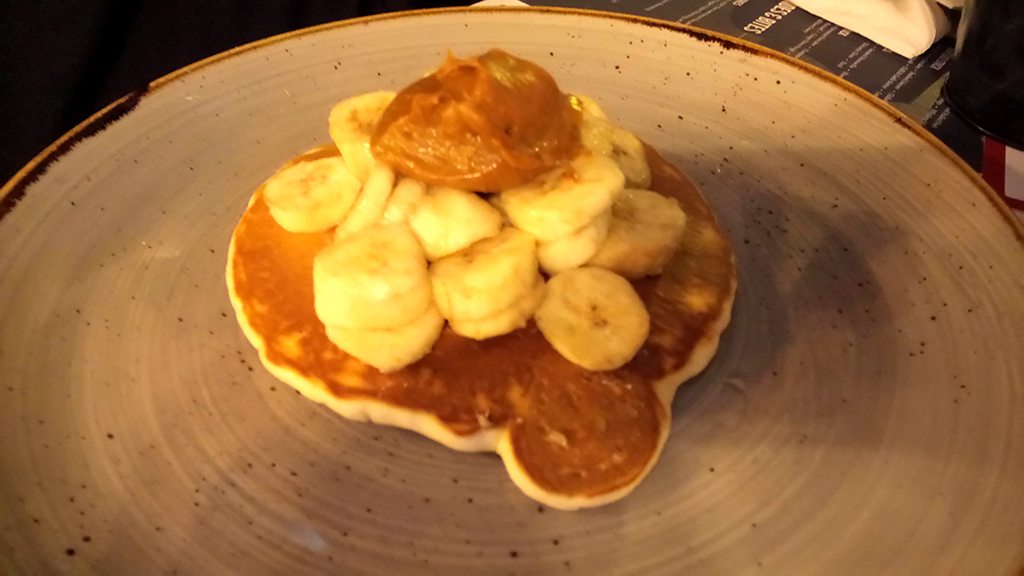 My companion built her own dessert, with a buttermilk pancake, bananas and a toffee sauce, creating her own banoffee pie. On a pancake. And it was gone before long.
Our junior diner picked a selection of fruit and Oreo toppings, and she polished hers off too.
This Christmas, if you're thinking of trying something similar but different for a dinner, I can't recommend this highly enough.
The service is first class, with the fabulously attentive Allison never far away, and constantly checked in to make sure that everyone was happy. Nothing was every a hassle for her. A real credit to Stack & Still.
The Christmas menu is available for £15 per person.
Stack and Still, 100-108 West George Street, Glasgow, G2 1PJ.
0141 471 0417