It's very hard to beat Paris in the spring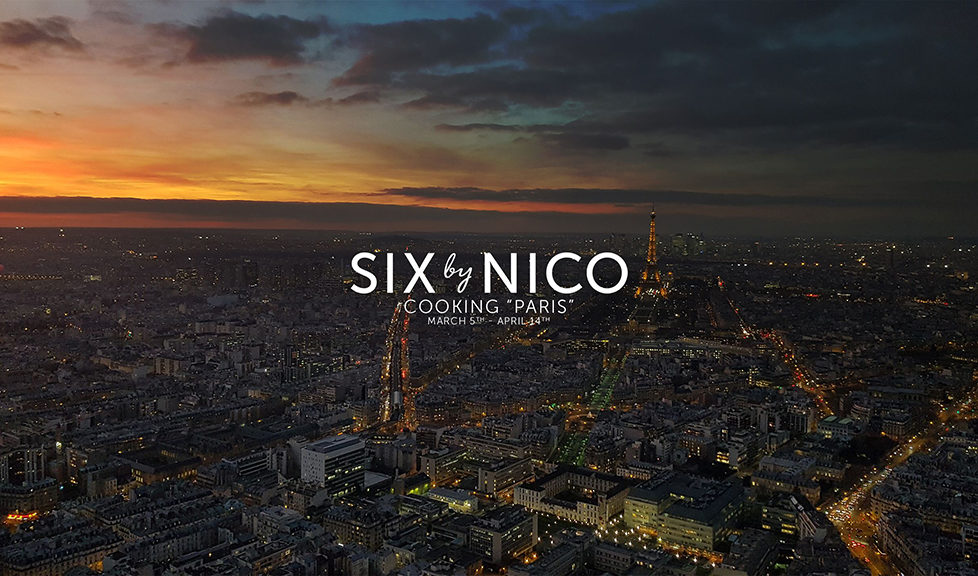 Spring in Paris is a joy to behold, as the leaves start to grow on the trees, the days are warmer and lighter, and the joy of outdoor eating returns.
But you don't need to head all the way to France – or indeed, go outdoors – thanks to the new menu at Six by Nico, currently on offer in Glasgow and Edinburgh.
The latest offering from chef Nico Simeone captures a Parisian menu that features something for everyone – and more than lives up to the reputation of French.
Six by Nico offers a new menu every six weeks, and features six different tasting courses, and it's a superb concept.
We began with a Croque Madame, a typical Nico twist on the traditional Croque Monsieur, offering a delicious cheese sauce around a crispy ham square, complete with bread and whipped butter. Quite frankly, I could have been fed bread all afternoon, as that egg yolk jam/Parmesan is just equisite. Pleasant, warm and not at all fatty, it was just what I love in comfort food.
The new six course tasting menu began with French Onion soup – beautifully braised onions that retained their delicious flavour, in a compte espuma. There was a surprise at the bottom with the brown butter croutons, which retain their crunchiness – just superb. A real winner.
It was after this course had been served that my companion and I noticed there was a TV screen in the dining area, which showed the food being prepared just yards away, and was a fantastic innovation, so you could tell when your next course was on the way.
The Coq au Vin features a chicken terrine, crispy bacon and soubisse. The terrine is carefully enclosed in a filo pastry casing, giving a wonderful crunch to go with the soft mousse-like chicken. This was my companion's favourite course by far, with the bacon a nice, salty taste to offset the sweet chicken. The pickled mustard seeds were wonderful – worth saving till the end.
The next course was a new one on me – Petit Pois a la Français. Here, we had a slow cooked egg, pea, and a charred gem lettuce, with ham. The egg was very different – it had been cooked for an hour, and was somewhere between a fried egg and a poached egg, giving it a superb, soft fluffy texture. A surprise highlight was the lettuce – I've never tried a charred lettuce before, and the heat brought out some fantastic flavours in this little wedge. Three courses down, three surefire successes.
The Bouillabaisse comprised sole, confit fennel, roasted pepper and rouille – and what a combination. The sole was very fresh tasting, and had a wonderful flavour of its own, but this was accented – rather than drowned – by the accompanying sauces. The fennel – never a particular favourite of mine – was delicious. Neither of us wanted this course to end.
And then came the dish I had been anticipating most – the Beef Bourguignon – ox cheek, mushroom duxelles, shallot and bacon crumb, and this was everything I had waited for. The duxelles was sat on a sliced mushroom base, and accompanied by a mushroom ketchup, which were the perfect accompaniment to the ox cheek. This crumbled beautifully on my fork as I gently nudged it, and the taste lingered happily after consumption – a beautiful, well-cooked piece of meat. Definitely my highlight.
And we came to the sixth and final course, the Creme Brûlée. I won't deny that this wasn't one I was that bothered about, as I've never really been a fan of the dessert. How wrong have I been? If every Creme Brûlée tasted like this, I would have it wherever I went – raspberry, rose and lychee, pink peppercorn meringue and brown sugar made for one delicious, sweet course that I didn't want to end. Sadly, my companion felt the same, just when I had hoped I might be able to take hers.
This is a superb six – again, Nico has shown his passion for the palate by creating a menu that bombards the senses, with a pleasant bouquet of tastes that marry perfectly.
A word too for the staff – we were served by Mike, and not once have I had poor service in any of Nico's restaurants. Good food and fantastic team members who know the menu inside out are what you need to bring diners back, time and again.
I heartily recommend – bon appetit!
Six by Nico is open Tuesday through to Sunday on Hanover Street in Edinburgh and in Finnieston in Glasgow, from noon to night.
The menu is priced at £28 per person with the option to enjoy an expertly selected wine and specialist drinks pairing for an additional £25 at each restaurant. There is a vegetarian alternative available for every course, as well as Parisian theme inspired snack sides.
Paris will run from Tuesday 5 March until Sunday 14 April.
Six by Nico, 1132 Argyle St, Glasgow, G3 8TD
0141 334 5661
Six by Nico, 97 Hanover St, Edinburgh EH2 1DJ
0131 225 5050