You'll love this twist on an old favourite with mojito snaps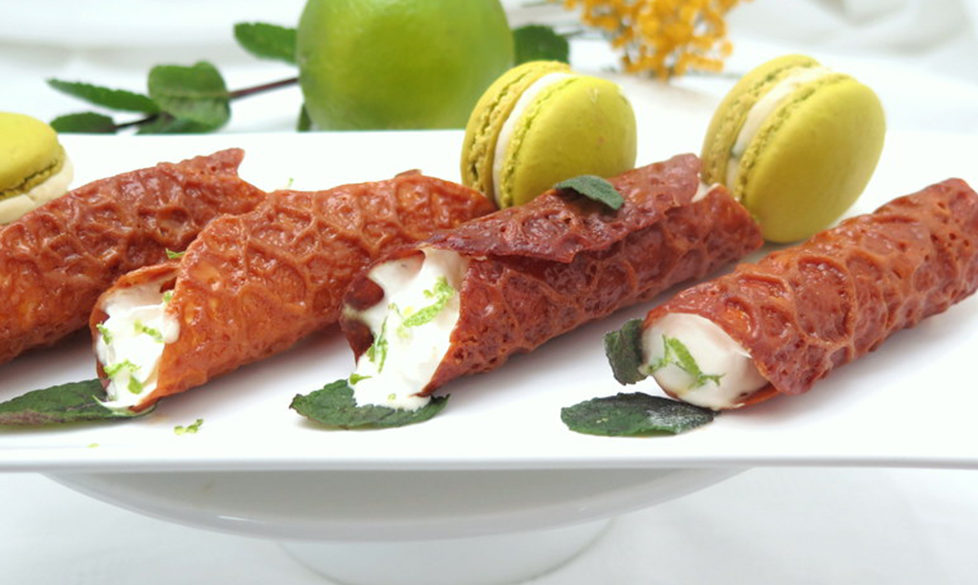 Mojito Snaps
Butter, unsalted, 50g / 2oz
sugar, 40g / 1.5oz
Golden syrup (Lyle's), 2 tbsp
Plain (all-purpose) flour, 50g / 2oz
Baking powder, 3/4 tsp
mint essence, 3-4 drops
Golden rum, 1 tsp
Whipping cream (crème fleurette) 35%, 300g / 10.5oz
mint essence, 3 drops
Icing (powdered) sugar, 2 tbsp
Golden rum, 1 tbsp
lime zest (untreated/organic)
fresh mint leaves (for garnish)
Preheat oven to 180°C/360°F/160°C fan/Gas 4. Either lightly grease a (non-stick) baking tray or even better, top the baking tray with a silicone mat. Lightly oil 2 metallic handles of a spatula, ice cream scooper or the likes, or a wooden spoon. Place a bowl in the fridge for the whipped cream.
In a saucepan, melt together the butter, sugar and Golden Syrup. When melted together, remove from the heat and stir in the remaining ingredients. Leave to cool for a couple of minutes so that it's easier to spoon the mixture out.
Using two teaspoons to push out the batter, place small heaps on the baking tray, ensuring each is spaced well apart (they spread a lot during cooking), ideally about 8cm/3 inches apart.
Bake in the oven for 8-10 minutes, keeping an eye on them towards the end, as it all depends on your oven. I found 7 minutes was too short, as they were not brown enough and 8-9 minutes was just right. Another minute, they would start to burn around the edges, which is to be avoided.
Leave to cool them slightly still on the tray. Using a spatula, check when they're ready by testing on the side. If the batter moves, then they're still too hot so wait another minute or two. Ideally they're perfect when still warm
Gradually lift each snap off the tray and, using the oiled handle(s), roll each completely around them still directly on the warm tray. As the others will harden quickly, making it too hard to roll, just place them back in the oven for about 30 seconds to reheat.
Prepare another baking sheet repeating steps 4-6 until finished.
For the snap filling, when ready to serve, whip up the cream in the chilled bowl using an electric whisk to firm peaks. Add the zest, mint essence and rum and whisk to incorporate for a few more seconds, then fill each mojito snap cavity with the whipped cream. Garnish each snap with some mint and serve immediately.
Recipe © Jill Collona | https://madaboutmacarons.com/mojito-snaps/
Scottish Field's recipes with a difference from Scot Jill Colonna in Paris continue with a sweet treat.
Jill, who runs the MadAboutMacarons.com website, lives with her husband and family in France, having moved across the channel in 1992.
Today, she presents her recipe for Mojito Snaps – a twist on brandy or ginger snaps.
Jill said: 'The other day I was flicking through Classic British Bakes in my old edition of the Be-Ro Flour Home Recipes and stopped at Ginger Snaps. Do you remember these? We remember them as Brandy Snaps.
'Suddenly a waft of nostalgia hit, as I recalled my parents going crazy for Brandy Snaps when they'd see them stacked up at one of our favourite bakeries in Edinburgh when I was little.
'These little fragile caramel-like rolled tubes were simply divine and with their oozing filling of whipped cream, you can just imagine why they're called snaps. They'd snap into the most messiest of delicious pieces, cream getting everywhere. It just wasn't possible to eat one – and without messy fingers, either.
'So I decided to go a bit retro and, inspired by a "green" theme for Saint Patrick's Day – although nothing Irish about them – I thought about mint and lime, then a splash of rum came to mind.
'Put them together and what have you got? A Mojito! So, instead of Brandy Snaps, let's call them Rum Snaps – or Mojito Snaps! Strictly for the adults only.
'Even better, make them for your Mum for Mother's Day or Dad on Father's Day. They'll adore that delicious touch of nostalgia.'