Wee beasties of the glen are tasty haggis canapes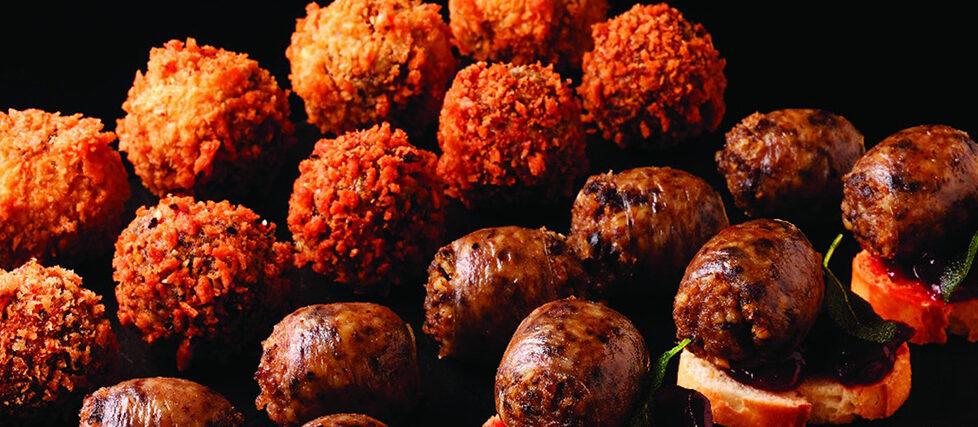 Wee beasties of the glen
225g traditional haggis
1 egg yolk, beaten
1 whole egg, beaten
6 tablespoons porridge oats, medium oatmeal (or panko breadcrumbs) for coating
vegetable oil for shallow frying
black pepper
Add the beaten egg yolk to the cold haggis in a bowl and mix well. Add a few turns of black pepper to the mix.
Form into small bite-sized balls. Don't be tempted to make them too big, otherwise the outside will burn before the haggis inside is hot enough.
Coat the balls in beaten egg, then roll in the porridge oats or oatmeal (try and opt for coarser rather than too fine an oatmeal for this).
Shallow-fry the balls in oil until golden brown and serve right away.
Recipe © Macsween | https://www.macsween.co.uk/recipes/
Looking for something different for a canape this Christmas?
These crispy haggis balls pack a flavoursome punch for relatively little effort, in a recipe from Macsween.
Producing more than 1334 tonnes of haggis this year alone, Macsween of Edinburgh has seen immense growth over the past year with an increase of 8% in haggis production, meaning the company has enough to serve Christmas dinners across the UK.
Since launching the vegetarian haggis in 2017, sales have increased by 5% over the past year and they are expecting this to be a record Christmas.
Macsween of Edinburgh is a third-generation family business that produces multi- award-winning products including classic haggis, gluten-free haggis, vegetarian and vegan-friendly haggis and black pudding. Nutritious, versatile and quick to cook, Macsween of Edinburgh's products are perfect for adding a tasty and nutritious twist to a variety of recipes.