Try this delicious recipe for gourmet hot dogs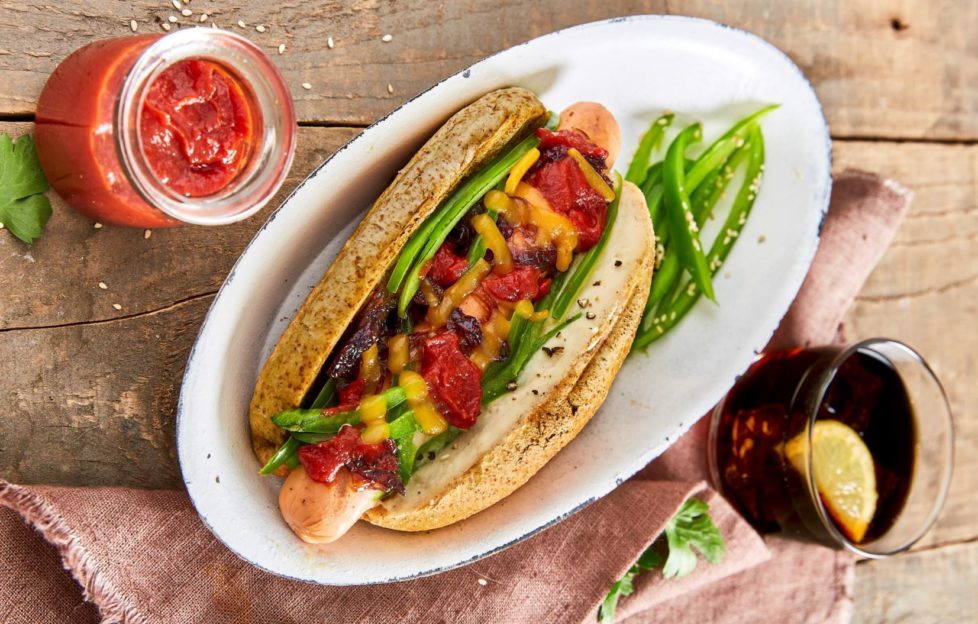 Gourmet hot dogs with cannellini sauce and ketchup (serves 4)
4 hot dog buns
4 hot dogs
250g cannellini
1 sliced green pepper
8 tablespoon shredded cheese (cheddar or other)
Caramelized onions: 2 onions
2 tablespoon butter
1/2 teaspoon salt
60ml balsamic vinegar or red wine
20g brown sugar
Tomato ketchup: 280g Mutti passata
100g Mutti double concentrated
1 tablespoon olive oil
1 clove garlic
1/2 onion
1 teaspoon dijon mustard
1/2 teaspoon cloves
1/2 teaspoon cinnamon
1/2 teaspoon salt
80g sugar
Cannellini sauce: 120g cooked cannellini
Olive oil
20g water
Salt and pepper
Caramelized onions: Peel the onions and slice them. Melt 2 tablespoons of butter in a large skillet over medium heat. Add the onions and stir to coat with the butter. Add 60ml of water, sugar and salt. Cover and c ook the onions about 20 minutes, checking on them every 5 minutes. Uncover and continue cooking for another 40 minutes; on moderate heat.
The onions should dry and darken, stir frequently during cooking (if necessary, add a little water)
After 40 minutes, raise the heat and blend with the balsamic vinegar or red wine , quickly evaporate the alcoholic part of the vinegar /wine and mix everything.
Remove form the heat
Tomato ketchup: Heat the olive oil over medium heat in a skillet and add chopped onion. Cook for 2 minutes, add the garlic and cook for another minute
Pour in the sugar, vinegar and salt. Bring to a boil, add passata and double concentrated and stir to combine
Add the mustard, cloves, and cinnamon and cook for 10 minutes until it thickens to ketchup consistency. Blend until smooth and refrigerate before using.
Cannellini sauce: Add all the ingredients into a blender. Blend until very smooth.
Heat the hot dogs in a pan and cook them until the skins crisp. Spread with cannellini sauce
Place the hot dogs in the buns. Top them with with green pepper and caramelized onions. Sprinkle the shredded cheese over the top and broil the hot dogs in the oven for a few minutes until the cheese is melted.
Serve with tomato ketchup.
Recipe © Mutti | https://mutti-parma.com/en/
One of the most convenient and tasty snack foods of all time is most definitely the hot dog.
Today, courtesy of Mutti, an Italian firm who produce organic tomatoes, we today bring you a recipe for gourmet hot dogs with cannellini sauce and ketchup.