Try these turmeric, ginger and garlic vegan flatbreads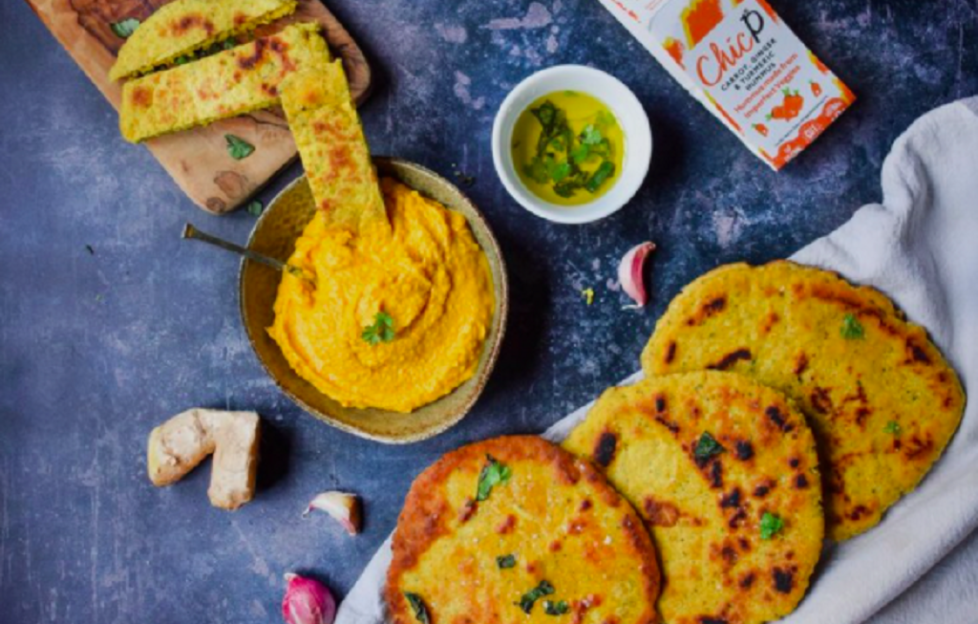 Vegan Turmeric, Ginger & Garlic Vegan Flatbreads with ChicP (serves two)
130g plain flour
1 tsp baking powder
1/2 tsp sea salt
1 tsp ginger
1 tsp turmeric
1 tsp basil
1 garlic clove, minced
1 tbsp olive oil
1/2 tsp golden syrup
90 ml cold water
Vegetable oil
In a large bowl, combine the flour, baking powder, salt, turmeric, ginger and basil. Once combined, add the garlic, olive oil, golden syrup and most of the water (save a little to add later as necessary).
Mix using a silicone spatula to form a dough. If the dough seems a little dry, add the remaining water. Knead for 4-6 minutes then transfer onto a floured work surface, cover with a clean tea towel and leave for 5 minutes.
Divide the dough into four (or 2 if making larger ones) pieces. Dust each piece in a little flour and roll into a disc.
Add two tablespoons of oil to a pan over medium heat. When the oil looks shimmery, add a flatbread and cook until golden on one side, flip and cook until golden on the second side (1 to 2 minutes on each side).
Once cooked, transfer to a plate and cover with a clean tea towel to keep warm. Continue with the remaining flatbreads and if the pan looks a little dry, add a bit more oil before continuing.
Recipe © ChicP | https://www.chicp.co.uk/
Spring is here, and we're all looking to try something new this season.
The seasonal and sustainable snack brand, ChicP, offers a delicious range of nutritious veggie bites and healthy hummus dips which are all made from surplus vegetables.
Ideal for dunking, spreading or dolloping, ChicP is a great accompaniment to any picnic or BBQ.
Today we present the first of their recipes for the week, Vegan Turmeric, Ginger and Garlic Vegan Flatbreads.