Try these tasty Brambley Burgers with Mustard Mayo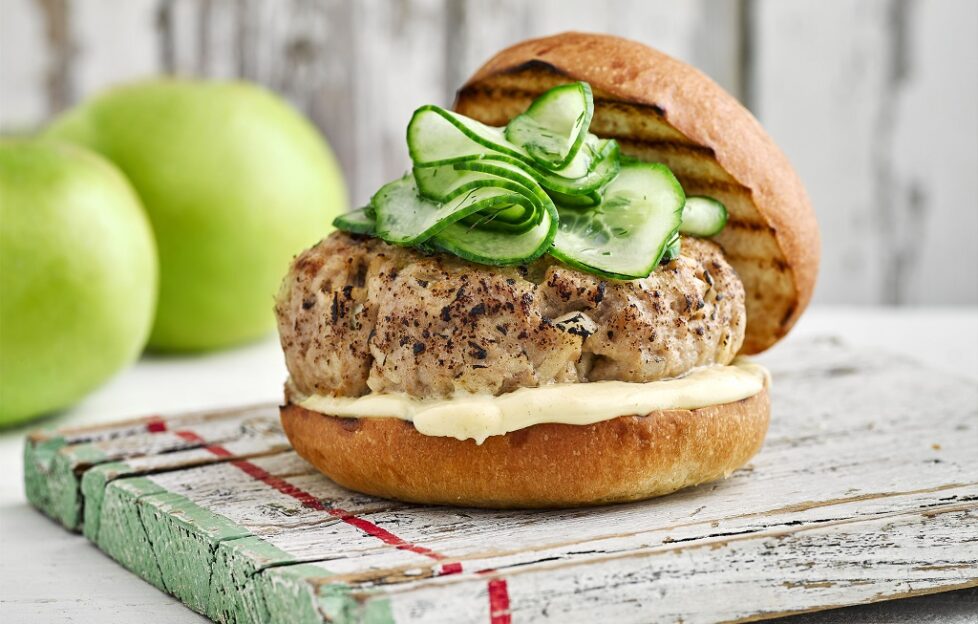 Brambley Burgers with Mustard Mayo
For the cucumber dill pickle: ½ small cucumber
1 tbsp lemon juice
½ tsp salt
2 tsp chopped dill
For the burgers: 1 Bramley apple, grated
400g minced pork
1 garlic clove, crushed
½ onion, finely chopped
80g breadcrumbs
1 egg yolk
1 tsp salt
1 tsp pepper
1 tbsp sunflower oil
For the Dijon mustard mayonnaise: 80g mayonnaise
4 tsp Dijon mustard
1 tsp sunflower oil
To serve: 1 baby gem lettuce
4 toasted buns
Finely slice the cucumber, sprinkle with salt and leave in a colander set over a bowl to pickle for 10 minutes whilst you prepare the burger patties
Place the grated Bramley in a clean tea towel and squeeze out the excess juice
Mix all of the burger ingredients in a large bowl and season with salt and black pepper. Form into four patties
Heat a non-stick frying pan over a medium heat and fry the burgers in the sunflower oil for 5-6 minutes on each side until cooked through.
Alternatively, to barbeque, brush the burgers with a little oil or place on a bed of herbs such as rosemary, thyme or bay leaves to prevent sticking and place onto the barbeque, turning occasionally until cooked through
Whisk together the dill, lemon juice and the sunflower oil. Squeeze the cucumber a little to release any excess juices and add to the bowl, stirring to combine
Whisk together the mustard and mayonnaise To serve, spread the mayonnaise on the buns, top with the burgers, lettuce and pickled cucumber
Recipe © British Apples and Pears | https://www.britishapplesandpears.co.uk/recipes/
As the leaves on the trees turn from green to yellow and brown, it means that autumn is here.
And, of course, it means that British fruit is coming into season, with apples and pears ready to drop from the trees.
Over the next few days, courtesy of British Apples and Pears, we're going to share some tasty recipes to try at home – and they're all highly recommended!