Try Mallard en croute for Great British Game Week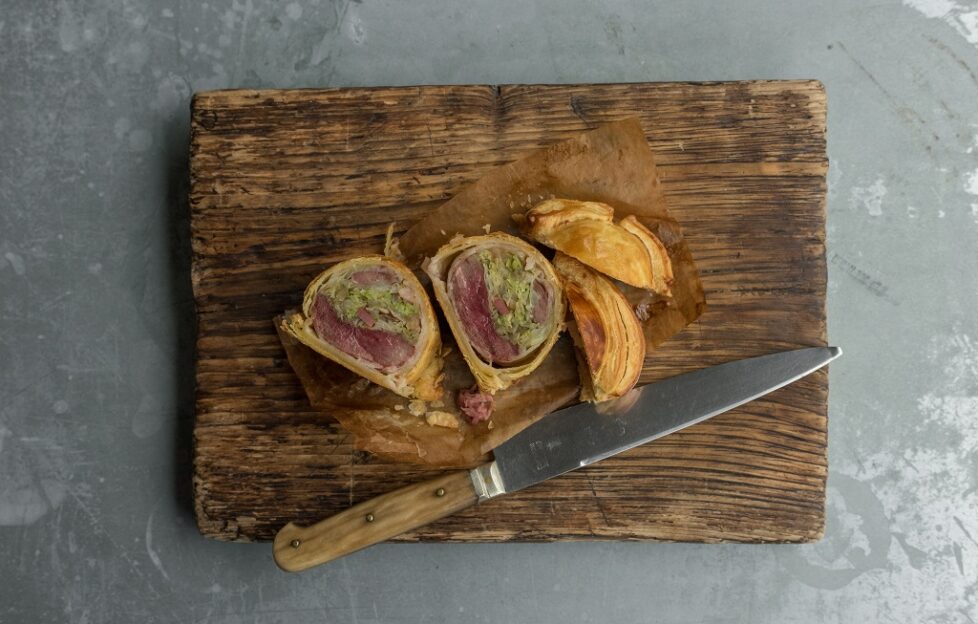 Mallard en croûte (Serves 2)
2 mallard breasts, about 150g per breast
½ savoy cabbage, cored and very finely shredded
Olive oil
50g thinly cut smoked lardons
½ onion, thickly sliced
½ garlic clove, crushed to a purée
100g crépinette, rinsed
100g sliced pancetta
200g puff pastry
Plain flour for rolling out the pastry
2 free-range egg yolks, beaten
Sea salt and freshly cracked black pepper
Bring a large saucepan of salted water to the boil. Add the cabbage and blanch for 2–3 minutes until it just starts to wilt, then immediately drain. Refresh under cold running water to stop the cooking and set the colour. Pat dry and set aside.
Meanwhile, heat a large well-seasoned frying pan over a medium-high heat, then add a splash of oil. When hot, add the lardons and sauté until they are coloured all over. Add the onion and garlic and continue sautéing for a further minute. Add the cabbage and continue sautéing for 4–5 minutes until it is tender. Remove the pan from the heat and set aside.
Cut the crépinette into 2 equal-sized portions, and lay one piece on the work surface. Arrange half the sliced pancetta on top so it is the length of a duck breast. Season a breast with salt and pepper and place it on top of the pancetta. Add 2 generous tablespoons of the cabbage. Roll the pancetta and crépinette around the duck and cabbage to make a thick sausage shape. Repeat with the other piece of crépinette and the remaining duck breast and cabbage. Set both duck parcels aside.
Divide the puff pastry into 2 equal-sized portions. Roll out each portion on a lightly floured surface with a lightly floured rolling pin into a 20 x 15cm rectangle about 3mm thick. Now place one of the duck parcels on a piece of puff pastry, rolling the pastry around until the duck and cabbage are completely covered. Lightly squeeze all the joins so the pastry is well sealed. Repeat with the remaining ingredients to make another duck parcel, then chill both of them for 20 minutes.
Meanwhile, preheat the oven to 200˚C. Brush each parcel with the beaten eggs.
Place the pastry parcels on a baking sheet and bake for 16–17 minutes until the pastry is golden brown. Remove from the oven and leave to rest for 8 minutes before slicing.
Recipe © Great British Game Week | http://www.facebook.com/GreatBritishGameWeek/
All that is great about game meat will be celebrated across the UK this autumn when Great British Game Week returns for its fifth year from Monday 22 to Sunday 28 November.
The week-long promotion is a celebration of enjoying wild game, promoted by BASC's Eat Game initiative in partnership with the British Game Assurance's Eat Wild campaign.
The week will be a focus for lots of events, dinners and special offers promoting game to consumers around the country.
People will be encouraged to taste game for the first time and try new products which have game in them such as pies, sausages, burgers and charcuterie.
This week, we're bringing you a host of tasty recipes which were created by Scots chef Tom Kitchin.
More information on Great British Game Week can be found at www.facebook.com/GreatBritishGameWeek/