Try a recipe with a difference – pigeon en croute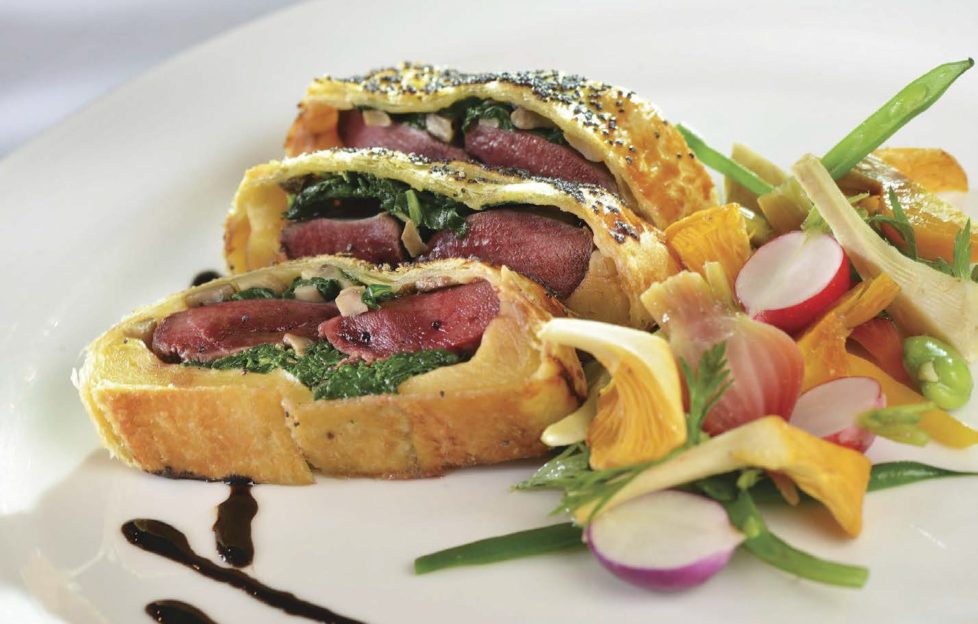 Skekt Herring (Serves four)
8 fresh pigeon breasts (skinned)
250g button mushrooms (washed, diced, cooked and chilled)
250g fresh spinach (washed, cooked and chilled)
2 cloves of garlic (peeled and crushed)
1 tsp salt
1 pinch grated nutmeg
20 turns of ground black pepper
1 tsp fresh thyme (finely chopped)
400g good-quality fresh all-butter puff pastry, chilled
2 eggs (beaten)
A handful of poppy seeds
For the sauce: 4 tbsp butter
75g shallot (finely diced)
150g button mushrooms (finely diced)
75g blackcurrants
240ml ruby port (at least ten years old)
Zest of ¼ orange
350ml fresh beef stock
Salt and pepper
Method: Season the pigeon breasts with a sprinkling of salt on both sides. Place a frying pan on full heat, add a teaspoon of rapeseed oil and, when smoking, add the pigeon breasts. Sear for twenty seconds, then turn over and repeat the process. Remove from the pan, set aside to cool and then refrigerate.
Place all the other ingredients except the pastry into a bowl and mix together, adjusting the seasoning to your taste, then refrigerate. Roll the puff pastry out on a lightly floured surface to about 2mm thickness. Cut out four 15x10cm rectangles and set aside. Line a baking tray with non-stick baking paper.
Remove the pigeon breasts and vegetable mix from the fridge. For each parcel, place one tablespoon of the veg mix in the centre of each puff pastry rectangle, top with two pigeon breasts side by side, then top these with another tablespoon of veg.
Brush the pastry edges with the beaten egg, then fold the long sides into the middle so that they overlap slightly. Repeat with the remaining puff-pastry rectangles to make four parcels.
Flip these so that the joins are underneath, then crimp the edges of the open ends to form sealed parcels. Brush the pastries with the remaining beaten egg and sprinkle with poppy seeds. Place the pastries on the prepared baking tray and leave to rest in the fridge for 30 minutes or until you are ready to bake them.
When you are ready to serve, preheat the oven to 210°C and bake the parcels for 15 minutes or until golden brown and crisp.
Recipe © Tim Dover | https://www.theroostrestaurant.co.uk/
 Tim and Anna Dover are the husband and wife team behind The Roost restaurant in Bridge of Earn.
Opening The Roost was a lifestyle choice for the Dovers, who wanted their children to grow up in the countryside, who opened The Roost in 2008 as a coffee shop.
Tim said he likes: Modern fine dining using traditional methods. Vegetables and herbs from the raised beds in the garden, along with foraged Alexanders and mushrooms, supplement the fine produce that is sourced locally.'
'Perthshire has the best soft fruit and venison in Scotland,' says Tim, whose menu changes as often as necessary to ensure the best quality produce is always on offer.
(This recipe was originally published in 2016)