The Forager's Haggis is ideal for Burns Night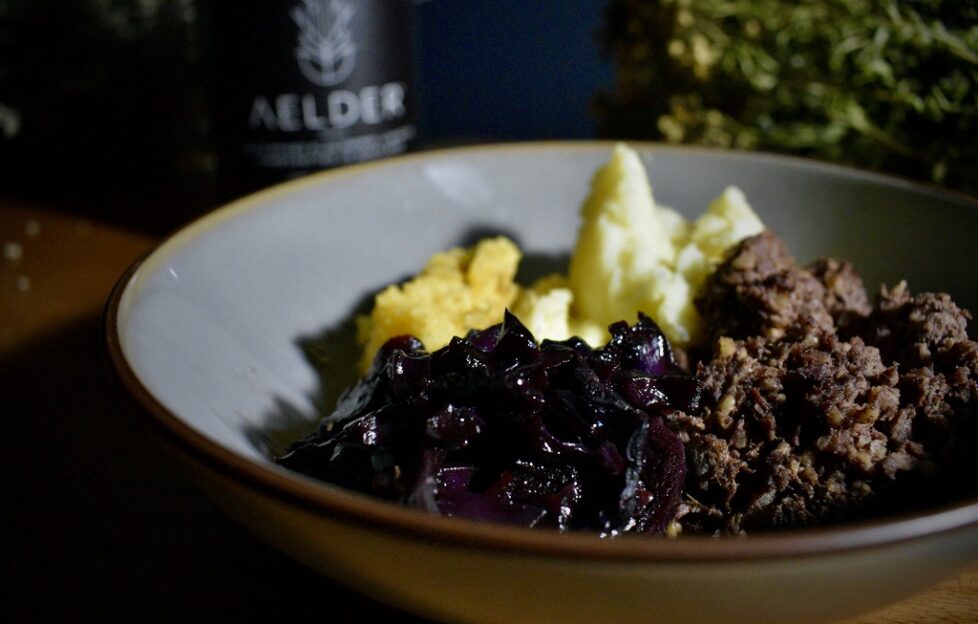 The Forager's Haggis
Beef bung for stuffing
500g toasted pinhead oatmeal
200g of well cared for, organic, minced pork fat or belly.
1.4kg wild game pluck (heart, lungs liver), ½ diced, ½ minced
500g of mixed wild game trimmings
100g finely diced onion
3 cloves of garlic chopped fine
1.5 litres game stock
For the seasoning: 6g juniper berries
6g dried coriander seed
2g ground mace
6g cracked black pepper
6g fresh thyme
Juice of 1/2 lemon
Salt to taste
For the Aelder braised cabbage: 1 small red cabbage
1 sliced red onion
70g soft light brown sugar
70ml cider vinegar
100 ml Aelder elixir
One large knob of butter
Sprigs of thyme
Toast the oatmeal and set aside. In a large pan fry the onion, garlic and dried spices until onions are translucent before adding the meat and browning for 5 minutes (some prefer to cook the meat first but this method keeps the finished haggis more juicy).
Add the oatmeal and ½ the stock and keep stirring, adding the remainder of the stock gradually until the oatmeal is al dente. Once done, season with lemon juice, fresh thyme and salt to taste.
Let the haggis cool before spooning the mixture into the soaked, rinsed ox bung. Be aware the filling swells as it cooks, so pack quite loosely, and keep a little bung at each end. When the haggis is the size required, expel any extra air, pinch, tie with string and cut with scissors.
Tie the new end of the bung, and continue stuffing. Freeze any spare haggises.
To cook the final haggis poach gently at about 83 deg c for half an hour to 45 minutes.
For the Aelder braised cabbage: Quarter the red cabbage and remove the core, then finely shred. Tip into a large pan with the red onion, brown sugar, cider vinegar, Aelder Elixir, thyme and butter and season well. Bring to a simmer, then cover with a lid, lower the heat and cook for 1 1/ 2 hrs, stirring every so often. Remove the lid and continue cooking for 30 mins until tender and the liquid is reduced and glossy .
Recipe © Buck & Birch | https://www.buckandbirch.com/
With Burns Night approaching, we present a tasty haggis with a difference.
We've teamed up with Buck & Birch to share possibly the most indulgent and decadent Burn's supper recipes going- The Forager's Haggis.
A Burns Supper would traditionally consist of Haggis, neeps and tatties but head chef, master forager and flavour expert at Buck & Birch, Rupert Waites has elevated the dish with foraged ingredients, wild game and a mound of sweet, sticky, braised red cabbage made with a generous glug of Buck & Birch's award-winning elderberry liqueur, Aleder Elixir.
This recipe may seem a little daunting to make from scratch, but a butcher bought haggis will work just fine but don't forget the Aleder Elixir braised cabbage – it makes all the difference!