Roobois Tea Milk Tart at Bushmans Kloof's, South Africa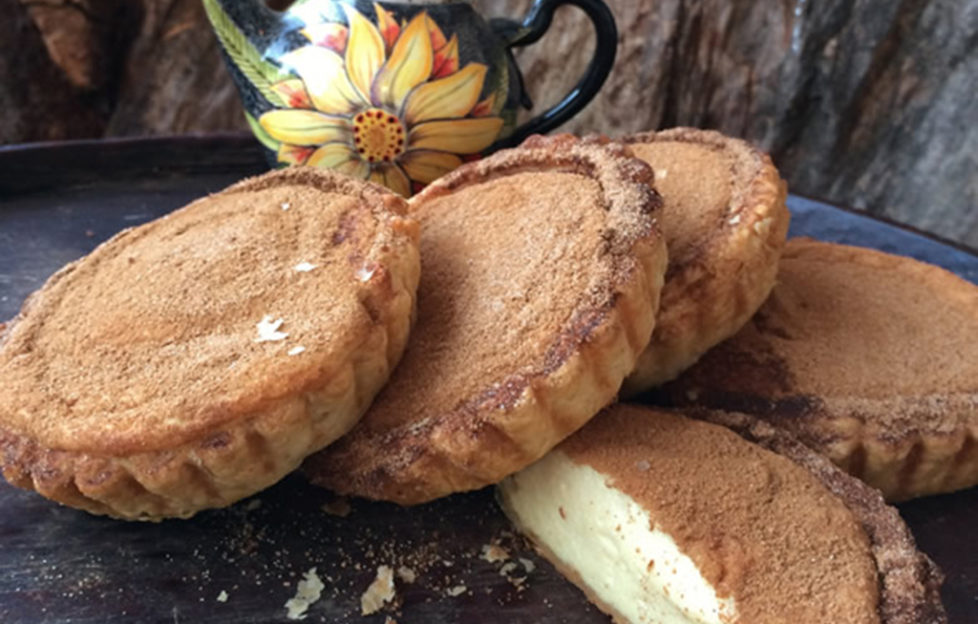 Roobois Tea Milk Tart
For the pastry:
Cake flour: 500g
Cream of tartare: 7.5ml
Butter: 500g
Ice water: 200ml
Pinch of salt
For the milk tart filling:
Milk: 500ml
Cinnamon finger: 1
Whole zest of one orange
Rooibos tea bags: 6
Sugar: 60ml
Cake flour: 45ml
Corn flour: 15ml
Pinch of salt
Butter: 30ml
Eggs, separated: 3
Cinnamon sugar to serve
For the pastry: Sift the flour, cream of tartare and salt into a food processor.
Cube the butter and add to the flour mixture.
Pulse the butter into the flour, slowly add the water until the pastry comes together.
Wrap and put into the fridge to rest for at least 2 hours.
For the milk tart filling: Pre-heat the oven to 200ºC.
On a lightly floured surface, roll out the pastry quite thinly and line a 25cm tart tin.
To make the filling, bring the milk, cinnamon, orange zest and Rooibos to the boil and put aside to cool down for 30 minutes.
Mix the sugar, flour, corn flour, egg yolks and salt together in a mixing bowl. Slowly strain the milk into the mixture and mix well.
Cook over a low heat until the mixture thickens.
Take off the heat and stir in the butter.
Whip egg white to soft peak stage and fold into cooked mixture. Spoon mixture into a tart case and bake for approximately 15 minutes. Turn the oven down to 180ºC for another 10 minutes.
Allow to cool slightly, dust with cinnamon sugar and serve.
Recipe © Bushmans Kloof, South Africa | https://www.bushmanskloof.co.za/
Nestled deep in the Cederberg Mountains is Bushmans Kloof Wilderness Reserve and Wellness Retreat.
Set within 7,000 hectares of flora and fauna, the property is home to crystal-clear waterfalls and the world's largest outdoor gallery, with over 130 ancient rock art sites dating back 10,000 years which has earned it a South African National Heritage Site accreditation.
Much of the food is grown on site at Bushmans Kloof with the organic garden creating an authentic farm to fork feel. This Roobois milk heart utilises the tea which is indigenous to the region and is most probably stocked in the cupboards of self-isolators the world over.