Pheasant with a chanterelle and cep sausage recipe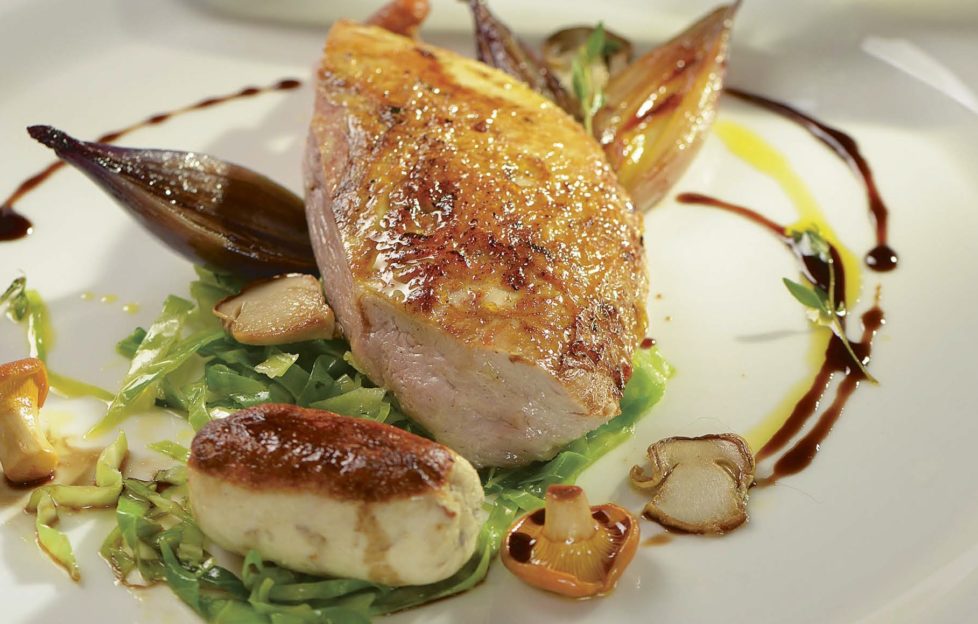 Cardney Estate pheasant with a chanterelle and cep sausage, hispi cabbage, roast onions and thyme
2 pheasants, legs removed for sausage
Chanterelle and cep sausage - 100g chanterelles
100g ceps
100g pheasant
1 egg white
100ml double cream
Salt and pepper
Hispi cabbage: 100g Hispi cabbage
1 tsp butter
Roast onions: Red and white onions
Olive oil
Thyme sprigs
Cardney Estate pheasants: 2 pheasants
Thyme
Butter
Chanterelle and cep sausage - Cook chanterelles and ceps and chop roughly once cool. Then process the leg meat with egg white then push through a sieve. Mix in cream, chopped ceps and chanterelles and season with salt and pepper.
Place on a sheet of cling film and roll up tightly in a sausage shape. Tie ends and poach in simmering water for five minutes. Once cooked place in an ice bath to cool down rapidly.
Hispi cabbage: Shred the cabbage and cook in butter for two minutes and season. Keep warm.
Roast onions: Half the red and white onions and place cut side down on a tray with a little olive oil, salt and pepper and thyme sprigs and roast for 20 minutes.
Cardney Estate pheasants: Roast the pheasant crowns in oven with thyme, butter and seasoning for 20 minutes. Keep the roasting juices for garnish and rest in a warm place for 10 minutes.
Pan fry sausage in a little butter and place on a warm plate.
Arrange pheasant breast on the hispi cabbage, add the sausage and onions and spoon over the warm roasting juices.
Recipe © Steve McCallum | https://kinlochhouse.com/
Steve McCallum is the chef at Kinloch House near Blairgowrie in Perthshire, where he has access to what he describes as the 'best larder around'.
He says: 'We get a small amount of vegetables from the walled garden and the grapevines and fig trees are fantastic considering where we are.
'There are lots of apple and pear trees and we combine these fruits with game such as roe deer, partridge and grouse. We can also get all manner of seasonal berries nearby, which we use all summer.'
Steve is often called on to prepare locally shot woodcock and partridge by the many shooting parties that take over the small 16-bedroom hotel.
The hotel has a private dining room and attracts many foreign visitors who often ask Steve to prepare specific dishes.
'The Russians like caviar served before the meal while the French, and some of the Americans, like haggis and come back every year for this tradition.'
(This recipe was originally published in 2016)