Mix it up with a haggis and beef wellington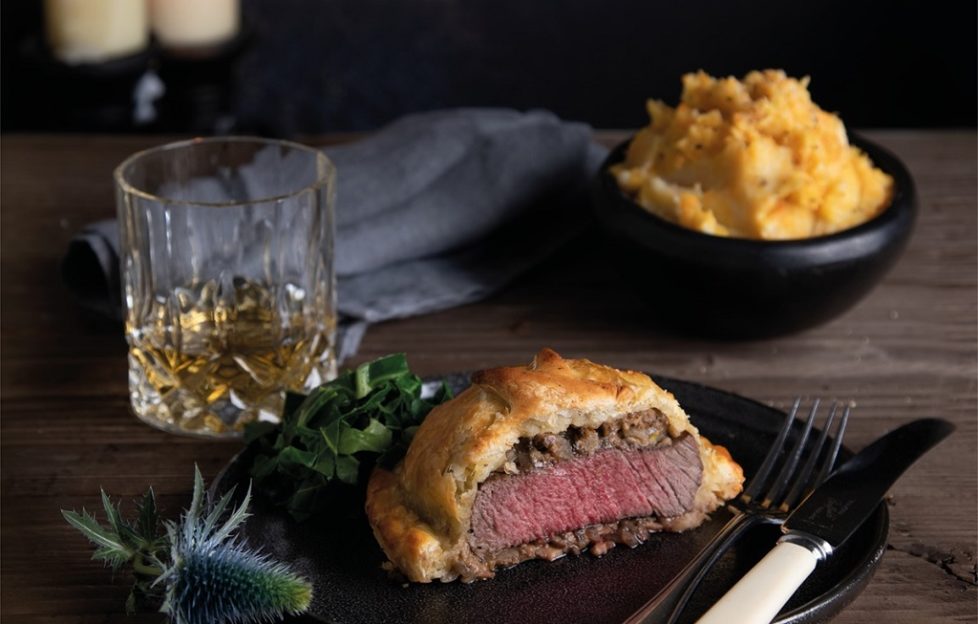 Fillet of Scotch Beef PGI and Haggis Wellington (Serves 4)
4 x 170g Scotch Beef PGI fillet steaks
Sea salt
Freshly ground black pepper
1 tbsp olive oil
For the haggis filling: 1 tbsp olive oil
1 shallot, finely chopped
200g chestnut mushrooms, finely chopped
200g Haggis
1 tsp fresh rosemary, finely chopped
2 packs of ready rolled butter puff pastry
All-purpose flour
1 egg yolk, lightly beaten and mixed with 1tbsp warm water
Heat the oven to 210°C/190°C fan/ gas 6 1⁄2
Rub each Scotch Beef PGI fillet steak with olive oil, season well with salt and pepper
Heat a large frying pan until piping hot. Sear the seasoned steak on each side until browned on the outside. Remove the steak from the heat and set aside
For the burgers: Combine the Scotch Beef PGI and haggis together ensuring everything is mixed well
Using the same pan, warm a tablespoon of olive oil and add the shallots and mushrooms. Cook the mixture over medium heat. After approximately 2 - 3 minutes, turn the heat down and cook on low, stirring occasionally until the mixture looks dry. This will take about 8 minutes
Crumble the haggis into the mushroom mix and season well to taste
Remove from the heat and allow the mix to cool
To assemble, roll out the puff pastry on a floured surface. Cut out four circles that are 2½ cm larger than the fillets, and an additional four more circles that are 3½cm larger
Sit the smaller circles on a baking sheet. On the small circles spread a thin layer of mushroom & haggis mixture, keeping a 1cm border all around
Lay fillet steak on top of the mixture and put a spoonful of the mushroom mixture on top of the steak
Take the larger circle and carefully place over the top and seal the edges by nipping and twisting the two pieces of pastry together. Repeat until all four steaks have been prepared in the same way
Brush the egg wash across the puff pastry
Place into the oven to roast for 30 minutes for a medium finish. If the crust begins to get too dark, loosely cover with foil
Allow to rest for 10 minutes
Serve with buttery mash, smashed turnips, and kale
Celebrate the Bard's birthday (Saturday 25 January) with a Burns recipe with a twist, thanks to Quality Meat Scotland.
The Fillet of Scotch Beef and Haggis Individual Wellingtons are another option for people wanting a change from the normal Burns Supper, with the traditional haggis, neeps and tatties.
Kirsty Fox, marketing manager from QMS said: 'The recipe is a fitting tribute to the great Rabbie Burns, bringing together some of Scotland's best quality ingredients in dishes that I'm sure he'd be proud of.
'It is simple to create yet pack a punch with flavour, as well as being a little bit different to the usual – the perfect way to celebrate Scotland's iconic Bard.
'Scotch Beef is key to this recipe as it not only gives the dish a distinctive flavour, it guarantees quality – giving you peace of mind that you are serving a trusted ingredient from selected Scottish farms that meet some of the strictest standards of animal welfare and production methods.'
For more Scotch Beef recipe videos and inspiration visit www.scotchkitchen.com or follow Scotch Kitchen on Facebook, Instagram or Twitter.