Have you ever tried a haggis bread wreath?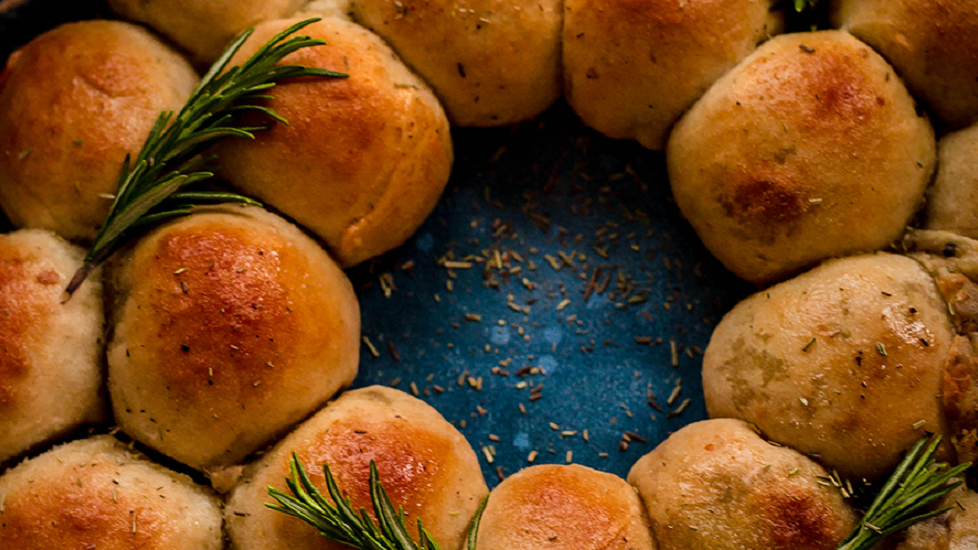 Veggie Haggis Bread Wreath
Bread: 500g strong White Bread Flour
7g Dried Yeast sachet
2 tsp Caster Sugar
100g butter melted optional
275 ml Water (Warm)
500g Macsween Vegetarian Haggis (3/4 pack)
26 Mozzarella (Pearls)
2 tbsp fine Semolina
Garlic Rosemary Butter: 140g butter
4 garlic cloves, crushed
1/2 tsp dried Rosemary
Dough: Add the flour to the bowl of an electric freestanding mixer.
Add the yeast and sugar on one side of the bowl and the salt on the other side.
Stir in the melted butter
Mix together, then add the melted butter and water.
Use the hook attachment of the mixer and knead to a dough on low for 7 minutes.
Roll into a dough. Grease a large bowl with oil and add the dough. Cover with oiled cling film and set aside in a warm place to rise for 1 1/2 hours.
Remove the sausage rolls from the freezer, cut into 3 cm pieces, and space them at least 2 cm apart. Snip the top of each with a pair of scissors, brush all over with the beaten egg, sprinkle with seeds and place in the oven to bake for 20 minutes, or until puffed and golden brown. Eat warm with Firecracker Sauce.
Grease a large baking tray and then dust with fine Semolina.
Tip the dough out of the bowl and punch the air out of it.
Divide the dough into 26 small bowls.
Filling: Flatten each piece of dough and fill with 1 teaspoon of Haggis and 1 bowl of mozarella.
Pull up the sides of the dough and pinch together to seal. Roll into a ball.
Add to the tray seam side down and leave a little space between each ball. (You may want to use a small bowl to help guide the shape of the wreath. Remove before placing in the oven.)
Cover the tray with oiled cling film. Set aside for 30 mins until almost doubled in size.
Heat oven to 220C/Gas Mark 7. Remove cling film. Bake for 25 mins until golden brown.
Melt the butter in pan over medium heat. Add the garland and sauté for a minute before adding the rosemary. Remove from the heat and set aside. Brush over the warm bread.
Recipe © Macsween | https://www.macsween.co.uk/recipes/
Today we bring you another recipe for a Christmas a treat with a difference.

The Veggie Haggis Bread Wreath will be a filling feed for any gathering, so you can get ready to rip and dip with this tantalising wreath, in a recipe from Macsween.
Producing more than 1334 tonnes of haggis this year alone, Macsween of Edinburgh has seen immense growth over the past year with an increase of 8% in haggis production, meaning the company has enough to serve Christmas dinners across the UK.
Since launching the vegetarian haggis in 2017, sales have increased by 5% over the past year and they are expecting this to be a record Christmas.
Macsween of Edinburgh is a third-generation family business that produces multi- award-winning products including classic haggis, gluten-free haggis, vegetarian and vegan-friendly haggis and black pudding. Nutritious, versatile and quick to cook, Macsween of Edinburgh's products are perfect for adding a tasty and nutritious twist to a variety of recipes.