Delicious hake with Dijon cream sauce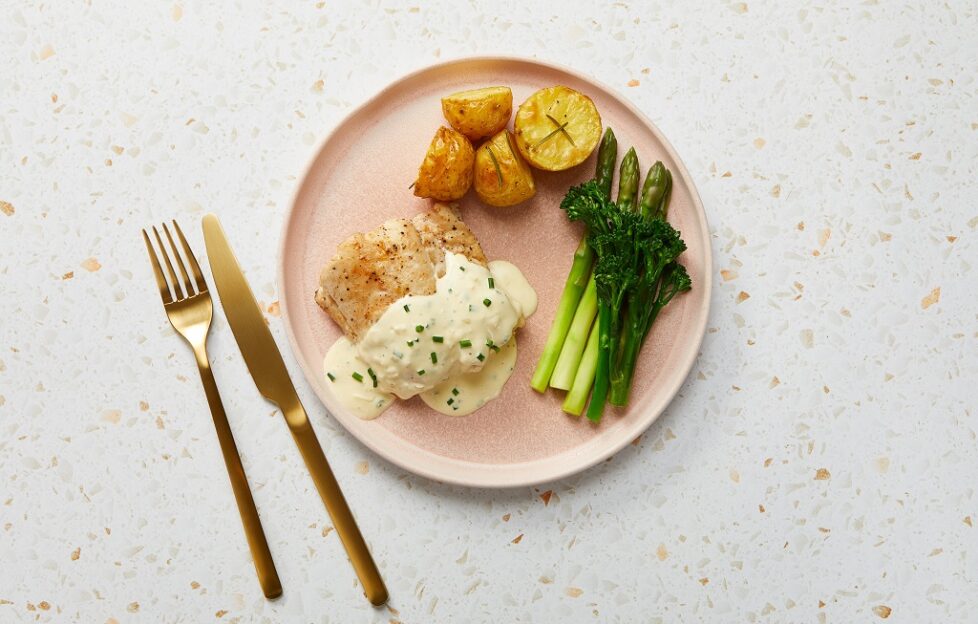 Hake with Dijon cream sauce
2 x 180-200g hake fillets
1 tbsp butter
1 tbsp olive oil
Salt & pepper, to taste
For the sauce: 2 tbsp unsalted butter
2 tbsp finely chopped shallots
75ml white wine
250ml double cream
1 tbsp Dijon mustard
Fresh chives, sniped, to taste
Prepare the fish by patting the fillets dry and seasoning well with salt and pepper.
To make the sauce, in a non-stick frying pan on a medium heat, melt the butter then add the shallots and cook for a few minutes.
Next, add the white wine, allowing to reduce until only a few tablespoons of liquid are left in the pan.
Remove from the heat for a minute or two before slowly adding the double cream, whisking to combine quickly.
Return to the heat and, without boiling, let the cream reduce by about half, before adding the mustard and chives, and seasoning with black pepper.
Set the sauce aside whilst you cook your fish. Melt the butter and olive oil in a large non-stick frying pan. On a high heat, add the hake fillets, skin-side down, and cook for 4-5 minutes, before turning over. Cook for a further minute or two, spooning over the pan juices. If the fillets are particularly chunky, you can finish cooking the fish under the heat of a medium-high grill.
When ready to serve, gently warm the sauce through again and serve the fish with the sauce and your favourite sides.
Recipe © Love Seafood | https://www.loveseafood.co.uk
Make your festivities indulgent with this Love Seafood recipe pairing hake with Dijon cream.
It's a dish worthy of any special occasion where the creamy mustard sauce is the perfect partner to the flaky hake fillet.
This dish is a winter warmer which is sure to impress your diners. A perfect way to bring on better living.
Love Seafood is focusing on how seafood can Bring on Better Living, showcasing how easy and tasty seafood is to cook at home. It's simple, budget-friendly and encourages consumers from across the UK to bring more balance into their diets with a high-protein seafood option.
Shop your local fishmonger for a great choice of sustainably sourced seafood and for more recipe inspiration, visit www.loveseafood.co.uk.