Chinese chicken salad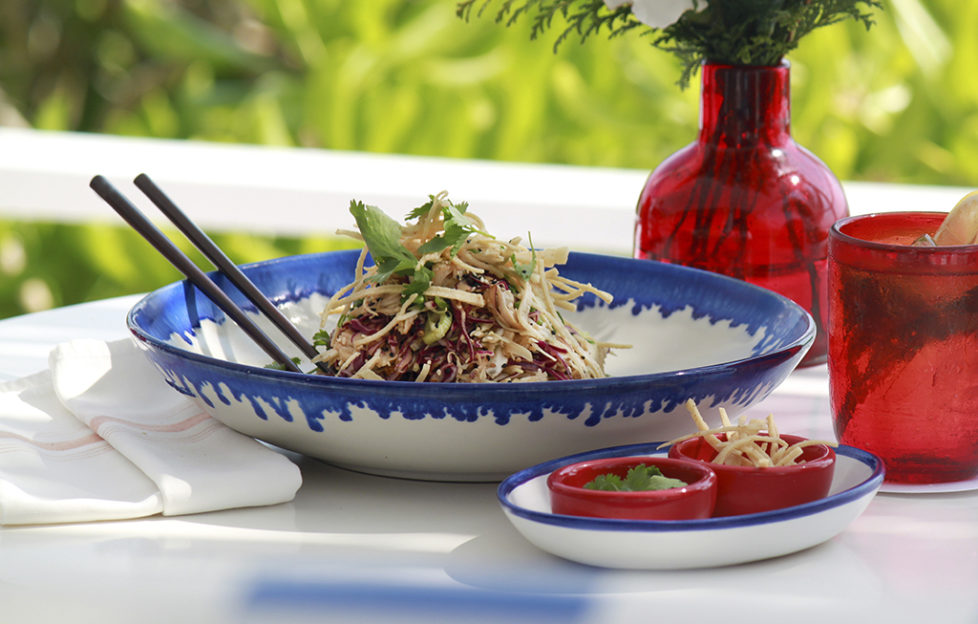 Chinese chicken salad
For the salad:
Shredded green and red cabbage: 180g
Shredded chicken breast: 200g
Spring onion: 5g
Coriander leaves (save a few for topping): 1g
Sesame seed mix (save a little for topping): 2g
Roasted peanuts, lightly crushed: 25g
Thin tortilla strips, crispy fried (save a few for topping): 25g
Orange supreme segments: 50g
Sea salt & black pepper
For dressing (makes 250ml):
Fresh garlic: 15g
Fresh ginger: 5g
Sesame oil: 15ml
Soy sauce: 100ml
Rice vinegar: 100ml
Brown sugar: 50g
Mix all salad ingredients in a bowl, serve on a pretty dish and top with a dash of sesame seeds, a few more coriander leaves and crispy tortilla strips.
Place all ingredients into a blender and blend until smooth.
Recipe © Jason Wu, guest chef in residence at Hotel Esencia, Mexico | http://www.hotelesencia.com/
Of the many hats Taiwanese-Canadian fashion designer Jason Wu wears, that of chef ranks among the highest to his close friends.
Wu has long been a fan of luxury boutique bolthole Hotel Esencia on Mexico's Caribbean coast, even marrying at the property in 2016 at which time the 'chic set' flocked to Xpu Ha (pronounced 'shpooo-ha' by those in the know) for the nuptials – widely considered the most beautiful white sand beach on the Riviera Maya.
Now, Wu has created a number of signature dishes as Hotel Esencia's new 'Guest Chef in Residence,' including his delectable salad.