An authentic Irish stew from a leading chef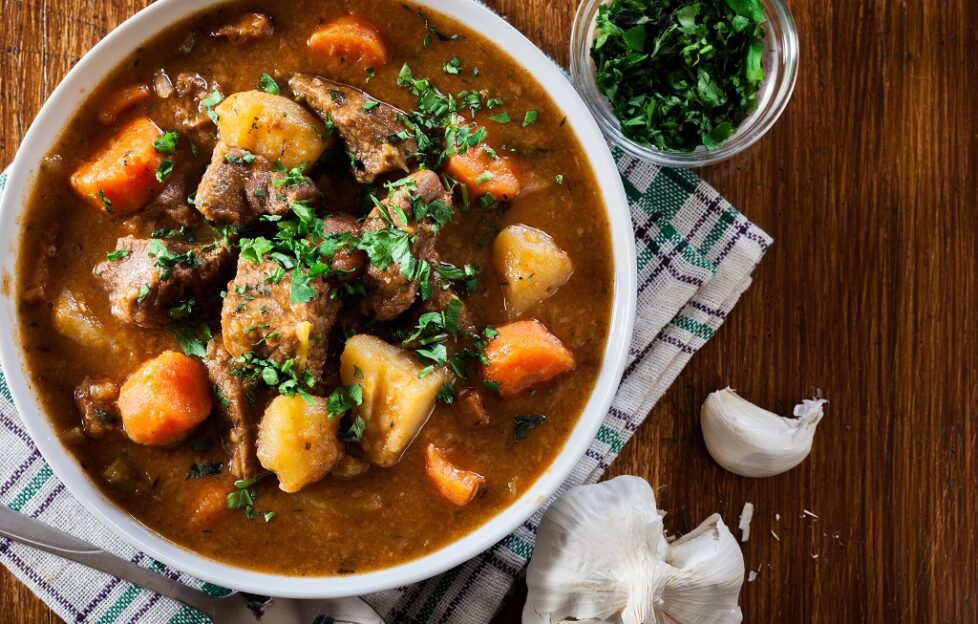 Irish Stew
11⁄2kg/3lb 5oz stewing beef, cut into cubes
175g/6oz streaky bacon
3 tbsp olive oil
12 baby onions, peeled
3 Small Parsnips
3 carrots, cut into quarters or 12 baby carrots, scrubbed and left whole
Salt and freshly ground black pepper
1 tbsp chopped thyme
2 tbsp chopped parsley
10 cloves of garlic, crushed and grated
425ml/15fl oz red wine
425ml/15fl oz chicken or beef stock
For the roux: 50g/2oz butter
50g/13⁄4oz flour
Brown the beef and bacon in the olive oil in a hot casserole or heavy saucepan.
Remove the meat and toss in the onions, parsnips and carrots, one ingredient at a time, seasoning each time.
Place these back in the casserole, along with the herbs and garlic.
Cover with red wine and stock and simmer for one hour or until the meat and vegetables are cooked.
To make the roux, in a separate pan melt the butter, add the flour and cook for two minutes.
When the stew is cooked, remove the meat and vegetables.
Bring the remaining liquid to the boil and add one tbsp of roux.
Whisk the mixture until the roux is broken up and the juices have thickened, allowing it to come to the boil.
Replace the meat and vegetables, and taste for seasoning.
Sprinkle with chopped parsley and serve with champ.
It's a favourite of the Emerald Isle, and today we present a delicious recipe for Irish stew.

To celebrate St Patrick's Day, Lough Erne Resort Executive chef, Noel McMeel, has shared some favourite recipes for a range of mouthwatering dishes that you can make at home, which we're sharing this week.
Today, we present an recipe for that old favourite, Irish stew. Irish stew is traditionally made with root vegetables and lamb or mutton, but also commonly with beef. As in all traditional folk dishes, the exact recipe is not consistent from time to time, or place to place.
Noel has cooked for an impressive range of dignitaries and celebrities, including Barack Obama and Sir Paul McCartney, but the talented chef remains focused on his particular brand of modern Irish cooking and a very simple philosophy: sourcing, preparing and serving fresh food in season.
From Pat O'Doherty's pork to fresh Kilkeel crab, Noel McMeel is a true champion for local produce, using only the highest quality ingredients in his recipes.
To mark St Patrick's Day, why not enjoy some of Noel's mouth-watering recipes, celebrating local Irish producers and taking inspiration from his early days in his family farm in Toome?