A tasty salad to help with your January detox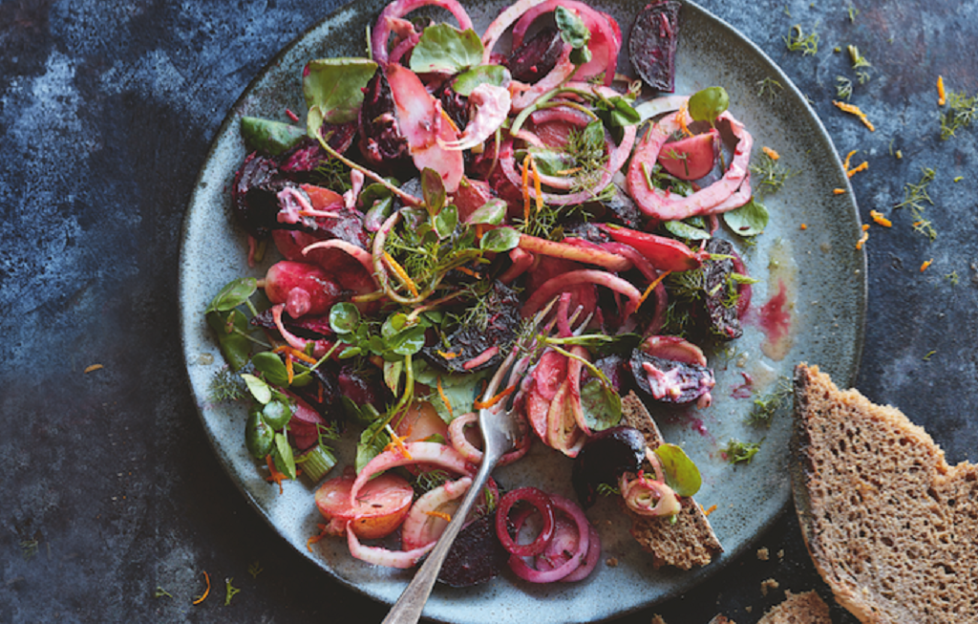 Scandi beetroot, potato, and fennel salad (Serves 2)
400g small summer beetroots
½ tsp caraway seeds
Finely grated zest and juice of 1 orange
2 tbsp olive oil
300g waxy new potatoes
1 small fennel bulb, thinly sliced
100g radishes, cut into wedges and slices
½ small red onion, very thinly sliced
½ small red onion, very thinly sliced
1 tbsp freshly grated horseradish
1 tbsp red wine vinegar
2 tbsp vegan crème fraîche
50g watercress, any coarse stalks removed
Bunch of dill, any coarse stalks removed, finely chopped
Salt and pepper
Dark rye bread, to serve
Preheat the oven to 200°C. Peel the beetroots and cut them into wedges. Place them in a small roasting tin with the caraway, half the orange juice, the olive oil and plenty of salt and pepper. Mix well, cover with foil and roast for about 40 minutes, or until tender.
Meanwhile, put the potatoes into a pan of cold salted water. Bring to the boil and cook for 10–12 minutes, or until cooked through, then drain. When they are cool enough to handle, slice them into thick discs.
When the beets are ready, add the potatoes, fennel, radishes and onion to the pan, along with the horseradish and vinegar. Mix well and adjust the seasoning to your liking. Just before serving, fold in the crème fresh (if using) and watercress. Taste and add a little more orange juice, if you think it needs it.
Pile on to plates and garnish with the dill and sprinkle of orange zest. Serve with slices of rye bread on the side.
After the indulgence of the festive period, January is the perfect month to press reset and cleanse your system and palette with fresh winter flavours.
In this delightfully vibrant recipe from Dirty Vegan Another Bite by Matt Pritchard, a heart salad takes centre stage for all our Veganuary foodies.
This recipe is courtesy of Foodies Festival.