A taste of America with pulled pork sandwiches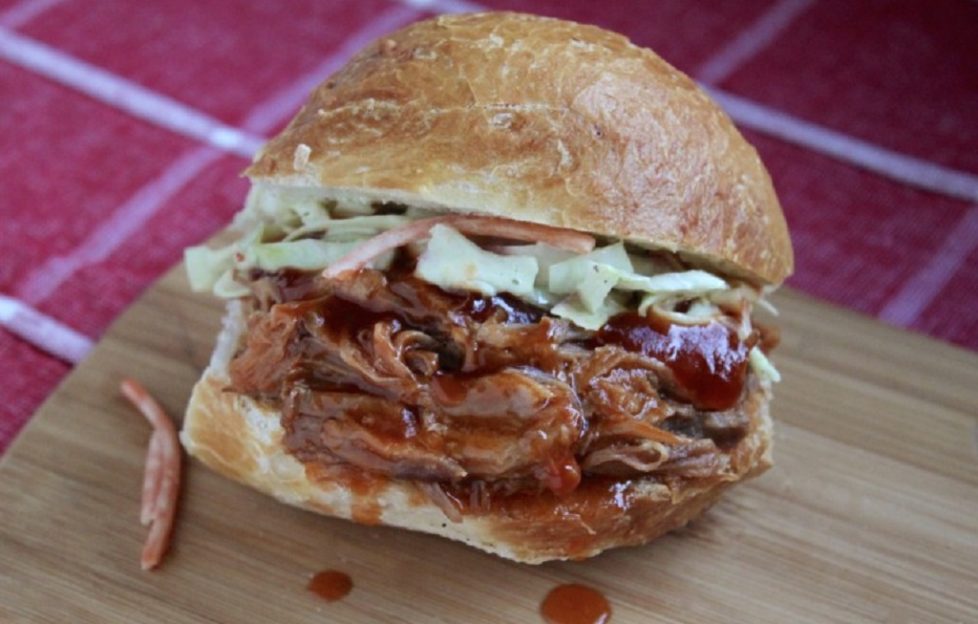 Pulled Pork Sandwiches (serves 6)
2 lb pork shoulder or butt
1 bottle or can of beer
1/2 teaspoon salt
barbecue sauce (natural, homemade or at least no corn syrup: read those labels!)
your choice of bread, rolls, etc.
Rinse the pork and place it in the crock pot. Sprinkle with the salt (I only add a little to flavour the pork since the barbeque sauce has enough).
Pour the entire bottle or can of beer over the pork. Cover the crock pot and set it to high, for about an hour, then turn it to low and let cook for at least 8 hours-either overnight or while you're at work, is perfect.
Drain the beer/juices and reserve; we're going to be using some of it.Place the pork on a plate or work board, and shred the meat. You can use a fork in the crock pot, but I remove ALL the fat. It comes away from the meat so easily that it only takes a few minutes to shred the pork and remove all the fat with your hands.
Next, discard the fat and return the shredded pork back to the crockpot. Measure about 1 cup of the reserved liquid (beer) and strain over the pork.
Now add about a cup of your favourite barbecue sauce. I used Trader Joe's and doctored it with a little extra ketchup apple cider vinegar,and mustard powder. Stir gently with a fork until the sauce is evenly distributed.
Heat before serving and serve on your favorite bread or rolls. Add a little more bbq sauce if desired.
Recipe © Christina Conte | https://www.christinascucina.com/pulled-pork-sandwiches/
In Scotland, we're blessed with some of the best food produce in the world.
We're also fortunate to have some superb international restaurants and chefs, to bring us food from the four corners of the world.
This week, we're teaming up with ex-pat Scot Christina Conte, a Scottish Italian cook living in Los Angeles, to bring us some tasty recipes from the other side of the Atlantic, starting today with slow cooked pulled pork sandwiches.
Originally from Garrowhill in Glasgow, Christina is  usually cooking, baking or (cr)eating something scrumptious.
She is a World Porridge Champion and has been a judge at the World Scotch Pie Championships. She is constantly promoting Scottish food as some of the best cuisine the world has to offer—one steak pie and sticky toffee pudding at a time.
She emigrated with her family to the US when she was 9 years old. Her love of cooking and baking began at the age of seven when she made a lemon cake from a school book recipe which garnered rave reviews.
Christina now lives in Los Angeles where she publishes food and travel posts on her site, ChristinasCucina.com.
She loves to travel the world, near and far, as long as there's good food involved.