A sweet treat for your Valentine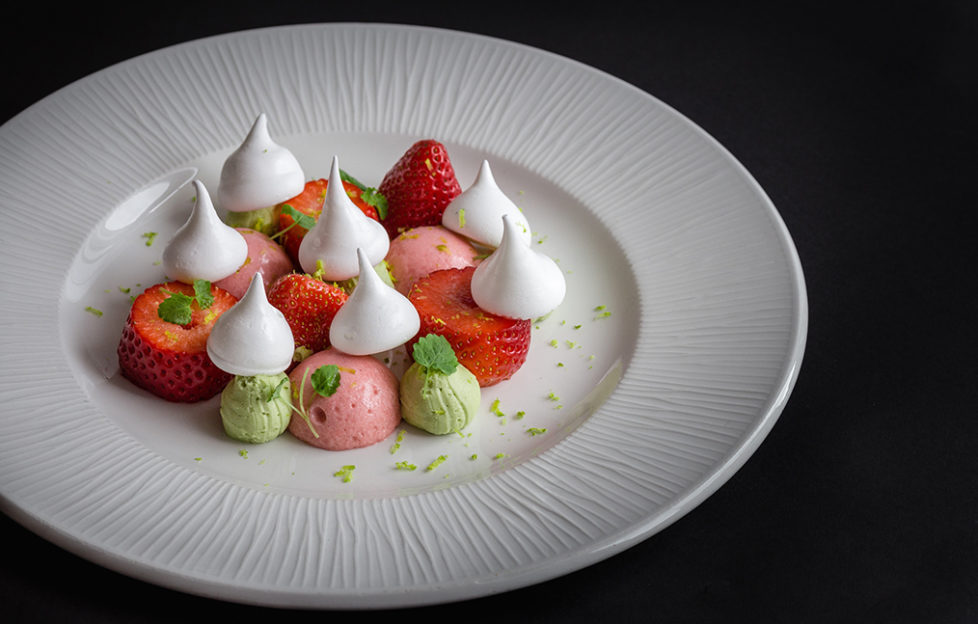 Eton Mess
For the pistachio mousse:
50g whipping cream
15g sugar
40g pistachio paste
150g cream (whipped)
1.5g silver gelatine leaf
For the meringues:
50g egg whites
110g icing sugar
25g white balsamic vinegar
A pinch of cream of tartar
To make the Pistachio mousse, soak the gelatine in a bowl of cold water for 5-10 minutes until soft.
In a saucepan over a medium heat, bring the 50g of whipping cream and sugar to a boil.
Squeeze the excess water from the soaked gelatine, add to the cream and sugar mixture and let it dissolve.
Add the pistachio paste to the pan and make sure to mix well until it is evenly distributed.
Remove from the heat and allow to cool slightly before gently folding in the 150g of whipped cream. Chill in the fridge.
For the white balsamic meringues, preheat your oven to 70ºC.
Whisk the egg whites until frothy. Add icing sugar and a pinch of cream of tartar to the egg whites and continue to whisk until the mixture forms stiff peaks that hold their shape.
Add the white balsamic vinegar and whisk for a final minute.
Transfer the mixture to a piping bag and pipe small meringues onto a baking tray lined with silicone paper. Cook in the oven for about 3 hours until crispy. Allow to cool.
When assembling the dish, halve your strawberries. Pipe your chilled pistachio mousse into small domes on a plate around the size of your meringues then add some small scoops of good quality strawberry ice cream.
Arrange your strawberry halves and mini meringues on the top. Finish with some fine gratings of green pistachio and your dessert is complete!
Recipe © Otro Restaurant | https://www.otrorestaurant.co.uk/
Staying in for Valentine's Day this year? Why not try making a decadent dessert for your loved one.
Edinburgh's Otro Restaurant have whipped up the perfect recipe to help you show someone you love them. Pretty in red, this delicious pistachio mousse, strawberry ice cream and white balsamic meringue Eton Mess is sure to impress your date.
Best of all, it's simple to make at home – and can be prepared in advance – so you won't be spending hours in the kitchen.
Otro is situated at 22 Coates Crescent, Edinburgh EH3 7AF. Visit their website to find out more.