A Shetland lamb recipe that comes with a twist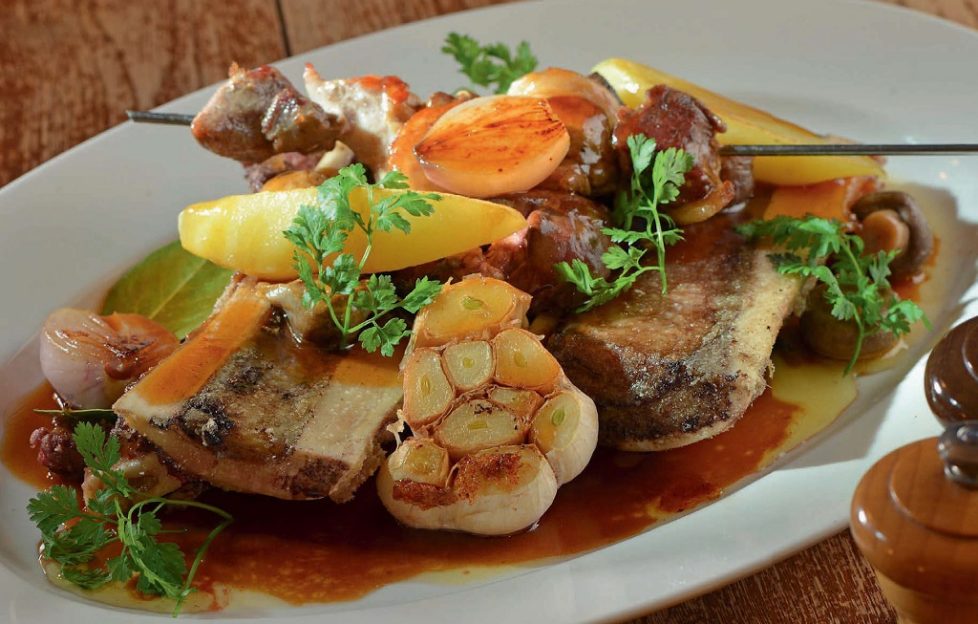 Roulade d'agneau des Shetland, rognons blanc et langues (Serves four to six)
300g lamb shoulder, minced
1 tsp Espelette chilli powder
2 cloves garlic, crushed
Fresh thyme and rosemary
1 carrot, peeled and diced
1 onion, peeled and diced
2 x lamb belly
4 lamb tongues
4 lamb testicles (white kidneys)
1 bouquet garni
500ml stock (chicken, lamb or beef)
Butter or vegetable oil
Freshly chopped parsley and coriander
The day before you want to cook this dish, mix the lamb mince with the Espelette pepper, crushed garlic, fresh thyme and rosemary, diced onion and diced carrots. Leave to marinate overnight in the fridge.
Clean and rinse the tongues under running water with a splash of vinegar. Place them in a large pan, fill with cold water, put on the heat and bring to the boil. Simmer for 40 minutes or until the tongues are soft (place a knife inside to check if they're cooked – you want them soft but not overdone, as theuy will finish cooking with the lamb). When they're ready, cool them down under cold running water and peel off the skin. Set aside.
Flatten the lamb belly, put the marinated mince on top and spread over to a regular thickness, then roll the belly like a big sausage. Roll into a pig's caul and string it like a roast with butcher's string. In a heated cast-iron pan, sear the belly on a medium heat until golden all over. Add in the diced carrot and onions, crushed garlic and bouquet garni, pour the stock over and cook in the oven for 40 minutes at 180°C.
While the dish is finishing cooking, pan-fry the white kidneys for about three to four minutes in olive oil and butter, then add to the dish. Add in the tongues, the chopped parsley and coriander, and a bit more Espelette pepper should you feel like it. Finish with a couple of knobs of butter to enrich that sauce a bit, taste and season again if needed.
Enjoy with your guests with a glass of light red wine, and have more Espelette purée on the table and some harissa.
Recipe © Fred Berkmiller | https://www.lescargotbleu.co.uk/
Today we bring your the final recipe from Edinburgh-based French chef Fred Berkmiller.
Fred, who owns Edinburgh's L'Escargot Bleu and L'Escargot Blanc, is is firm believer in trying different meats and produce in his cooking.
Today, he brings us a recipe for Shetland lamb with white kidneys (lamb testicles) and lamb tongues.
(This recipe was originally published in 2015)