A roast potato with a difference – added snipes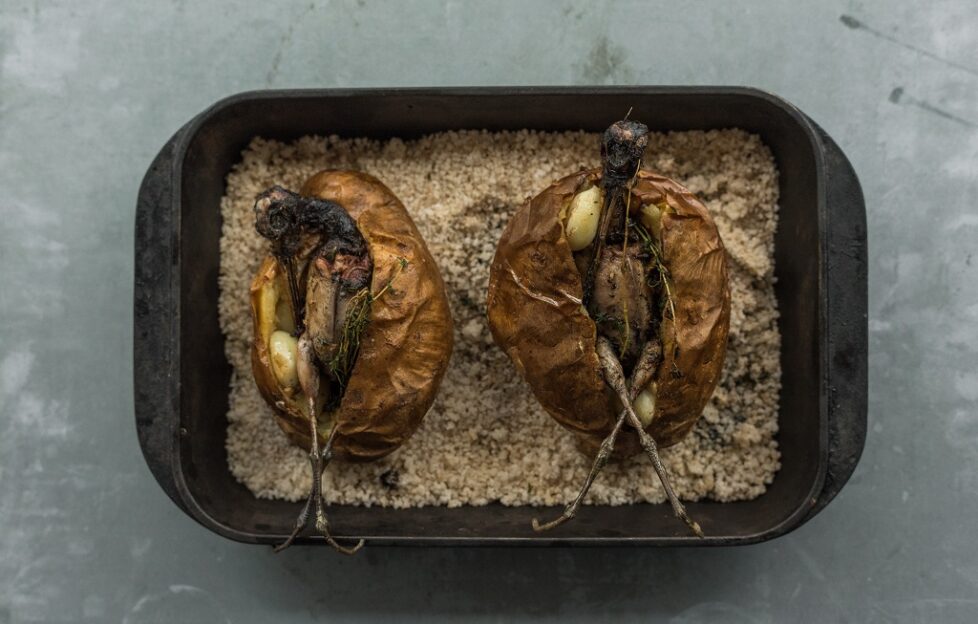 Snipe jacket potatoes à la Koffmann (Serves 4)
250g rock salt
4 large baking potatoes, such as Maris Piper, well scrubbed
8 black peppercorns
Olive oil
4 snipe, 170g each, plucked but left whole with the head on
50g butter
4 garlic cloves, peeled and cracked
4 thyme sprigs
1 tbs chopped flat leaf parsley
Sea salt
Preheat the oven to 200˚C. Spread the rock salt in a layer in a roasting tray large enough to hold the potatoes.
Prick the potatoes all over with the tip of a sharp knife, then rest them in the rock salt. Place the tray in the oven and bake the potatoes for 1 ½ - 2 hours, depending on their size, until they are very tender and a knife slides in without any resistance. Remove them from the tray and set aside. Do not turn off the oven.
Meanwhile, use a pestle and mortar to coarsely crack the peppercorns, then season the snipe all over with salt and the cracked pepper.
Heat a large heavy-based, ovenproof frying pan over a medium high heat, then add a splash of oil. When it is hot, add the snipe to the pan and fry to colour all over. Add the butter, garlic and thyme, and when the butter foams, baste the snipe well. Remove the pan from the heat.
Make an incision in each of the potatoes and squeeze to open them out. Spoon a little of the butter from the pan into each potato. Top each with a snipe, then add a garlic clove and thyme sprig from the pan.
Return the potatoes to the tray with the rock salt and spoon the remaining butter over them. Place the tray in the oven and roast the birds for a further 8-10 minutes until the juices run clear when you use a small needle to pierce the thickest part of a leg.
Remove the snipe-topped potatoes from the oven and set aside to rest for 5 minutes covered with kitchen foil. Sprinkle with parsley just before serving.
Recipe © Great British Game Week | http://www.facebook.com/GreatBritishGameWeek/
Now in its fifth year, Great British Game Week celebrates all that's good about the British Game industry.

Running until Sunday, the week-long promotion is a celebration of enjoying wild game, promoted by BASC's Eat Game initiative in partnership with the British Game Assurance's Eat Wild campaign.
The week will be a focus for lots of events, dinners and special offers promoting game to consumers around the country.
People will be encouraged to taste game for the first time and try new products which have game in them such as pies, sausages, burgers and charcuterie.
This week, we're bringing you a host of tasty recipes which were created by Scots chef Tom Kitchin.
More information on Great British Game Week can be found at www.facebook.com/GreatBritishGameWeek/