A haggis and beef burger recipe for Burns Night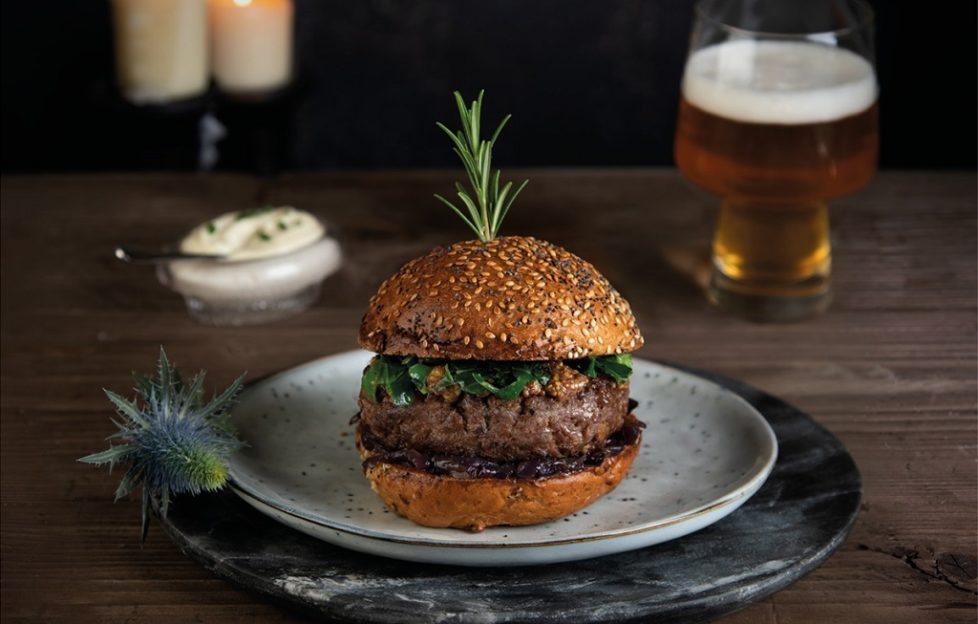 Scotch Beef PGI & Haggis Burger with Caramelised Red Onions (Serves 4)
250g Lean Scotch Beef PGI Steak Mince
250g Haggis
1 tbsp olive oil
4 x wholegrain buns or brioche buns
Caramelised red onion
Wholegrain mustard
Greens - you can use watercress, rocket, kale or whatever you have to hand
Sea salt and freshly ground black pepper
For the caramelised red onion chutney: 2 x medium red onion, finely sliced
1 tbsp olive oil
1 tbsp brown sugar
1 tbsp red wine vinegar
Sea salt and freshly ground black pepper
For the caramelised red onion chutney: Heat the oil in a frying pan and gently cook the onions for a couple of minutes
Add the sugar and vinegar, salt and pepper
Cook slowly for 20 - 25 minutes, stirring occasionally. This can be made in advance and stored in the fridge until you need
For the burgers: Combine the Scotch Beef PGI and haggis together ensuring everything is mixed well
Add a pinch of salt
Form the mixture into four burger patties
Heat the oil in a pan and cook the burgers for 5-6 minutes on each side or until cooked through
While the burgers are cooking, lightly toast the sliced burger buns under the grill or in a dry pan
Serve by layering the caramelised onions, greens and mustard to your taste
Quality Meat Scotland has revealed a new recipe with a twist on a classic Burns Supper ahead of the Bard's birthday (Saturday 25 January).
The Scotch Beef and Haggis Burger provide a tasty alternative for those searching for a different take on the traditional haggis, neeps and tatties.
The recipe champions Scotch Beef PGI, meat that is born and reared in Scotland to the highest production standards, with its delicious depth of flavour creating the perfect balance for the spiced, peppered notes of haggis.
In further celebration of Burns Night, QMS has created 'Ballad o' The Scotch Beef' – a Burns style poem focusing on Scotch Beef and its relationship with the land. The full poem can be heard at www.youtube.com/watch?v=jXbTTlRmGrE.
For more Scotch Beef recipe videos and inspiration visit www.scotchkitchen.com or follow Scotch Kitchen on Facebook, Instagram or Twitter.