A filling potato and chestnut boulangere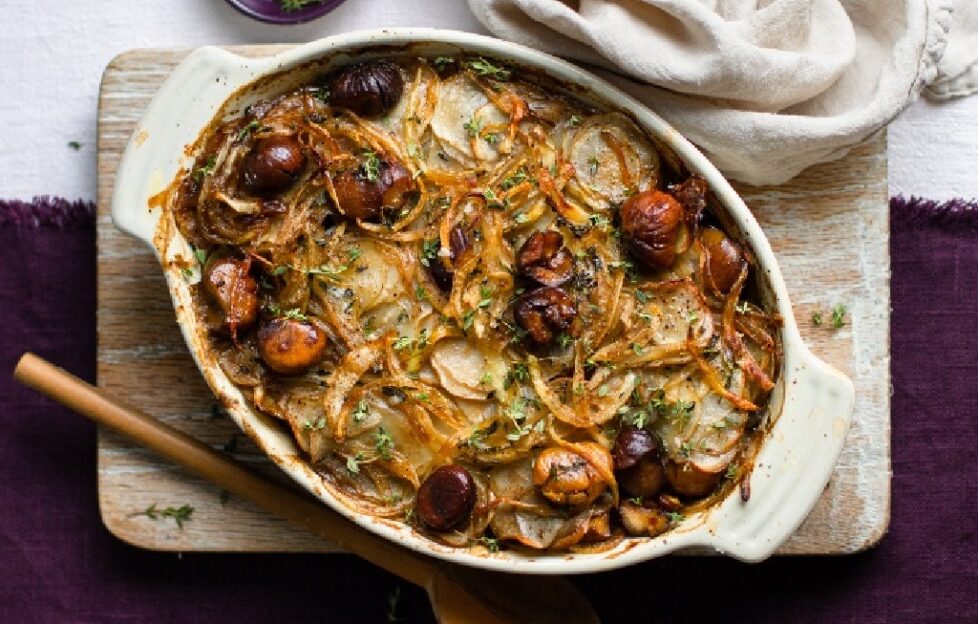 Potato and chestnut boulangere (Serves: 6-8)
50g vegan butter
1 tbsp olive oil
2 large white onions, finely sliced
2 x 180g pouches of Merchant Gourmet Whole Chestnuts
5 thyme sprigs
300ml vegetable stock
1 kg desiree potatoes
Heat 1 tablespoon of the butter in a large frying pan with the olive oil and add the onions. Cook on a low heat for 40 minutes, until soft and caramelised, being careful not to burn them.
Add the chestnuts, thyme, vegetable stock, a big pinch of salt and pepper and bring to a gentle simmer. Continue simmering on a very low heat while you prep the potatoes.
Thinly slice the potatoes using a mandoline (you can leave the skin on if you prefer, or peel) and grease a 20 x 30cm baking dish with some butter. Put a layer of potatoes in the bottom, overlapping them slightly, then scoop out some of the onions and chestnuts with a slotted spoon and spread evenly on top. Repeat this process until everything has been used up, finishing with a layer of potatoes and leaving a few slices of onion and chestnuts to go on top.
Pour the remaining stock into the dish, along with any leftover onions, then spread everything out evenly on the top. Cut the butter into little cubes and dot around the dish.
Cook uncovered for an hour, or until the top is crisp and a knife easily goes through the potatoes. Cover with tin foil if it starts to burn.
Rest for 10 minutes before serving, finishing with some fresh thyme leaves if needed.
Recipe © Merchant Gourmet | https://www.merchant-gourmet.com/
A filling feed with no meat is our recipe of the day.
Merchant Gourmet – the plant-based pulses and grains brand – has a delicious spread of plant-based tasty recipes, including this potato and chestnut boulangere.
Over the next week, we'll be bringing you a host of recipes, including vegan celebrity and cookbook author Gaz Oakley's Braised Chestnut and Grain Wellington with a Charred Red Pepper Dressing and Caramelised Red Onion for a showstopping centrepiece.
The recipes also include a delicious Chocolate Chestnut Cake and a 10-minute Winter Chestnut Salad.