A fantastic fusion of French and Scottish cuisine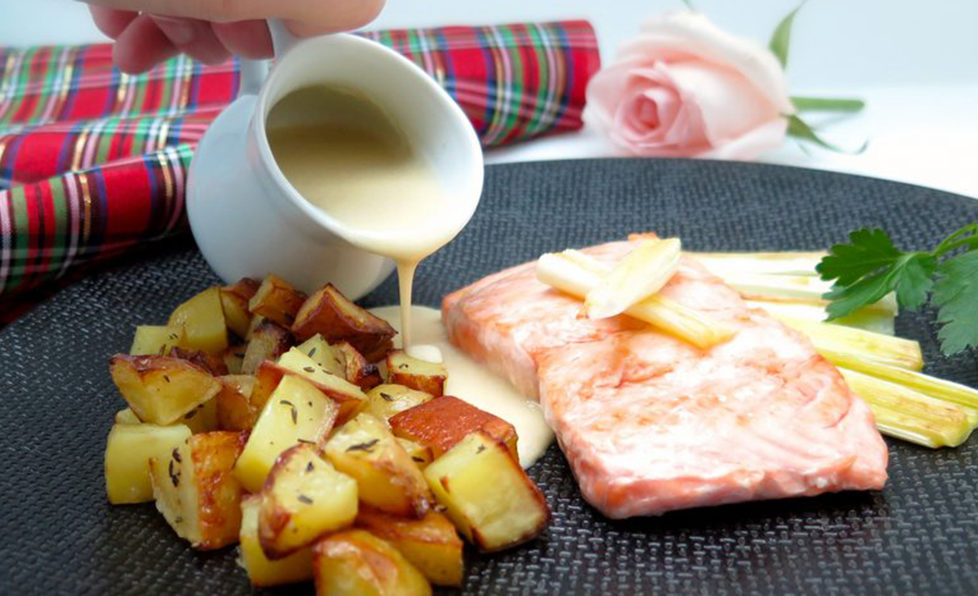 Smoked Tea Beurre Blanc Salmon
50 g (2oz) shallots finely chopped
200 ml (7fl oz) dry white wine
100 ml (4fl oz) cream (30% fat) crème fleurette
1 sachet Lapsang Souchong tea
150 g (5.5oz) unsalted butter chilled, diced
Pinch salt (fleur de sel) & freshly ground pepper (to taste)
6 fresh salmon fillets (@ 150 g each)
Gently fry the shallots in some of the butter for 5 minutes until translucent but not browned.
Add the white wine and boil for 10 minutes until reduced by over half so that it looks a bit syrupy. Lower the heat and add the cream, stirring until well combined. Take off the heat and add the Lapsang Souchong teabag. Leave to infuse, covered, for 10-15 minutes.
Remove the teabag (and shallots using a sieve if you like the sauce smooth, otherwise this step is not necessary). Return to a gentle heat and whisk in the cold diced butter gradually until the sauce is combined and glossy.
Season the sauce to taste and keep on a very low heat until ready to serve. Alternatively, set aside to cool covered until ready to serve later and reheat very gently.
Meanwhile, in a non-stick frying pan, sear the salmon fillets in a little olive oil for about 2-3 minutes on each side (depending on thickness), and keep warm in the preheated oven (190°C Fan/Gas 6) for a further 5 minutes.
Recipe © Jill Colonna | https://madaboutmacarons.com/smoked-tea-beurre-blanc-salmon/
Scottish Field continues to bring you recipes with a difference this week from Scot Jill Colonna in Paris – and today, it's a fusion of Scottish and French cuisine.
Jill, who runs the MadAboutMacarons.com website, lives with her husband and family in France, having moved across the channel in 1992.
Today, she presents her recipe for Smoked Tea Beurre Blanc Salmon.
Jill said: 'I'm going savoury for teatime with an easy yet sophisticated Smoked Tea Beurre Blanc Salmon.
'It's an Auld Alliance marriage made in heaven; it's where saucy France hugs Scottish salmon on a plate. Good fresh organic salmon fillets are gently pan fried and served with a rich French sauce.
'However, instead of the classic beurre blanc lemon sauce, I've replaced it with a glossy, subtle smoky sauce that doesn't overpower the salmon but adds that je ne sais quoi with a simple Lapsang Souchong teabag.
'Serve this with lightly sautéd leeks in olive oil and healthy roast potatoes in olive oil and thyme. Simply chop up washed, unpeeled potatoes (e.g. Charlotte) into cubes and place in a non-stick roasting tin dribbled with a little olive oil, freshly chopped thyme and season with fleur de sel salt and freshly ground pepper. Roast at 210°C/190°C fan/410°F/Gas 6 for 30 minutes, turning them twice during cooking.
'Normally I'd throw in a few garlic cloves still in their skins (en chemise), but for this dish it's best to leave it out so not to overpower the salmon.'