A delicious roast duck recipe to warm you this winter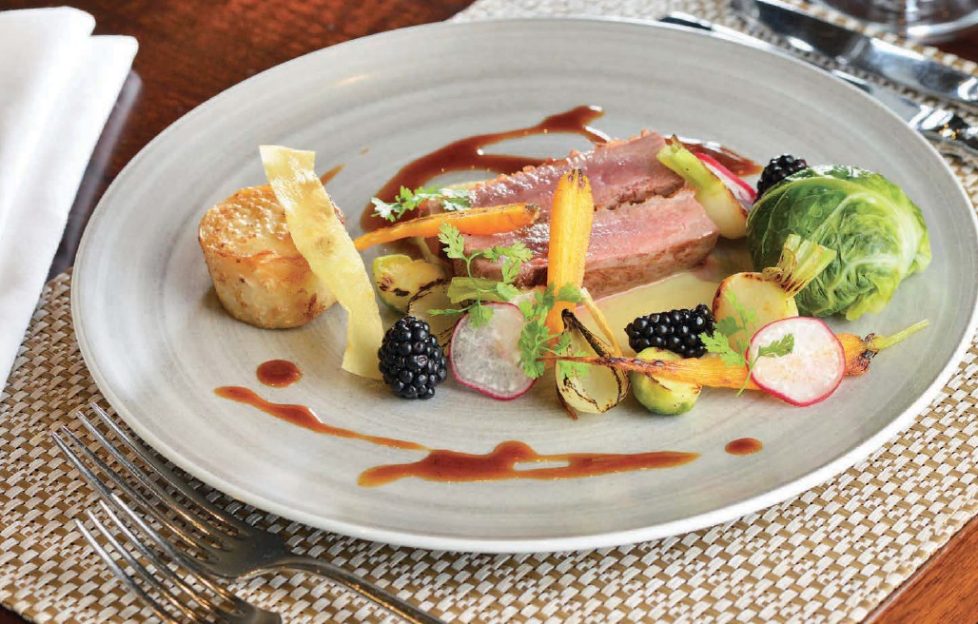 Roast duck breast, braised leg faggot, celeriac fondant, sprout leaves and bramble jus
200g Brussels Sprouts
1 celeriac
500ml chicken stock (we use our own duck stock but chicken stock will suffice)
½ packet baby carrots
100g parsnip
1 vanilla pod
200ml milk
200g butter
1 savoy cabbage
1 duck breast (per person)
1 duck leg (will make three faggots)
1 orange
1 sprig of thyme
2 cloves of garlic
3 brambles
2 baby turnips
1 red radish
½ shallot
¼ carrot
¼ leek
10ml sherry vinegar
Salt and pepper
1 star anise (optional)
Prepare the duck breasts by removing any excess skin or fat (your butcher can do this) and score the length and breadth of the skin into half-inch slices with a sharp knife. Take the duck legs, lightly season with salt and add the crushed garlic, thyme, orange and half a star anise clove. Set aside for four hours. After this time, cover the legs with the stock, top with foil and slowly braise at 130oC for around 90 minutes, until the meat falls off the bone. Remove the meat from the stock, retaining the liquid (removing all the oranges etc). Slowly reduce this down to a thick consistency. Pick all the meat off the duck legs and let this cool.
Meanwhile, take the cabbage and remove the outer leaves and cut out the hard core. Bring a pan of water to the boil, add a good amount of salt and blanch the cabbage leaves in the boiling salted water for 30 seconds then place into ice cold water. Once cold, repeat this process again for around a minute until the cabbage is soft. Place between two cloths to drain off any excess water.
Finely slice the shallots, garlic, carrots and leeks, and cook until soft. Cool and add this to the picked duck leg meat using a small amount of the stock to bind it together. Place in the fridge.
Peel the celeriac and cut into two-inch slices. Using a circular cutter, cut out two discs and sear both ends in a hot pan using a little butter. Add in just enough stock to come to the top of the celeriac fondant, and add in a clove of garlic, thyme and 30g of butter and seasoning. Place in a hot oven at 180°C for around 15 to 20 minutes until cooked. Remove from the liquid.
Prepare the sprouts by crossing the bottoms and removing any excess outer leaves. Add to a pan of boiling salted water and cook until soft. Refresh in iced water. Remove the outer leaves with a sharp knife and cut the sprouts in half straight down the middle.
Take the radishes and finely slice with a sharp knife. Place these in iced water and leave until required.
Peel the parsnip and dice into small pieces. Cover with milk, 1 clove of garlic and a sprig of vanilla and gently simmer until the parsnip is soft. Reserve the milk and blitz in a food processor. Add the milk slowly until the mixture is smooth and spreadable; season to taste.
Peel the baby carrots and baby turnips, cooking in boiling salted water until soft, refreshing in iced water. Drain and reserve until needed.
To create the faggot, line a ramekin dish with a double layer of clingilm. Line this with cabbage and fill with the duck mix. Make sure there is enough cabbage to seal the dish on top, then twist into a neat ball until the mixture is completely wrapped in clingfilm, making sure there are no air bubbles.
Heat a non-stick pan until the surface is hot and add in the duck skin-side down, cooking slowly for around six minutes until the skin is crispy and a light brown colour. Flip over the breast and cook for a further two minutes then remove from the pan and reserve.
Heat up the baby carrot, turnip and sprouts in a little salted water and finish in a bit of foaming butter.
Place the celeriac fondants back in the oven and reheat in a pan. Reheat the parsnip purée and sauce until it is hot. Heat the sauce and just before serving add in the brambles and all the sherry vinegar to cut through the sweetness. Heat the cabbage faggot in a pan of boiling water, and once hot remove the clingfilm.
Arrange all the ingredients on a plate, add the radishes and serve
Recipe © Craig Hart
This delicious roast duck recipe has been created by leading chef Craig Hart.
The Sheraton Edinburgh's executive chef has worked in the best hotels, but no matter where he travels he always returns 'home'.
After falling in love and moving initially to Leeds, Craig spent a number of years gaining experience at various award-winning hotels – including the Champany Inn, Linlithgow and the Golf Hotel, St Andrews.
He said: 'I was looking to move to London but unfortunately 11 September happened and no one was hiring. So I spoke to Nicolas Laurent, who was executive chef at the Sheraton, and he said if I wanted a job he would take me back.
'So I came back here for another two years. I was then given the opportunity to open the fi ne-dining restaurant Esperante at Fairmont St Andrews before I moved to Gleneagles , eventually reopening the Clubhouse after its multi-million-pound refit.'
And it seems third time is indeed lucky, for in May 2014 Craig returned to the Sheraton, this time as executive chef. 'It feels homely. There are few places I would have left Gleneagles for, but I landed on my feet!'
(This recipe was originally published in 2014)