Good food taught the easy way at Cook School Scotland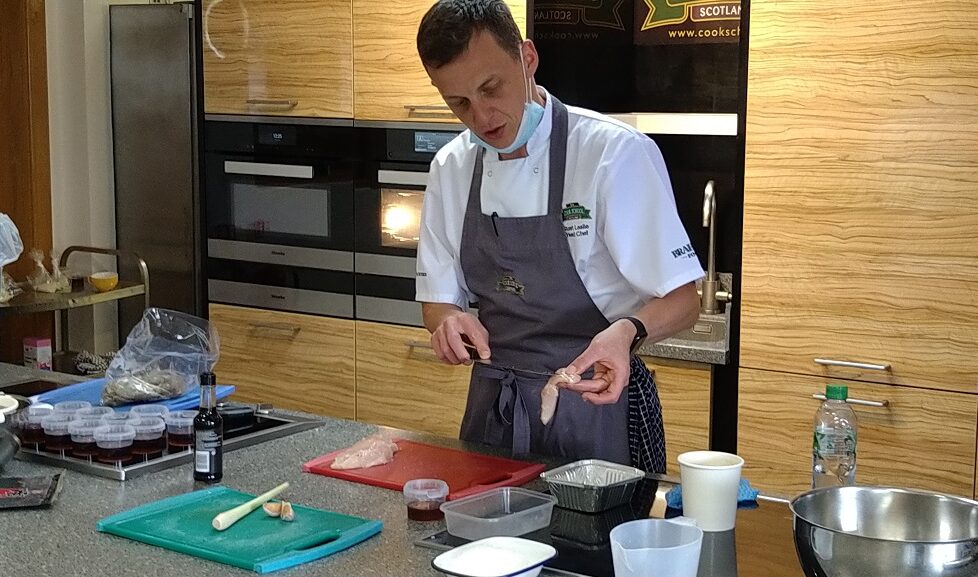 During the lockdowns of 2020 and 2021, I'm sure that most of us learned – or tried to learn – new skills.
For me, I discovered how much fun it was creating podcasts, hence the arrival of Scottish Field's weekly offering since March this year, as well as three others I do in my own time.
The other thing I learned was that I absolutely love being in the kitchen. I love cooking – to make new meals, discovering flavour combinations, and knowing exactly what goes into what I eat.
So, when I was given the chance to try one of the Cook School Scotland's classes, I couldn't say no.
After an 18-month hiatus due to coronavirus, Cook School Scotland reopened its doors and resumeed in-person cooking classes in September.
The Cook School Scotland, which is based in Kilmarnock, offers a range of cooking classes, allowing participants to experience new tastes and try different delicious cuisines. With more than 25 different themed classes, from Indian to French and Italian to Middle Eastern, whether you're a complete novice or just a foodie, The Cook School Scotland guarantees that guests will enjoy delicious food and learn some new cooking skills along the way.
Led by expert head chef, Stuart Leslie, you are be taught how to create some delicious dishes, using quality ingredients, in a fun and relaxed atmosphere.
I attended a morning session for Asian cuisine, which appealed to me, as it's a type of food that I've never ventured to cook before.
Myself and a group of others gathered beforehand, and were served up some freshly baked warm scones, which set my day off perfectly. With a spare one left, Stuart ensured that I would have it to take away, with a cheeky grin, which set the tone for the morning – relaxed and fun.
Chef Stuart began our session by teaching us how to make a salmon, cucumber and roasted red pepper sushi. Much as I love sushi – as does my daughter – it was never something I'd ventured to make at home before.
We were carefully instructed on the type of rice to buy if we were to make it at home (I had no idea there were so many different kinds!), and how different kinds of rice cook in different ways.
Each of us was given a cooking station of our own, with everything colour coded in terms of what was to be cut where (no mixing of raw seafood and chicken further down the line here), and we were shown how to cook the rice in easy steps, stopping every now and again to watch Stuart show us how to do it.
Following this we prepped the contents of our sushi – and Stuart noticed that I was enjoying the leftover cucumber a little too much, and continued to jokingly wind me up about it for the rest of the day (the request for the extrascone had started it all off).
With everything prepared, we were given our sheets of sushi paper in which to make our rolls, starting with a layer of rice, topped with hot cooked smoked salmon, strips of peppers and sliced cucumbers, and with each progressive turn, I learned from my mistakes of the previous one, until I was able to make a lovely-looking one that wouldn't have been out of place in a shop. Well, maybe not by much. Once finished, I wrapped them in foil and put them in the fridge.
After this, it was onto the next part, the thing I had really been looking forward to making – a chicken and prawn donburi. I've bought these in a leading high street Japanese restaurant and loved it – so the chance to learn how to make it at home appealed greatly.
Initially, when the pile of ingredients were placed at my station, I did have a minor panic – I'd never cooked with fresh lemongrass, or even had to properly peel prawns before cooking them. My fingers are rather thick and no designed for dainty tasks like that!
As before, Stuart talked us through the tricks of the trade and showed us the best way to remove the intestinal tract from the prawns, which, by my third prawn, I was getting the hang of, so the final five tiger prawns were done in literally 30 seconds each, which I would never have thought possible beforehand!
Everything was done at a pace which ensured everyone could follow it and was able to understand before returning to cook, again in stages, as we prepared a marinade, rice, cut up the chicken, and everything else we had to do.
Stuart came round to check everyone was getting on okay, and offered handy hints and tips, as well as entertaining banter, which made it a far more personable experience than you may have expected.
And before I knew it, that was it – all ready to eat. We were given plates in which to put our creations, as well as a container to take away the leftovers, and put one of my sushi rolls around it. And it tasted good.
I was given a sheet of recipes away with me too, which I still have, and shall be coming to Scottish Field's recipe section soon!
The Cook School Scotland has won a range of awards, including Best Tourist Attraction in 2014 and has been awarded a five-star rating by VisitScotland every year since 2012. And it's easy to see why – the staff are friendly, they take their work seriously, but definitely not themselves, and make it a fun experience for everyone who comes through their doors.
Full and half day classes are available, catering for every taste – from sessions on seafood to brushing up on home baking, all in a relaxed, fun and friendly environment.
With the trend of nostalgic flavours and classic dishes making a comeback after a resurgence during the pandemic, Stuart and his team have taken a step back in time this autumn with Retro and
School Dinner themed Demo & Dine Sessions, showcasing old-school favourites including artic roll and chicken kiev.
Christmas is coming, and sometimes, if you're struggling to find presents that will mean something, or have a long-lasting effect, then a Cook School Scotland experience is definitely recommended. After all, give a loved one the experience, and you will benefit from the cooking when they get home!
Classes are now available to book, with prices starting at £50.
For more information, and to book a Cook School Scotland class, visit: https://cookschool.org
You can hear Stuart talking to the Scottish Field podcast HERE.