Educational trust ambassador role for restaurateur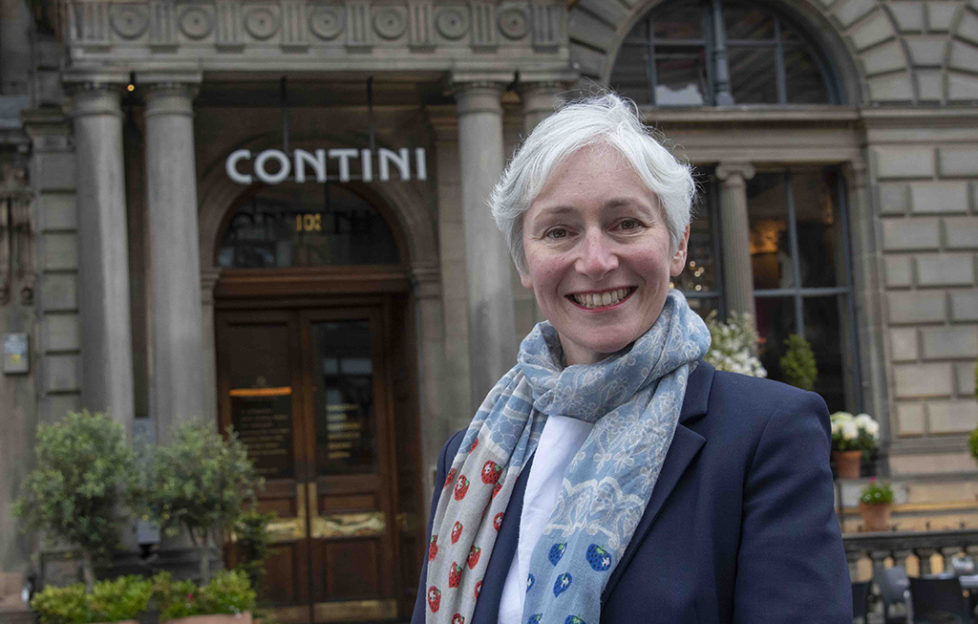 Countryside education charity the Royal Highland Education Trust has appointed Carina Contini as its first ever ambassador.
Celebrating its 20th anniversary, RHET is delighted to have the support and voice of Carina, a successful Edinburgh business woman, restaurateur and food writer, who is passionate about using local produce in her establishments and the importance of understanding where food comes from.
Carina Contini and her husband Victor run one of the few remaining independent family businesses that have benefitted from a century of experience running successful food destinations and restaurants in Scotland, including the award-winning Contini George Street, Cannonball Restaurant & Bar on Castlehill and the Scottish Cafe & Restaurant at the Scottish National Gallery in Edinburgh.
Carina said: 'It's a great honour to have been selected as RHET's first official ambassador. I think it's more important than ever that our young people understand more about where their food comes from, so I'm a big supporter of RHET's mission to bring farming, the working countryside and its practices to life for young people.
'Not only is this the 20th anniversary of RHET, but it's also the 100th anniversary of our family's arrival in Scotland from Lazio in Italy. As third generation Italian Scots, we continue to champion independent family businesses in Scotland and still buy from some of the producers our grandparents worked with. We also stay true to our Italian Scots roots and maintain tradition and authenticity as part of our food-centric philosophy to attract custom and tourism to the local area.
'Across our three Edinburgh restaurants, we dedicate a huge amount of time to sourcing produce direct from the very best suppliers from across Scotland, with 90 per cent of our ingredients coming from more than 70 trusted Scottish artisan producers. The success of our business is owed to the continued efforts of our outstanding team, suppliers and partners.'
Katrina Barclay, RHET executive officer, explained: 'Carina is a perfect fit for RHET and the extensive work the charity undertakes on food and farming education. Over the last 20 years, RHET services have grown to meet the neds of teachers from all over Scotland. Annually we arrange farm visits for over 17,000 school children of all ages and work with partners to deliver cooking sessions in schools to bring the farm to fork story to life.'
Katrina continued: 'We are delighted Carina will be working with us, attending some of our event including visiting our Discovery Centre Scotch Kitchen cookery theatre and scone baking later on this month.'
Carina is a leading voice in the Scottish food and restaurant space. She is a supporter of the Slow Food movement and has regular food columns in the Scotsman, Herald and Daily Record. Earlier this year, Carina was also selected to represent Scotland at the Great British Family Business conference in London, where she championed independent, family-run restaurants in front of an UK-wide audience of over 200 industry professionals.
Carina's own views and approach to eating healthily, sourcing local food and educating children to cook and understand where food comes from, align closely with the RHET mission.
The announcement was marked by George Lawrie, RHET chairman bringing the fully branded tractor and trailer which he is driving around Scotland. In doing so, raising funds and awareness of the work RHET volunteer farmers and growers are doing on behalf of the award winning charity.
He will arrive back to Edinburgh in time for the Royal Highland Show on the 20 June.
George is also aiming to raise £6000 for the charity that provides free school visits, teacher resources and classroom speakers and is asking parents to support by donating on the Tractor Tour JustGiving page.
Sponsors supporting the Tractor Tour include farm machinery dealer the Hamilton Ross Group that have supplied the Massey Ferguson tractor from their Reekie Ltd Perth depot, Allison Enterprises and the Binn Group, both of Glenfarg, that are supplying a trailer for the 'cow' which was sculpted by Ken Paxton at ArtFe using recycled farm metal collected from Scottish farms. The cow will be auctioned later in the year at an event to mark the 20th anniversary of the charity.
For more information about Carina Contini, Contini George Street, Cannonball Restaurant & Bar on Castlehill and the Scottish Cafe & Restaurant at the Scottish National Gallery in Edinburgh, visit www.contini.com