The Scots fighting against the world's toughest cancer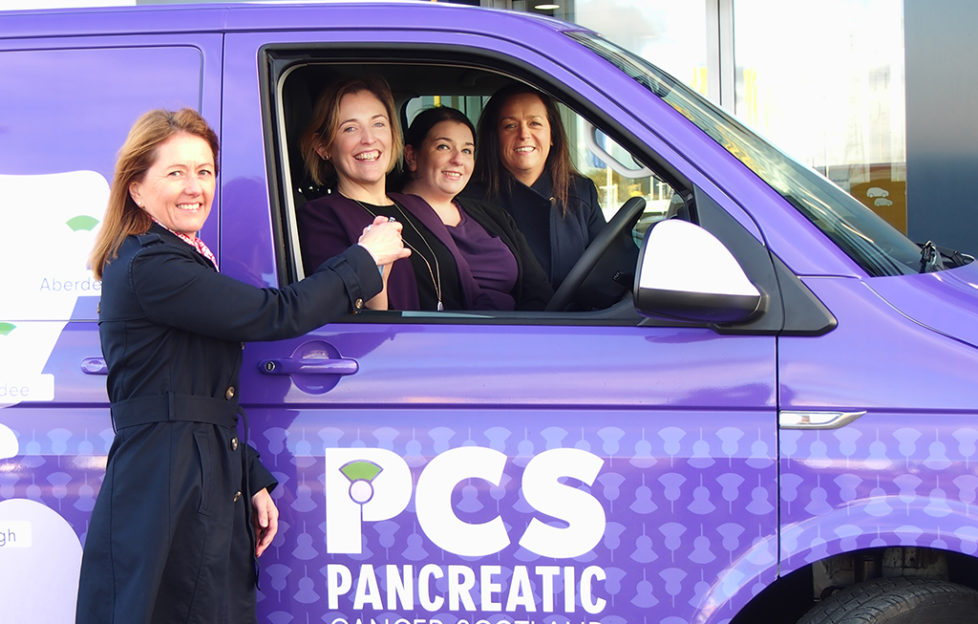 Scotland's Pancreatic Cancer charity is today highlighting the fight against the deadly disease.
Today is World Pancreatic Cancer Day, and Pancreatic Cancer Scotland is highlighting the fact that of all the major cancers, pancreatic cancer has the lowest survival rate and the numbers have barely changed in the last five decades.
In nearly every country, it is the only major cancer with a single-digit five-year survival rate (2-9%).
Throughout November's Pancreatic Cancer Awareness Month, PCS is undertaking a tour of Scotland's cities to raise awareness of the symptoms and risks associated with the disease.
On World Pancreatic Cancer Day, Scotland's pancreatic cancer charity will join more than 70 organisations from 30 countries, as well as countless individual people, by participating in the annual campaign to shine a spotlight on the urgent need for earlier detection.
Fiona Brown, development manager of PCS, from Cambuslang in South Lanarkshire, said: 'Many people only hear about pancreatic cancer when it affects someone they know, and with poor survival rates this can unfortunately be a sad outcome.
'The cancer doesn't present in an obvious way; it's not possible to feel a lump like other cancers. The symptoms of pancreatic cancer can be vague, poorly understood, and often dismissed as less serious health concerns. However, with earlier diagnosis and optimal treatment patients can have the best chance of survival, and across the world we are raising awareness to encourage people to look out for potential warning signs from their body.'
As a member of The World Pancreatic Cancer Coalition (WPCC), PCS works closely with other organisations to 'Demand Better' for patients and survival rates. This year's campaign includes a powerful message highlighting that you wouldn't ignore the warning signs on your car and you shouldn't ignore the warning signs from your body.
Today, a number of landmarks and buildings will be lit up purple to help shine a light on pancreatic cancer.
Fiona explained: 'This is an effective way of starting conversations about pancreatic cancer – people talk about why landmarks, such as The Kelpies, are lit up purple; sharing pictures on social media which helps support much-needed awareness for a disease that has been left in the dark for too long. Survival rates are thankfully improving for other cancers, but we don't want pancreatic cancer to be the forgotten one.'
In Scotland, there are around 800 new cases of pancreatic cancer each year and sadly only around 160 patients will survive. With little improvement in survival outcomes over the last 50 years and a 50% increase in new cases expected over the next decade, pancreatic cancer could become Scotland's 2nd largest cause of cancer death.
Research shows that patients diagnosed in time for surgery are more likely to live for five years and beyond. However, with no current screening test or early detection method, knowing the symptoms and risks remains key to early diagnosis and could provide a better chance of survival.
In a bid to literally drive change in the numbers, the PCS team and volunteers are touring Scotland's cities during November's Pancreatic Cancer Awareness Month; taking their brightly-coloured purple PanCanVan, generously gifted by Arnold Clark Car and Van Rental, on the road to engage with the public and help address the urgent need for increased awareness.
Common symptoms of pancreatic cancer can include abdominal or back pain, weight loss, yellowing of the skin from jaundice, loss of appetite, nausea, changed bowel habits, and new onset diabetes not associated with being overweight. While these symptoms can also be attributed to other less serious and more common conditions, anyone who has concerns and persistently experiences one or more symptoms, which are not normal for them, should make an appointment with their GP.
Fiona, who lost her mum to pancreatic cancer in 2003, knows the devastating impact of the disease and explained: 'PCS is dedicated to the people of Scotland and we are working towards ensuring support is available for past, present and future patients and families whose lives have been touched by pancreatic cancer and associated tumours.
'We also want to share hope with people – with earlier diagnosis, there is a higher chance of survival and that's why we need people to support and engage with our awareness campaign.
'There is some amazing research now taking place in Scotland, including the 'Precision-Panc' research and clinical trial project. Majority funded by Cancer Research UK, the programme uses personalised medicine techniques, with the aim of matching patients with more targeted and effective treatment for their tumour type.'
A growing charity with a small team of dedicated and passionate individuals, PCS is committed to raising awareness, improving education, healthcare and research, in their mission to ensure that everyone in Scotland affected by pancreatic cancer and associated tumours has access to support, information and care.
By working collaboratively across Scotland, and indeed across the world, to improve awareness, education and healthcare, in parallel with research developments, PCS believes that 'Together, we can make a difference' and improve the outcomes for patients and families.