Tube journey marks the rise of the sporran legion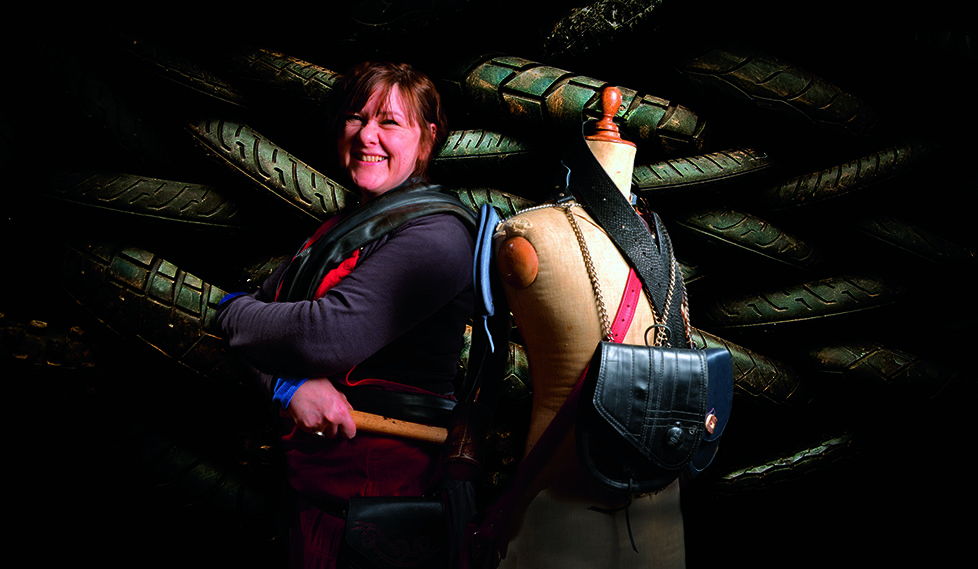 Using everything from inner tubes to damaged biker jackets, Jen Cantwell is taking Scottish sporran making in a new direction.
'It was a happy accident really,' says Jen of the beginnings of her contemporary sporran-making business, Sporran Nation.
'I had been making sporrans for friends out of recycled clothes, and I saw the work of Howie Nicholsby [of contemporary kilt maker 21st Century Kilts] and thought, "That's fantastic, I could do that in sporrans," and I did!'
With a degree in drawing and painting from Edinburgh Art College, Jen had been working as a jobbing artist in art textiles and the business grew organically. 'I got in touch with Howie, took him some samples and we've been working together ever since – that was 11 years ago.'
Born in Dublin, Jen has been in Scotland since the age of seven. Her limited edition and bespoke sporrans, bags and accessories are all designed and handmade in her Forres workshop. She works with a range of materials, including items suitable for vegans.
'I use a material called Lorica,' she explains, 'It's Italian, a very hard-wearing, high-end, leather substitute.'
Using upcycled materials is a recent development, which started with a concern about wanting to recycle more.
'I found a company that deals in vintage leather by the bale. I buy a damaged grade, things they can't sell, and I got a load of motorbike jackets and started making things out of them.' This, in turn, led to using inner tubes from bikes.
'My partner is a mountain biker, and there are tyres and inner tubes all over the place. I hate it!' she laughs, 'but it's a great material.'
The innovation doesn't stop there – you can also have your bespoke sporran tattooed, a process Jen has been working on for the last year. 'I've got a tattoo machine and some inks,' she explains. 'Basically it is the same process you would do on skin. It's like drawing, but really slow, meticulous drawing.'
With images of celebrities sporting cool kilts popping up regularly in the press, I wonder if it is a younger generation leading the contemporary charge?
'Not at all,' Jen says. 'My clients are between 20 and 70, I think people just want to modernise the look, to make it sort of progressive. I think you can get stuck in the past. The kilt has to be a living tradition doesn't it? It lives and breathes and moves and progresses and carries forward, but it can't do that if it doesn't change.'
And that is just what Jen is allowing it to do, by giving her sporrans a handcrafted, 21st-century twist.
Sporrans, bags and accessories available from sporran-nation.co.uk
(This feature was originally published in 2016)