Team at Prickly Thistle expands thanks to HERO scheme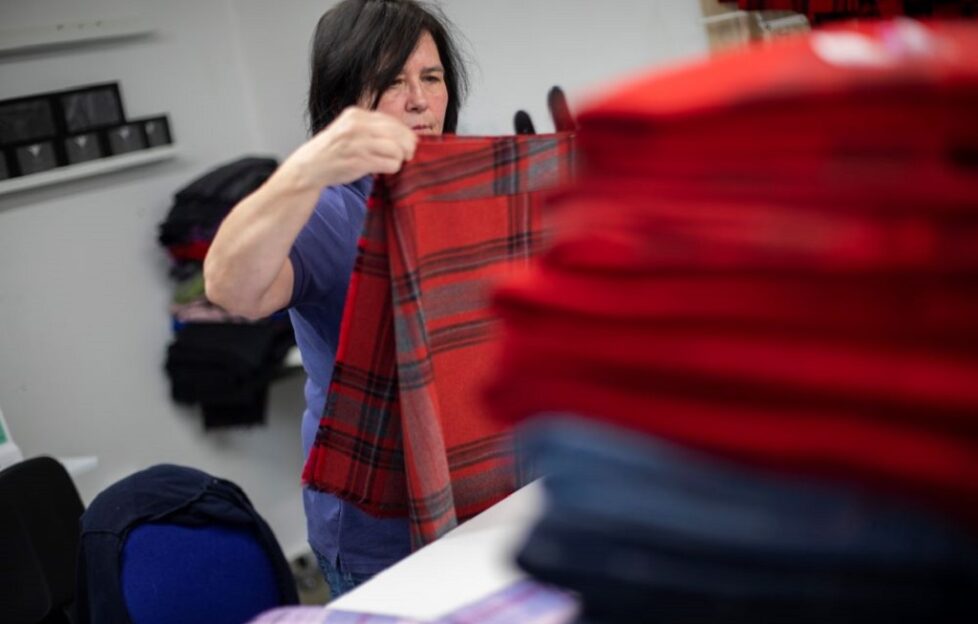 A company which describes itself as the 'tartan rebels in the Scottish Highlands' have recently been able to expand its team.
Prickly Thistle, who have the only tartan weaving mill in the mainland Highlands, work with clients to design and create bespoke tartan which is manufactured at their mill and transformed into a wide range of garments as well as interior design and personalised products.
In addition to this they have their very own collections and label, which they sell via their e-commerce site to customers from all over the world.
They created a special tartan for actors Alan Cumming and Miriam Margolyes on their TV show earlier this year.
The in-house artisan skills of the team are now benefitting from the additional services of new employee Janey Cameron, who has joined them through the Highland Council's HERO Employability scheme.
Jenny Robson, personal assistant to Prickly Thistle founder Clare Campbell said: 'HERO has allowed us to expand the team during difficult times due to the pandemic. Janey has quickly fitted in with the team and it has been fantastic to watch her grow in confidence and learn, both in the products that she makes and understanding and supporting the company values of zero waste design.  Janey also joined in celebrating our recent B Corp Certification in December 2021.'
Janey Cameron said: 'I thoroughly enjoy working at Prickly Thistle. It has allowed me to use the skills I have while learning lots of new ones.  This has been a fantastic opportunity for me to learn more about clothing and its impact on the environment.'
HERO is funded by the Highland Council and the Scottish Government under the No One Left Behind and Young Person's Guarantee Funding Streams Through the scheme businesses and organisations can apply for grants up to £6,000 for supporting someone into employment.
Anyone interested in finding out more about the HERO scheme and how it may help their business can do so by visiting www.highland.gov.uk/hero