Tartan journey takes a step forward with new pop-up mill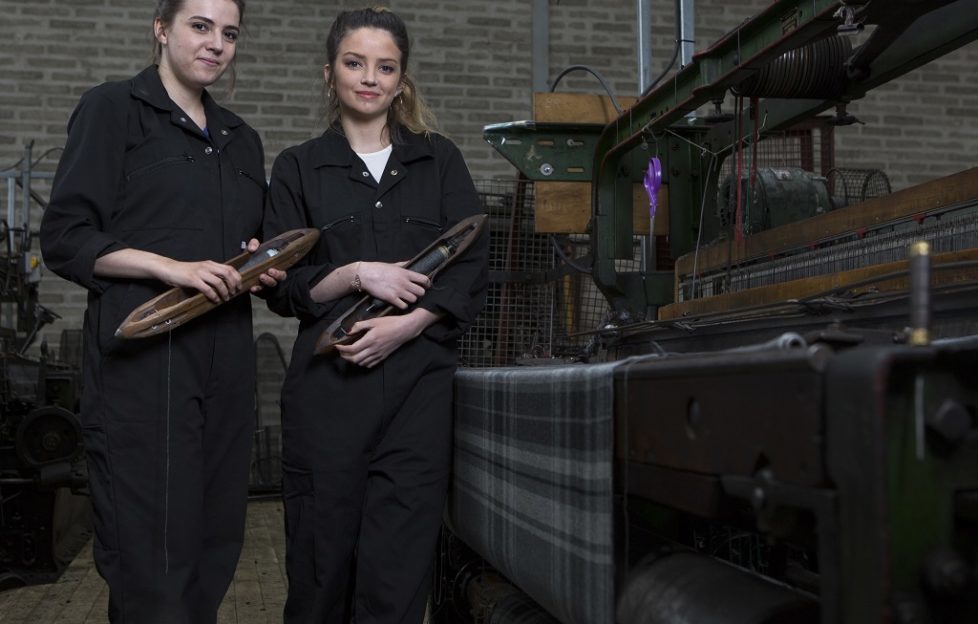 Tartan weaving has returned to its ancestral home in the Highlands of Scotland.
Black Isle-based tartan design house Prickly Thistle has started production after a successful fundraising campaign, and the company has opened a 'pop up' mill in Ross-shire as a step towards the eventual redevelopment of an agricultural steading into a full design and production facility named the Black House Mill.
Founder Clare Campbell, 39, a chartered accountant who has led the company for the past three years, said: 'We are incredibly fortunate to have gained the backing of over 1000 customers worldwide via the crowdfunding platform Kickstarter.
'This support, along with the backing of private investors and government agencies means that we have been able restart the weaving of tartan cloth in the Highlands of Scotland for the first time in decades.'
The new mill, which has its temporary home close to the village of Evanton, has also brought young, recently graduated textile and fashion students together with retired loom engineers to ensure that the traditions of the industry are being handed down through the generations.
Clare continued: 'As part of the mill development, we managed to track down 100 year old traditional weaving looms that had been languishing for years in a redundant part of a mill in Scotland.
'We were slightly concerned that we might not be able to source the skills to operate and maintain these looms but were delighted to be introduced to two retired ex-Hunters of Brora loom engineers who have joined us to help bring these machines back to life.'
Alongside the retired workers, the company has also recruited two recent university textiles graduates via the Scottish Government's ScotGrad scheme, which is designed to help those who have recently left university enter employment that is relevant to their studies.
Under the scheme, Nicole Taylor and Lois Moyes have both joined the company in time to work with the rest of the staff on bringing the looms back into production and weaving tartan cloth for clients from around the world.
Nicole, 23, from Inverness, said: 'I graduated from UHI last year with a textiles weaving degree but hadn't been able to get a job that matched what I'd done at university in the area.
'This opportunity with Prickly Thistle means that I can not only put my studies to use in a relevant work environment but also learn from those who have decades of experience in the industry.'
Similarly for Lois, 22, from nearby Maryburgh, it has meant that after studying away from the area, she can start her career in a company close to home.
She added: 'I've just graduated from Heriot Watt's campus in Galashiels where I learned the latest in fashion textile and design but by being able to join Clare and her team, I'm not only able to come home and make best use of my degree but also apply what I have learned to a very traditional industry while learning the practical side of things from real experts.'
The first tartan off the looms will be for the company's premium Black House Mill Collection which was made available to global backers via the crowdfunding campaign. The weaving team will then be working on Celtic rockers Runrig's exclusive new tartan products range which was designed in conjunction with the band to help celebrate their Last Dance farewell gigs that take place this summer.
Clare concluded: 'Our goal is still to give our clients the opportunity to weave their own piece of history through bespoke tartan designs and products in a region of real provenance and as a result of bringing traditional skills together with the latest in university teaching, we'll not only be able to weave tartan in the Highlands for the first time in decades, but also ensure that we deliver real innovation which is fundamental to the integrity of the brand.'