Tartan Day's Dressed To Kilt was a massive success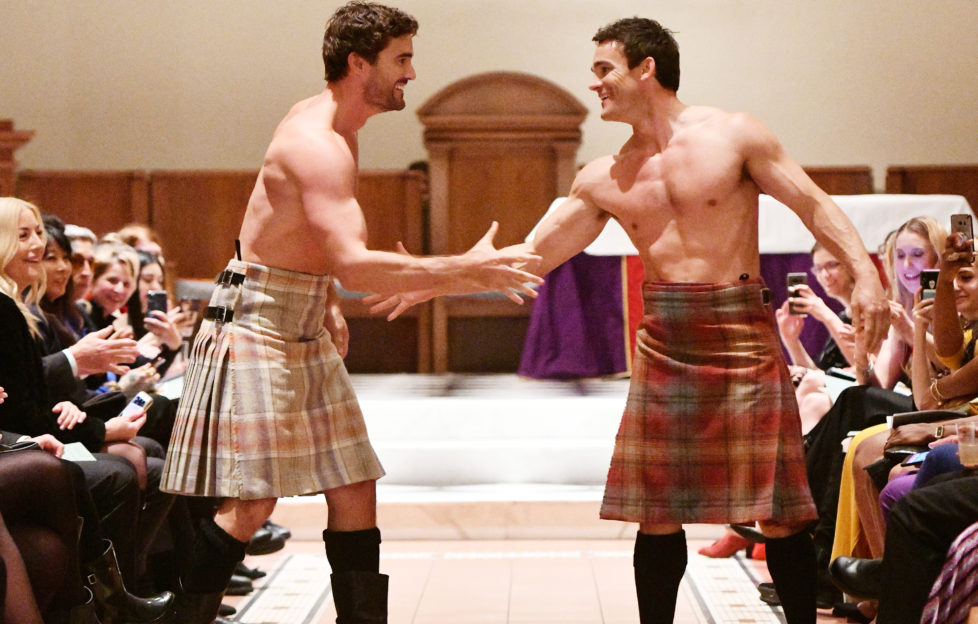 Kilts and craftsmanship were on full display at this year's Dressed to Kilt event.
The hugely popular Dressed to Kilt Scottish fashion show in New York City featured a collaboration between Calzeat & Co Ltd and Glenisla Kilts worked together to produce the Navy SEAL Tartan kilt for Master Chief Edward Byers Jr., Navy SEAL and US Medal of Honor recipient.
They also produced a Tartan kilt for his daughter Hannah, who walked the catwalk together with her Father.
The Dressed to Kilt show is known as the media darling of Tartan Week in the United States. This year's show was focused on Country Lifestyle Clothing and the theme of the show was From Downton Abbey to the Dakotas. This year's show promoted the culture and couture of Native American Tribes and Scottish Clans.
The celebrity fashion show featured kilts and kitsch and cool Native American designers as a fun twist to celebrate diversity. The biggest showstoppers of the night were the Navy seal tartan kilts with the luxurious fabric and unique tartan pattern.
This year's notable lineup included: Master Chief Edward Byers (active Navy Seal), Thom and Max Evans (Scottish rugby players), Phil MacHugh (Scottish media personality), Adam Beach (Law and Order SVU, Hawaii Five-O and Juanita on Netflix), Francesca Curran (Orange is the New Black), Jessica Matten (star of Frontier on Netflix), Buddy Valastro (Cake Boss), Janelle Evans (Teen Mom), Kelli Barrett (Fosse/Verdon on FX), Marvin Cortes (America's Next Top Model) and Genevieve Gorder (former star of Trading Spaces).
Phil launched the new, officially registered Pride of LGBT tartan at the event.
The strikingly colourful design was showcased by Phil, who teamed the rainbow inspired tartan with traditional sporran at the sell-out charity event in the exclusive Chelsea district of the Big Apple.
Phil said: 'I am so proud to represent the global LGBT community and officially launch this incredible new tartan design.
'Tartan's very historic purpose is to show loyalty, togetherness, and solidarity to a clan – a community – and that's a wonderfully powerful message to be promoting this Scotland Week. We pride ourselves in being a progressive, outwardly looking nation and now more than ever it's so important to use every platform to remind our friends around the world just how inclusive and welcoming Scotland is.
'I hope everyone enjoys wearing this stunning tartan as much as I have – and from what I've seen, it's already going down a trans-Atlantic storm!'
Anna Drysdale, Head of Marketing at Tartan Weaving Mill (designers the new tartan) said: 'We are excited that our Pride of LGBT tartan was a highlight at the 2019 Dressed to Kilt fashion show as part of New York City's Tartan Day Celebrations. We highly value diversity in our business and are proud to celebrate and embrace the LGBT community with our Pride Tartan.
'The Tartan Weaving Mill will continue to expand the product range of this beautiful and striking design so that there's something to suit everyone.'
The soiree was held in Houston last year, taking a break from a long run in New York City, but returned to its roots in New York City on Tartan Day, April 5.
Dressed to Kilt has developed a devoted following for those seeking some good Scottish fun and many celebrities with Scottish roots have dawned the catwalk from Andie MacDowell to Ivanka Trump.
From its genesis in 2003, DTK is now the largest and most prestigious Scottish fashion event in the world, and one of the highest profile fashion shows in the United States. We believe that fashion without the enrichment of diverse cultures become hollow. The show is produced by the Friends of Scotland charity which was co-founded by Sir Sean Connery in 2002.
In addition to supermodels, this show highlights very accomplished men and women on the runway and it is also filled with A-List celebrities and athletes from both sides of the Atlantic.
In recent shows Sir Sean Connery, Gerard Butler, Kiefer Sutherland, Kyle MacLachlan, Ivanka Trump and Donald Trump Jr, Chris 'Mr Big' Noth, Mike Myers and Craig Ferguson have all walked the runway. The charity has raised significant sums for the families of wounded veterans.
For more information, visit www.dressedtokilt.com.
The Pride of LGBT tartan is now available and pre-orders can be made at www.heritageofscotland.com
The Navy SEAL Foundation provides immediate and ongoing support and assistance to the Naval Special Warfare community and its families.