Outlander star Sam Heughan gives his support to Highland tartan weaving enterprise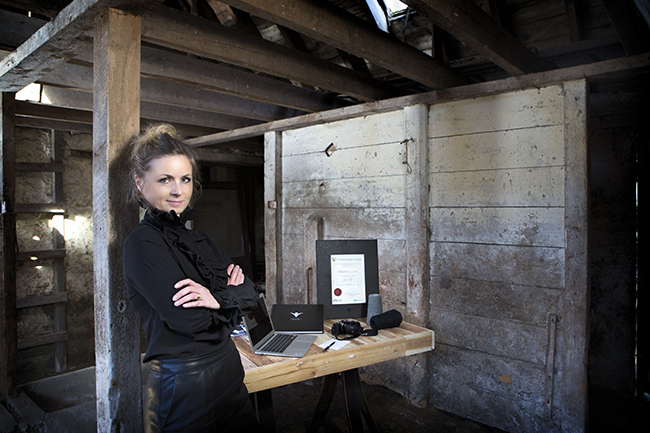 More than 10 per cent of the total money needed to bring tartan weaving home to the Scottish Highlands has already been pledged.
And Clare Campbell's bid to raise £500,000 to create a new enterprise on the Black Isle has been supported by Outlander star Sam Heughan.
The actor, who has over 384,00 followers on Twitter, tweeted on Sunday: 'Wonderful tartan mill needing your support!!! Help keep this craft alive.'
The 'Build the Mill' crowd funding campaign is being run by Scottish design house Prickly Thistle, and has already won the backing of Sir Brian Souter, founder of transport giant Stagecoach.
Clare, 39, a chartered accountant, was delighted that after launching her Kickstarter campaign last Saturday, October 14, by today, Thursday, a total of £55,530 has been pledged by 223 backers, with 54 days of fundraising still to go.
Speaking exclusively to Scottish Field, Clare said: 'The response to the campaign has been incredible. In just five days of the 60 day project over £55,000 has been pledged for rewards by over 200 people. I am truly humbled by each and every one of them.
'I have seen backers from around the world join the Uprising to bring tartan back to the Highlands of Scotland, bringing it home. Not only pledges, but so many comments of encouragement across all of the social media platforms.
'Of course, a certain Mr Outlander's tweets certainly kicked the tyres on the campaign on Sunday evening. Sam Heughan has been a gift from the tartan gods!
'I really believe this proves that the world wants to see the Highlands weaving tartan once again. This has always been my belief and driven me to take on this project.
'I will be giving this Kickstarter campaign everything I can to ensure this. It is so important to create employment in this treasured sector, to work with raw material suppliers in the Highlands to innovate new cloth qualities and to show that the history of tartan has a lot of exciting chapters to come.'
Founded by Clare two years ago, the Prickly Thistle brand has struggled to find suitable manufacturing partners in Scotland in what is already a busy sector for the country's economy. As a result she took the step to build her own mill on the Black Isle by purchasing a farm steading that is suitable for conversion and now has pre-planning approval for the project.
Subscribers to the campaign on the Kickstarter website will be able to choose different levels of cash pledges for which they will receive products, or 'rewards' for their support.
The fundraising bid closes on December 13.
Visit www.kickstarter.com/projects/783047702/be-part-of-a-highland-tartan-uprising-build-the-mi to support Clare's venture.
Visit https://pricklythistlescotland.com/ for more details.