Designers and makers revealed for fifth Elements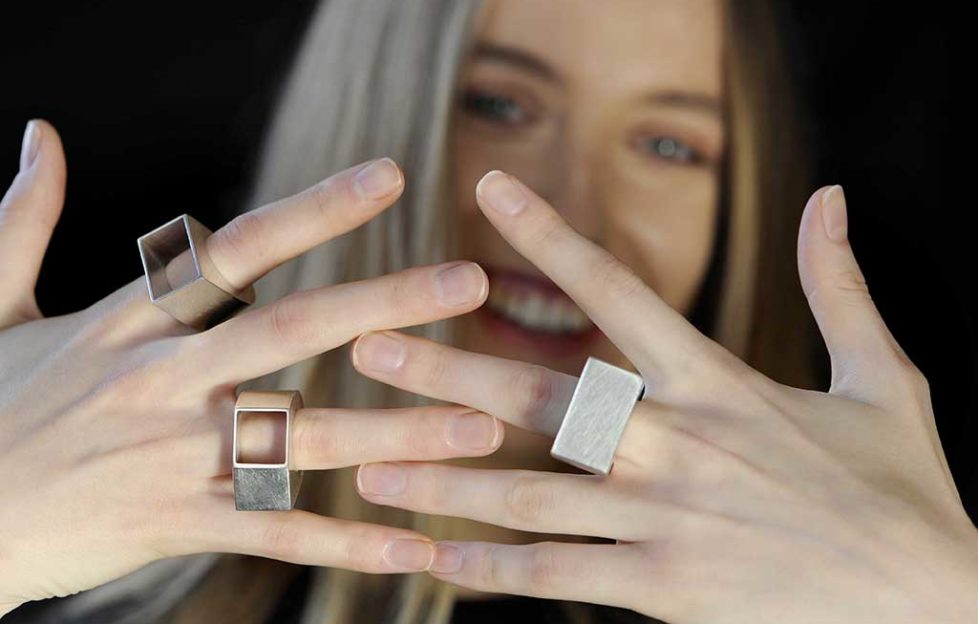 The exhibitors have been unveiled for Elements 2019 – Scotland's festival showcase for the finest gold, silver and jewellery.
Fifty highly skilled designers and makers, half from Scotland and the others from elsewhere in the UK, have been selected to take part in the prestigious Edinburgh event.
A selection of the participants gave a sneak preview of their work in the historic boardroom of The Incorporation of Goldsmiths of Edinburgh – which has been championing Scottish gold, silver and jewellery since around 1492.
They include the creators of jewellery and silverware priced from £45 to £15,000 and ranging from affordable brooches and earrings to exquisite one-off pieces, handcrafted using precious metals and gemstones.
Among them are the award-winning Donna Barry, from Edinburgh, whose work often incorporates rose gold and ruthenium (an element related to platinum) to provide a chic ultra-black finish.
Donna said: 'Elements is the place to go to find jewellery that is truly individual, meet makers and find out about them. Most of what you see is handmade, much is entirely unique and it is always special and different. It's a chance to find something that really suits you – or that will be perfect for a particular event or occasion.'
There is also Akvilė Su, from Edinburgh a specialist in jewellery designed to question standard notions of gender and sexuality, and Glasgow based Rebecca E Smith whose work is inspired by her grandparents' wartime love letters.
Elements, which is organised by The Incorporation of Goldsmiths of the City of Edinburgh in partnership with Lyon & Turnbull, is now in its fifth year and provides the best opportunity in Scotland to see some of the very best in contemporary jewellery and metal design.
Mary Michel, director of The Incorporation of Goldsmiths of the City of Edinburgh, said: 'It's exciting for us to be able to reveal who has been selected for this year's exhibition. Elements has established itself as Scotland's foremost festival of gold, silver and jewellery and is for people who value high quality, beautiful designer work.
'It's also very special because it provides a platform for some of the exceptionally skilled makers working in Scotland at the moment to present their work to a Scottish audience.
'At the same time, we are delighted to be able to bring some of the superb silversmiths and jewellery makers from the rest of the UK to a major event north of the border."
Among those heading north for Elements, which takes place in time for Christmas from 8 to 10 November, is Flora Bhattachary from London. Flora's fine jewellery collections are strongly influenced by Eastern aesthetics, having been taken on a year-long road trip across India and Afghanistan as a child by her hippy parents.
Another exhibitor will be Chris Perry from Sheffield, who has helped create Formula 1 trophies, and uses precision techniques to create modern silver tableware from salt cellars and mustard pots to wine goblets and cafetières.
There will be 38 jewellers and 12 silversmiths with work for sale on the ground floor of the Lyon & Turnbull's auction rooms, which are based in a beautiful former church building in Edinburgh's New Town.
Ruth Davis, Jewellery Specialist at Lyon & Turnbull, said: 'Elements is always a highlight in our calendar here at Lyon & Turnbull, and we are delighted to welcome exhibitors and visitors back in our fifth year.
'I cannot express well enough just how much of a fantastic opportunity this is, not only to see some exquisite craftsmanship, but also to meet the person behind that piece of jewellery or silverware, to learn about the technique and methods of making an item; something which really personalises the experience. And the fact that we have such a wealth of talent here in Scotland is a real triumph for our fantastic collages teaching jewellery and silversmithing throughout the country.'
In addition to the sale of gold, silver and jewellery, Elements will also have and exhibition of work from 60 silversmiths from the European Silversmithing Forum, HammerClub.
The Common Bowl, a piece that will be made at the HammerClub conference in Dundee in June, will also be on display.
There will also be displays of work from Scotland's art schools and a variety of events.
The full list of participants can be found at www.elementsfestival.co.uk