A Scottish romance with that classic Outlander look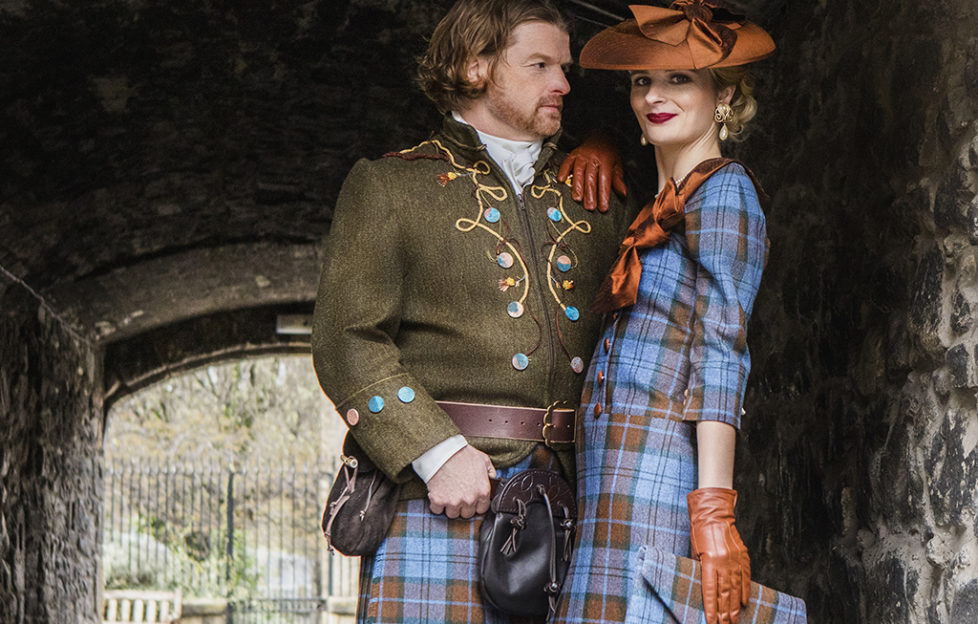 The sartorial love story between Gordon Nicolson Kiltmakers and Blues & Browns gives birth to two timeless new looks.
The clothes we wear to celebrate big moments form an important part of the fabric of our lives. They are a part of our story – but what story do we want them to tell? In an age of impermanence, Gordon Nicolson and Kairen Alexis Ruse are passionate about producing clothes that tell stories worth remembering.
Combining traditional techniques and historical style references, Outlandish outfits tell stories steeped in a proud local heritage. Rooted in the substance of the past, they are engineered to last well into the future. As exquisitely crafted objects, they can be treasured for a lifetime, and passed down through generations.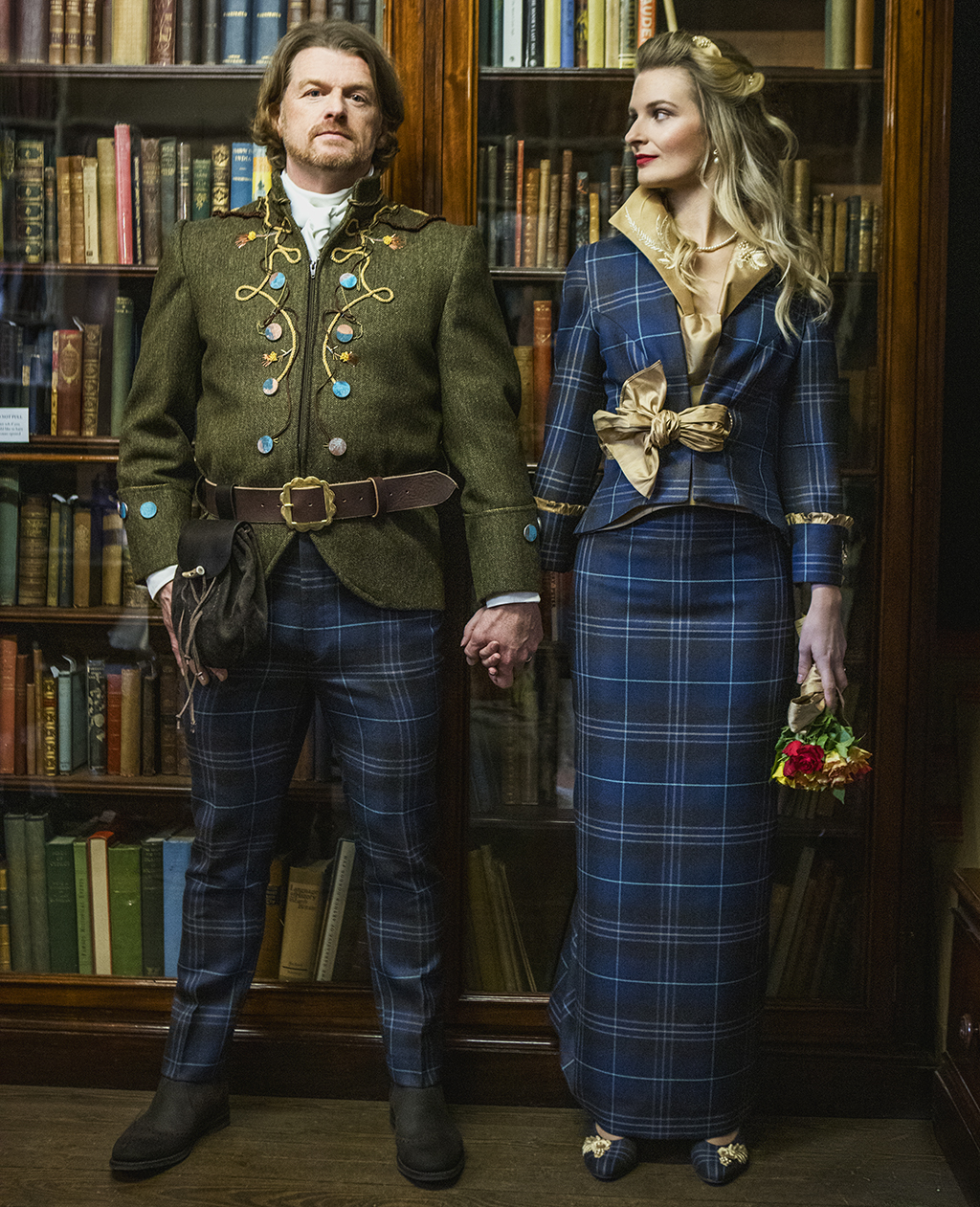 They are time travellers themselves. Ladieswear designer Kairen, founded Blues & Browns in Perth in 2002 with a simple philosophy: 'to create beautifully tailored clothes in Scotland; by women for women.' Her workroom is home to a small team of seamstresses, embroiderers, and cutters, creating everything from intricately tailored coats in robust tweeds and wool to exquisite celebration outfits in sumptuous silks and velvets, all under the experienced eye of head tailor Melinda Juhasz.
As a former actress (and great-niece of Olivia de Havilland) Kairen knows that the key to a showstopping performance is meticulous attention to detail and plenty of flair; from start to finish, head to toe. Her bespoke service pays close attention to the individual needs and desires of her discerning client, culminating in a unique look in an impeccable hand-tailored fit. Her exclusive ready-to-wear collection is no less comfortable in the spotlight.
From striking hats to handmade shoes from the atelier's artisan cobbler, carefully considered accessories are integral to Blues & Browns distinctive polished final look. As is the refusal to compromise on sourcing: fine tweeds and tartan cloths, woven in small factories the length and breadth of Scotland, are used exclusively to ensure Blues & Browns garments are truly tailor-made in Scotland.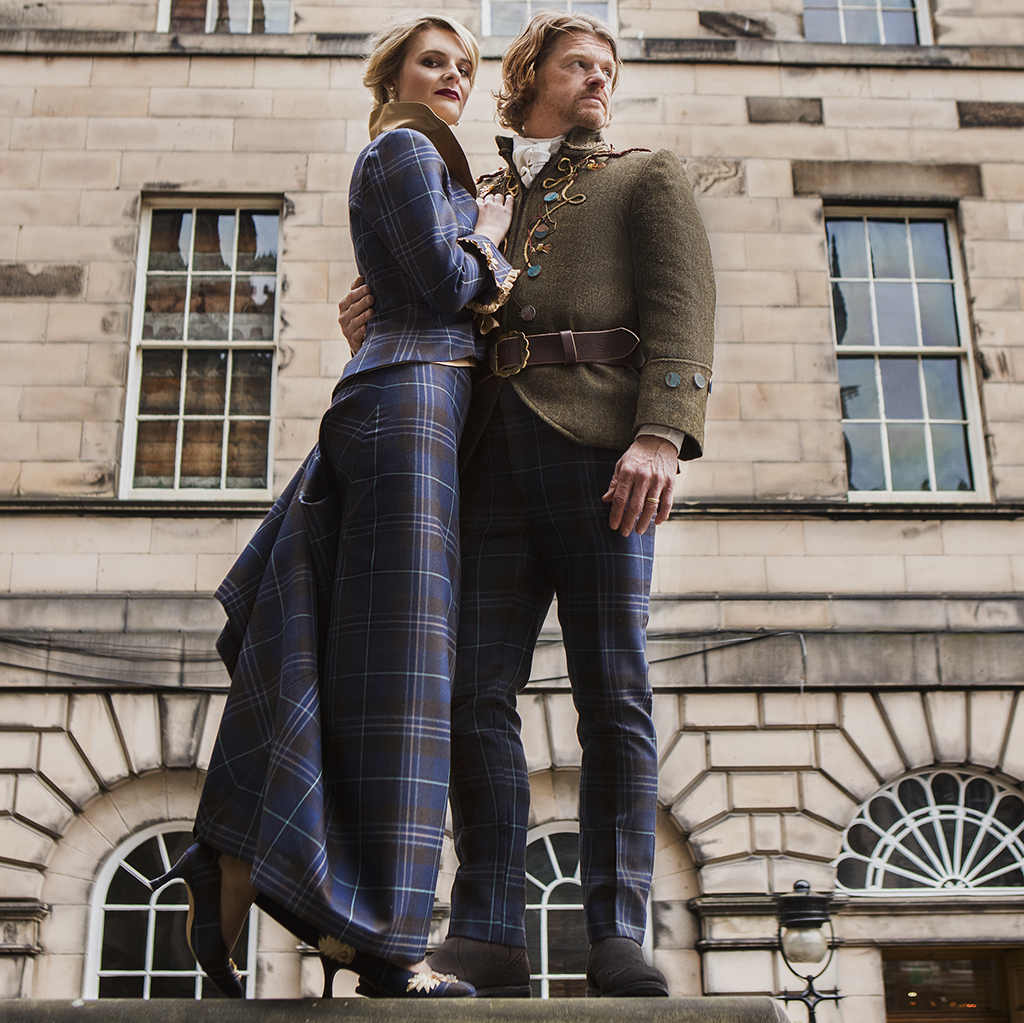 For highlandwear retailer Gordon Nicolson Kiltmakers, authentic Scottishness is at the heart of everything they make and do. Since founding his first store on Edinburgh's historic Royal Mile in 2001, Gordon has been on a mission to reinvigorate and promote true Scottish craftsmanship.
Gordon Nicolson Kiltmakers' artisanal accessories channel the accumulated wisdom of several centuries of surprisingly diverse national dress – while made-to-measure jackets and trews enable customers to express themselves within a traditional context.
The handsewn kilt is the hero of Scottish menswear, which is why, noting a decline in the quality of its production, Gordon founded the Edinburgh Kiltmakers Academy. Many of his independent makers are graduates, producing kilts in the old style to exacting standards.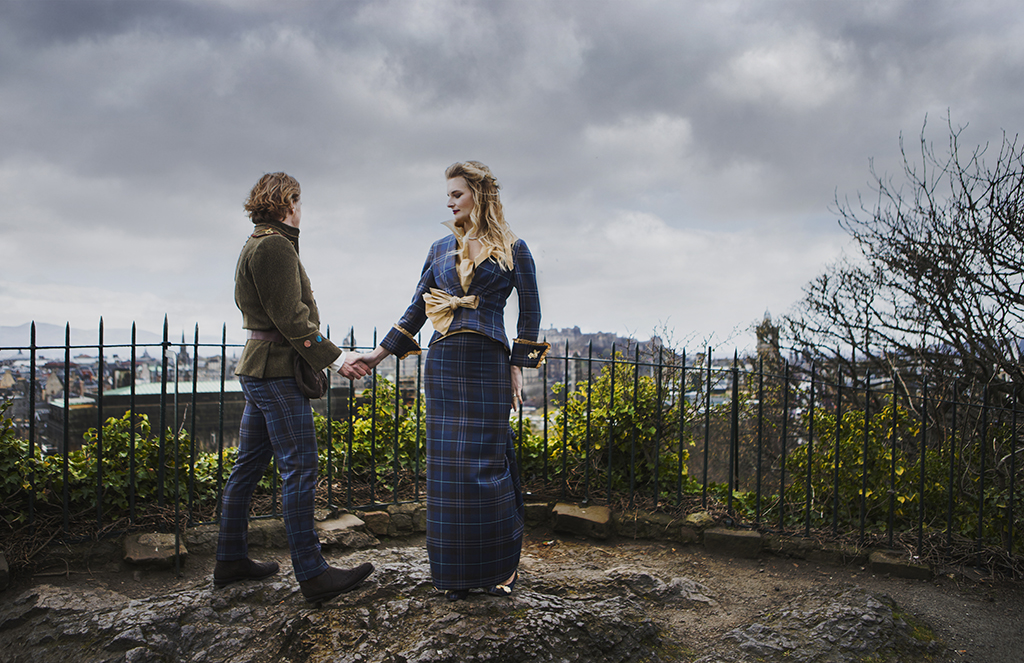 In response to growing demand, Gordon also offers tartan design services for individuals and organisations. His portfolio includes John Muir Way, inspired by the coastal landscape of Dunbar, the commemorative Flodden, representing a 500-year milestone in a thread of historic remembrance intrinsic to the City of Edinburgh and the Border Common Ridings, as well as the official tartans of Celtic Football Club and the University of Edinburgh.
Like any great outfit, the latest Outlandish editorial tells a story that is true to the values of its inception. It is a tale of creative partnership and shared philosophy, the preservation of craft and the respect for provenance, and the enduring power of true luxury. Like the city of Edinburgh itself, it is a creature of paradox, encompassing meticulous detail and grand ambition, style rooted in substance, the then and the now. It is more than the sum of its parts: it is a Scottish romance.
Learn more about Gordon Nicolson Kiltmakers HERE, and Blues & Browns HERE.