There's lots to do at the castle's family fun day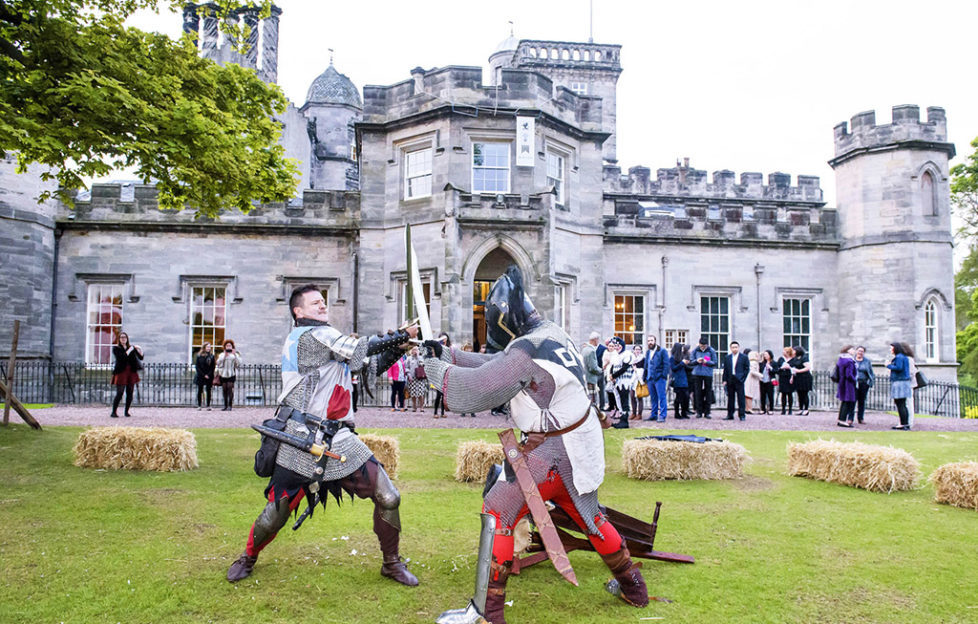 A Scottish castle is hosting its annual fundraising family open day with a special castle theme next month.
On Sunday, 15 April, Winton Castle in East Lothian will mark the move it made last year to change the name from Winton House back to its original name of Winton Castle, more fitting for a 500 year old Scottish Renaissance castle.
Open day visitors will be able to see medieval knights sword fighting and be entertained by their talks; watch eagles and birds of prey displays by Elite Falconry; learn about bushcraft and the skills of fire making and knife carving; try their hand at archery; go on history tours of the castle; and enjoy the walled and terraced gardens open through Scotland's Gardens Scheme.
Andrew Spratt from Man at Arms says: 'Our talks on Death and Toilets will demonstrate gory medieval weaponry, Horrible Histories-style, kind of medieval CSI!'
All profits for the day will be going to Marie Curie, the charity for terminal illnesses, as well as to charities supported by Scotland's Garden Scheme.
The Lucas ice cream van is also likely to make an appearance. Picnics in the grounds are welcome too.
Garden enthusiasts will enjoy walking through the mature walled and terraced gardens, surrounded by acres of daffodils, and Winton's head gardener, Toby Subiotto, will be taking garden tours.
Toby said: 'Most of our plants have survived the Beast from the East really well. We're blessed with sheltered, south-facing gardens: both the terraced gardens below the castle and the walled garden catch the warmth of the sun, reducing the impact of very cold weather. Colourful tender plants like Dahlias, Salvias, Cannas and Euphorbias are left in borders protected by straw in the winter.
'Early flowering cherries, shrubs, hellebores and cyclamen and other woodlanders should also be on display.
'Winton's famous daffodils will be in full bloom, and we've more daffodils than ever thanks to volunteers from Marie Curie; they planted over 2,000 bulbs along the Winton Walks which line the Winton Trail Run routes. Runners will see these daffodils on the 14th of March, the day before Open Day.'
Since 1931 Winton has been opening its gardens under Scotland's Gardens, longer than any other Scottish garden. To celebrate the 85th anniversary, the Duchess of Rothesay joined Scotland's Gardens at a huge birthday party at Winton Castle.
Winton Castle's owner, Sir Francis Ogilvy, added: 'Your children – and you! – can come in castle inspired fancy dress, if you like, and prizes will be awarded for the best outfits.'
The open day runs from noon–4.30pm, and for more details click HERE.