Spring Fling event gives artists a sense of place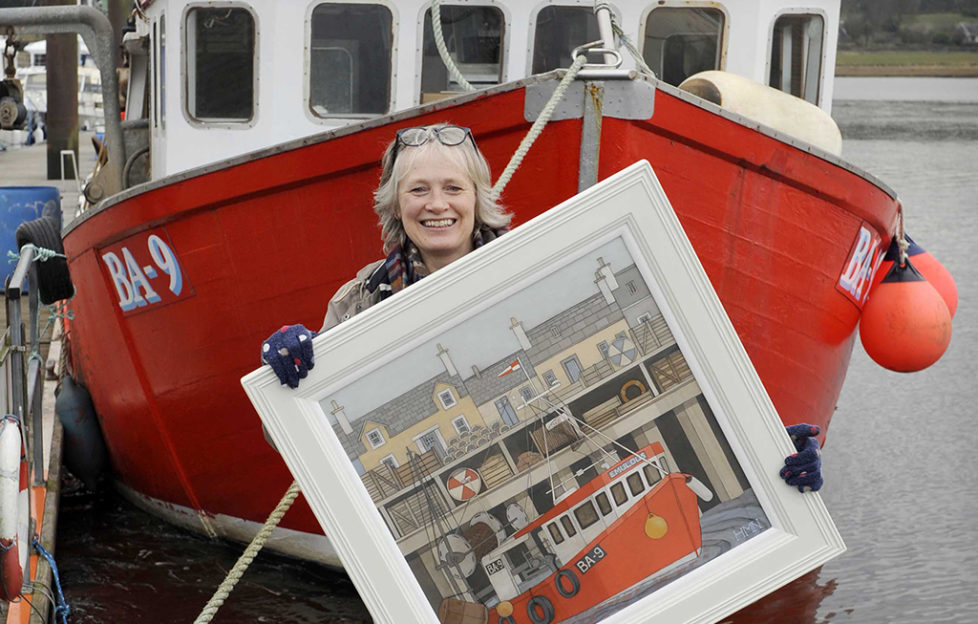 More than 30 artists and makers will explore their sense of place in a special exhibition ahead of the annual Spring Fling open studios weekend.
Many are inspired by the land, sea and skyscapes of Dumfries and Galloway, where the annual event takes place, or by different parts of Scotland. For others it's the towns or villages where they live and work.
Among those contributing to Place, at the Ottersburn Gallery, Dumfries (see www.ottersburn.com) from 17 April to 7 May, is the Kirkcudbright painter Heather M Nisbet.
She said: 'For me Kirkcudbright is "the place". My studio is there and much of my current work is inspired by its buildings, its boats and the local landscape. I went to school in Kirkcudbright but lived in Glasgow for many years and have only recently returned. I can't get enough of it.
'One of my paintings is of Emulous, a whelk boat which operates out of Kirkcudbright harbour and is berthed at the marina. Its vibrant red hull made it a 'must paint' subject.
'The town also has some very eye-catching buildings. One of my paintings, Pink and Peach, depicts a couple of houses in the High Street, near the Tolbooth. The old bike is often parked outside.'
Joanna Macaulay, events and exhibitions Manager for Upland which runs Spring Fling, said: 'The exhibition celebrates the role of this region, and others play, in the creative lives of our artists and gives a snapshot of all that makes Dumfries and Galloway so special.
'It's a great foretaste to the open studios weekend when visitors will get the chance to meet artists and makers throughout one of the most beautiful and inspiring parts of Scotland.'
The 16th annual event takes place across Dumfries and Galloway from 26 to 28 May and will include 86 artists and makers. Visitors will be able to see jewellery, ceramics, sculpture, paintings, photography, original prints, metalwork, glass, textiles, furniture and more.
The Ottersburn Gallery, in Nith Avenue, Dumfries, is run by Sean McKay, who said: 'Ottersburn Gallery is delighted to take part in the Spring Fling for the first time, and the theme "Place" is especially apt for us. Opening Ottersburn Gallery and Picture Framing has underlined our own sense of place here in our home town, and its location in the heart of Dumfries, tucked beside the Nith, is the perfect spot for working artists who call Dumfries and Galloway their home.'
More Spring Fling artists explained their sense of place.
Liz Gilbey, from Gatehouse of Fleet, said: 'January at Ornockenoch was made on the hills behind my home and features the weather-bent thorn trees which are very characteristic of the land I live on and give me a strong sense of place. The trees speak of the effects of wind, climate and the passage of time in this place and the colour reflects the seasons. I spend as much time as possible outdoor painting and this forces a spontaneous approach – wind and rain are never far away.'
Minette Bell Macdonald, of Lockerbie, said: 'Place is special to every artist. Place to me is empty. Landscape, seascape, The Merse, Caerlaverock. That is my place. It's where I am able to express myself through my painting. Empty place, lonely place that is what defines my work and practice."'
Claire Cameron-Smith, from Kirkcudbright, felt: 'The Southerness and Mull of Galloway lighthouses lie at either end of the region. My place of work lies between the two, in Kirkcudbright. I created the prints using techniques from the Japanese woodblock tradition and more western methods such as reduction printing. Both prints demonstrate the methods used in my practice, and are representations of the region, the place I live and work.'
Catherine Coulson, of Rockcliffe, added: 'As a landscape artist and naturalist, inspired by nature and wilderness, my work focuses on place, looking beyond the aesthetic or geographic idea of location, into the depths of what makes an environment. Orchard Mist shows the land behind my home; an old orchard on the edge of the wood, surrounded by lowland heath, above an underground stream running from the loch. This was early morning when I went to retrieve a bat detector, thick with mist and glowing with pale blue light.'
For more details on Spring Fling click HERE.
Dumfries and Galloway's arts scene features in the May issue of Scottish Field, available now.