Rabbie Burns and Halloween collide this weekend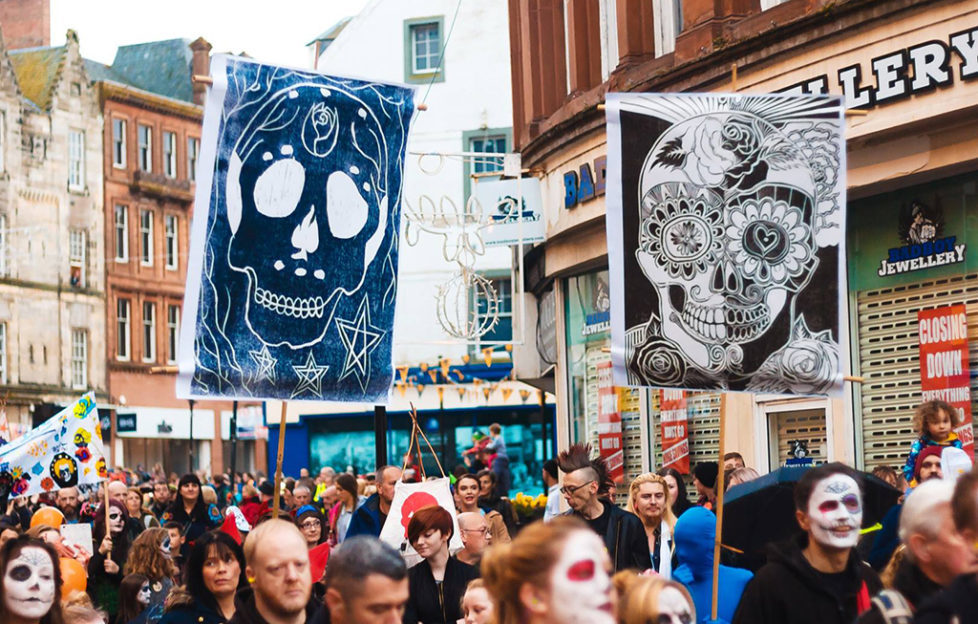 Scotland's love of Halloween and Robert Burns are being brought together this weekend for a festival of scares.
TamFest is an annual celebration of scares and the Bard, held in Ayr, and is now in its fourth year.
It's a free event in Ayr town centre, celebrating Robert Burns' ghostly tale with some events on Saturday, and concludes with a Day o' the Deid procession this Sunday, 28 October.
Over 30 street activities will take place, with entertainment including fire breathers, jugglers, stilt walkers, dance groups, street poets and more.
TamFest lead producer Meredith McCrindle said: 'TamFest is Tam o'Shanter meets Halloween. It celebrates Tam o'Shanter in the town where it's set, with all the ghosts and witches and ghouls of Halloween. This is a best of both, and it's totally unique to Ayr, to Ayrshire and to Scotland – there's nowhere else in the world that you could do an event like this.
'It's really a fun Halloween festival, which concludes with our Day o' the Deid procession. This year there will be more of a Tam o'Shanter twist than ever before.
'Everything is free and available to the public, so everyone can just come along and really enjoy it.
'There's more community involvement than we've had before, having done workshops and community outreaches to schools.
'We have so many free events as the town of Ayr has stepped up. So many people are going to have events themselves, as it's really grown over the years. The businesses and the community are getting involved.'
On Saturday, the Ayr Central shopping centre will have a children's zone, running from noon-4pm, including pumpkin carving, Halloween games, special effects make-up, creepy clay workshop, freaky face painting and ghoulish balloon modellers.
Sunday sees the event go full pelt, with various events taking place at Ayrshire Women's Hub, in the Arran Mall, from noon-4.20pm, including dancing and storytelling.
On the Cutty Sark Stage on High Street, DJ Colin McArdle will be the compère for performers, including dancers and singers, as well as magician Magic Malky.
A highlight will be Ayr singer Craig Ward, who featured on The Voice UK last year, where he was under the wing of Sir Tom Jones, between 12.10-4.25pm.
At the Kyle Centre, there will be various events throughout the day, with floor art running from 11am-4pm, giving children the chance to have lots of fun. The Ayrshire Fiddle Orchestra will perform, as well as local schools and authors, with events for all.
Ayr Central Children's Zone will host more events between noon and 4pm, with the Ayrshire Fiddle Orchester also appearing.
The event concludes at 4pm, with the Day o' the Deid procession and ceilidh on High Street, where attendees are encouraged to go along and dress up.
Meredith continued: 'This year our headliner is Craig Ward, from The Voice UK last year. We're delighted to have him.
'We've several other acts coming to Ayr High Street, and we've also got our main stage sponsored, by JB Management, and there will be 34 stalls too.
'Because we're a charity, every penny we get goes back into TamFest, which is brought about by Ayr Festivals, the charity that runs it. Sponsors' contributions have increased, as we've had more businesses come aboard, than ever before.
'We're the only festival that takes place in the heart of Ayr itself, apart from the Christmas light switch on, and it's great to bring so many people onto the High Street.'
Find out more about the Tamfest events at www.tamfest.co.uk.